03 Jan 2017
Somany Ceramics enters smart and intelligent toilet market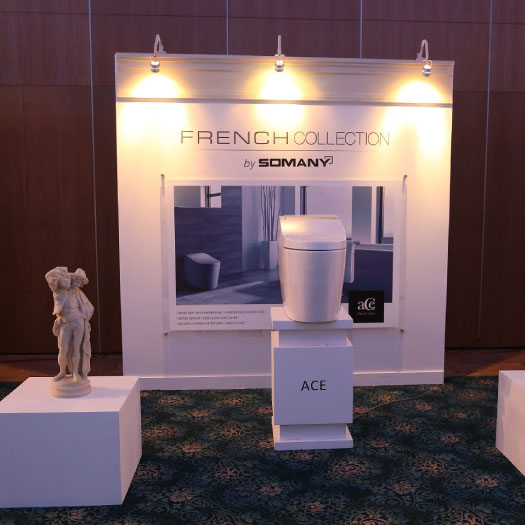 Somany French Collection Launch Event Product Display
Somany Ceramics Ltd, one of the leaders in the Indian ceramic industry, entered the smart and intelligent toilet market with the launch of an exquisite French collection range
As the effects of global warming and climate change continue to take an ever-increasing toll on the planet, sustainable living is becoming a priority. Therefore, construction companies, globally and in India, are centered on the development of smart buildings with features like smart bathrooms to promote sustainable development and efficient energy management. Smart bathrooms offer optimally integrated solutions such as smart toilets, automatic flush systems, and automatic faucets. The demand for smart bathrooms, especially in urban areas and among rising affluent Indians, is increasing significantly as consumers move towards the trend of energy conservation adoption and maintain high standards of hygiene.
The French Collection is luxurious and its smart product line is inspired by the unique elements of French heritage while taking design aesthetics into cognisance making it a truly world class product line. The collection has over 28 products, ranging from water closets, urinals to wash basins, which fall under 11 different series, namely Jazz, Dior and Ace amongst others.
The star of the Somany French Collection is the "Ace" series having the first high IQ toilet by Somany Ceramics, which is designed to ensure there are minimum pressure points so as to enhance overall comfort.
Speaking at the launch, Abhishek Somany, MD, Somany Ceramics, said, "The smart bathroom and toilet trend is here to stay as consumers get more environment and health conscious, and this collection caters to this growing segment. We are confident that the French collection will be a resounding success as it has been created keeping in mind the modern contemporary housing needs of consumers. With this launch, we hope to lead the smart toilet industry in India and aim to be among the Top 3 players over the next two years."
The price range for the French collection varies according to the series and the products, starting from Rs7,990 for the Quest Art Basin to Rs1,65,000 for the Ace Automatic Toilet. The new collection is available across India at Somany Exclusive Stores and Experience Centres.