14 Feb 2017
Enjoy pot-holes free road for years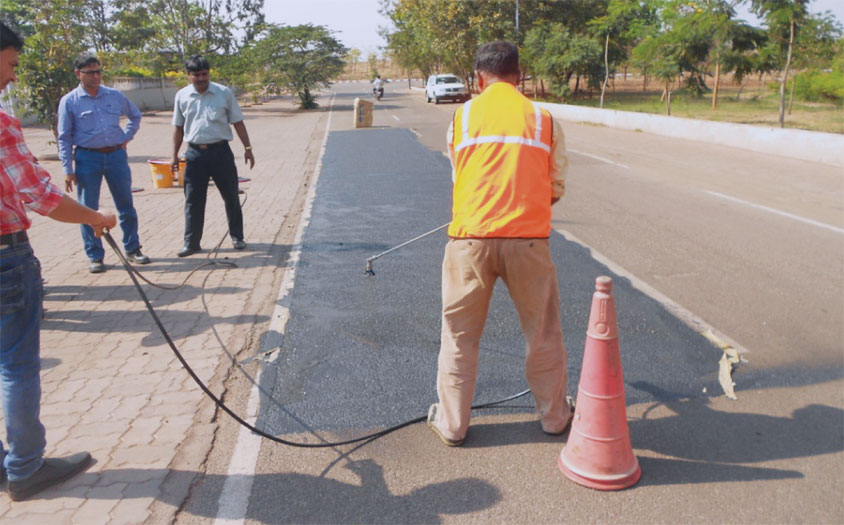 To protect asphalt wearing surface from water, fuel and other volatile substances ingression STP's new development of ShaliSeal RS TC – coal tar based slurry seal has solved the problem to a great extent.
Technologies are bringing opportunities
In the past few years there have been significant advancements in technology used by the construction industry. Construction companies have been investing heavily in technology in recent years by adopting new processes and purchasing state-of-the-art machinery. This has enabled workers to increase efficiency, shorten the duration of projects and ultimately increase profit.
For workers, these construction technology trends are bringing opportunities to develop their knowledge, acquire new skills and progress in their career.
Automated technology
With the many repetitive, routine tasks associated with construction, many companies are turning to automated technology to carry out certain roles and processes. Prefabrication has paved the way for automated technology, as mechanical machinery, including robotics, cannot always be contained onsite. Brickwork and demolition has seen the introduction of robotic automation, as this type of technology increases worker safety and efficiency.
Project management apps
Smart Phones have helped to increase the productivity of construction projects by minimising the processes of communication. Although this is nothing new, more construction companies are turning to apps to make it easier to manage projects. A number of apps have been specially created for the construction industry, offering extensive specialist services such as logging blueprints, assigning tasks and real time collaboration.
Breakthrough technology 2016
STP Ltd, with over 80 years of experience, is one of the most trusted names in the field of coal tar, bitumen, construction chemicals, and the most preferred brand in the Indian market. Over the years, the company has developed innovative solutions for repair and waterproofing of roads and bridges that include ShaliSeal RSTC, ShaliSeal CSS-A, ShaliPatch and ShaliSeal PU 2K.
According to Suprio Sengupta, President, STP Ltd the breakthrough technology is ShaliPatch EC which is a three component self leveling modified elastomeric concrete. It repairs cracks in rigid and flexible pavement by cold applied polymerised elastomeric processed tar-based crack filler. Crack filling ranging between 5 – 50 mm wide in concrete / flexible roads, and used for surface correction in concrete road / pavement.
He adds, "ShaliPatch EC is tough, flexible and durable. It has rapid cure time. It has excellent resistance to chemical, saltwater, oil, acids, alkalies, crude oil, fuels and minerals. The product is compatible with both coal tar and asphalt emulsion based sealers. It is also compatible with both concrete and bituminous pavement and is excellent to repair surface defects of the road."
On other hand Sengupta also says that, to protect asphalt wearing surface from water, fuel and other volatile substances ingression STP's new development of ShaliSeal RS TC – coal tar based slurry seal has solved the problem to a great extent." Coal tar, being highly water and fuel resistance, prevents the asphalt wearing surface and reduces the periodical maintenance cost substantially. The same is also recommended to use on granular sub-base as prime coat to protect the sub-base as well as bonding with the bituminous macadam. "It is already been recommended by NHAI, IRC other Road consultant. MNCs like Honda and many others had also opted for the same for their internal asphalt pavement. STP recommends the use of ShaliSeal RS TC over existing asphalt pavement every year just before monsoon to enjoy a pot-holes free wearing surface years after years," informs Sengupta.
Important features of ShaliSeal RSTC
• Top coat road slurry for enhancing road life by preventing water ingress.
• A refined coal tar-based emulsion, designed to protects asphalt pavements.
• Resists ultra violet radiations.
• Resists fuel impregnation.
• Reduces aging of asphalt, hence reduced maintenance.
Speaking on how the company is planning to change the construction landscape Sengupta said, "There are many other development is being carried out by STP Ltd in many other aspects and we hope to change construction landscape throughout the country in near future."