14 Feb 2017
World's tallest reinforcement wall in making at Sikkim airport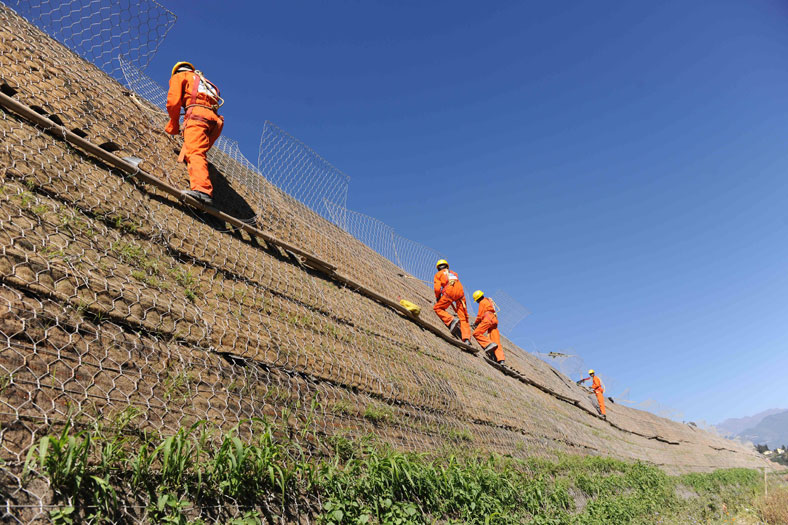 When completed the highest reinforcement wall will stand at 80.38 metres, one of the tallest reinforcement walls in the world.
Diversified EPC contractor Punj Lloyd Group is developing Sikkim's first greenfield airport project in Pakyong which will provide a direct connectivity to the land-locked state and also help boost tourism.
The project, expected to be operationalised in 2017, faced huge challenges in terms of execution due to difficult topography and hostile weather conditions. The Punj Lloyd project team's prime objective is to ensure that construction activities impact the environment very minimally, protecting the rich diversity of both fauna and flora.
Explaining the advanced technology adopted in this challenging project, Atul Jain, Director of Punj Lloyd said, "Composite reinforced soil technology was used to retain the high embankments by reinforced soil walls. While the primary reinforcement consisted of high strength flexible geo-grids made of polyester fibres protected with high quality LDPE coating, the secondary reinforcement was provided by heavily galvanised, PVC coated mechanically woven steel mesh panels."
A total of 1,514 metres long RE walls with height varying from 32 to 80.38 metres were built for the project. Biodegradable coir mats were provided at the fascia to facilitate growth of vegetation. In places where space was a constraint, gabions filled with boulders were provided to act as fascia for protecting the reinforced soil. "When completed the highest reinforcement wall will stand at 80.38 metres, one of the tallest reinforcement walls in the world," Jain claims.
How technology is transforming the construction industry
The construction industry was one of the first to have adopted technology in its working. This was inevitable as India was fast developing and rapidly urbanising. Today as we talk of smart and sustainable cities, technology plays a foremost role in the development of urban infrastructure. "Technology is being used in the advanced construction methodologies employed during execution of projects, in the high-end equipment which is deployed at sites and even in the software developed to monitor project performance," said Jain while discussing about how technology is transforming the construction industry.
However, answering to a question on the greatest breakthrough technology of 2016, he said, "Use of technology is an ongoing process as we constantly seek to improve our processes and invest in new technology, software and equipment."
He adds, "Use of technology has saved us several millions in terms of safe man hours, project time, travel, project monitoring, equipment repair and maintenance, real time approval for finance and projects and resource monitoring."
Excelling project execution
Punj Lloyd is a diversified conglomerate operating in oil and gas and infrastructure sectors. Technology is adopted across the board in the delivery of all Punj Lloyd projects and in corporate functions to improve efficiencies.
The company has a very hands-on approach in project development where they are focused heavily on plant design, new project delivery methods and process improvements. "We have technologically graduated from fixed tilt of modules to seasonal tilt and now single axis trackers," said Jain. Similarly, Punj Lloyd was among the pioneers to implement the project with the ramming method instead of the traditional pilling method. This helped the company with significant reduction in project delivery time, while preserving the nature of the land.
"Our spooling software has been efficient in macro and micro level construction planning, increasing traceability. We have used drone photography for project monitoring. Use of satellite imagery for monitoring linear projects like roads and pipeline has helped track progress of these projects remotely and on a periodic basis," said Jain.
Used drum cutter to increase excavation
At its SGTP Qatar Pipeline project, among other equipment, Punj Lloyd used a drum cutter to increase the excavation where other machines cannot be used. The drum cutter works in a selective and precise manner without causing damage to other live pipeline crossings or live electrical cable lines. By use of this simple technology, we have increased production and reduced risk and manpower, claims Jain. "By using this technology, we have completed the crossing in a shorter time and also achieved significant cost savings."