05 Apr 2017
Accessing a growth window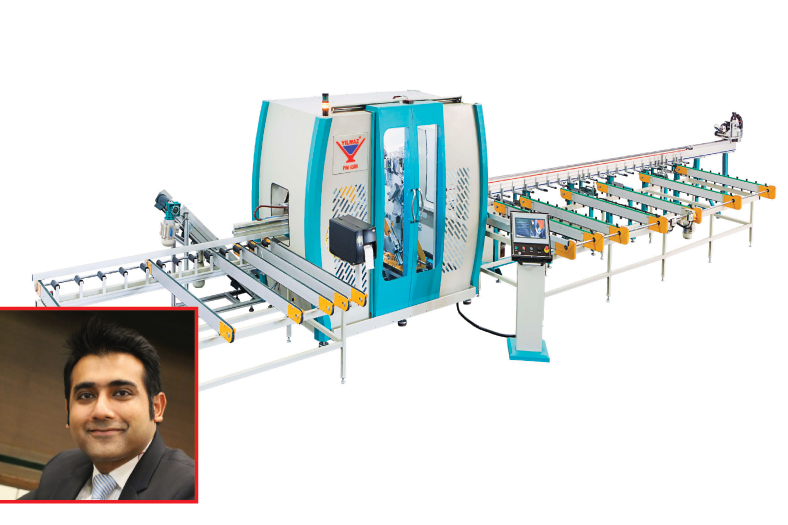 We at LGF SYSMAC are committed to supply high quality machinery and hardware for manufacturing uPVC doors and windows.
LGF SYSMAC offers a range of products including state-of-the-art machinery for working on aluminium and uPVC profiles, panel saws for working on composite panels, thermal break machinery, architectural paints and architectural hardware for windows and doors, curtain-wall and glazed facades. Ashim Chugh, Director, LGF SYSMAC (India) Pvt Ltd gives an overview of the fenestration industry in India.
Since its conception in the year 2000, LGF SYSMAC has emerged as one of the major players in Indian fenestration industry. What is your outlook on the recent market status?
The increasing activities in real estate sector and with the launch of smart cities movement by the Indian Prime Minister, all industries linked to the real estate ecosystem are expected to get tremendous boost. Furthermore, estimates by the Planning Commission of India suggest that there are 20 million new houses to be built in the next 10 years. Though the real estate sector has hit a slowdown which is temporary, it is going to bounce back. And when that happens, there's going to be a significant uptick in the fenestration industry as well.
How do you see the demand of aluminium, wood, steel and uPVC windows?
In India, as of now aluminium takes the major chunk of business which is close to 45 per cent followed by wood at about 25 per cent. Further both steel and uPVC hold a 15 per cent market share each. Demand for uPVC doors and windows has picked up at a fast pace. Many extrusion companies have also set up base in India for extruding uPVC profiles whereas aluminium and wood remain the dominant materials for the fenestration industry.
What are the challenges faced by the fenestration industry in India?
Lack of standardisation of doors and windows is the biggest challenge. As the sector is highly unorganised, there are not enough standards for architectural hardware. Every building has the liberty to incorporate a window or door system implying no control on the performance, durability and efficiency of the door and windows to be installed. However, with the growing awareness about the importance of efficient fenestration, we are optimistic that the industry will mature and quality will prevail over low standard and inferior quality products.
Also, another major shortcoming of our industry is that the specifications that go on the design blueprints generally do not make it in the construction phase. So for suppliers, it's impossible to go into mass production till the construction of a project actually commences. This has a crippling effect on everyone because despite the limitations imposed by lack of standardisation, we have a task to deliver on time. We at LGF SYSMAC are addressing this challenge head on with a Pan India sales and distribution network ensuring product availability and delivery on an immediate basis.
Aluminium Vs uPVC – which one is better in the Indian context and why?
India has a warm climate for most of the time of the year, therefore aluminium is considered as the preferred material and significant contributor to the fenestration industry over the years. However, uPVC has made a steady progress. uPVC doors and windows are able to reduce energy loss upto 90 per cent. On the other hand aluminium doors and windows are light weight and are weather resistant. Thermal break aluminium windows can reduce energy loss to a large extent. Moreover aluminium windows have the option of colours (powder coating or anodizing) which is economical and easy as compared to foiling in uPVC. The introduction of architectural paints for uPVC is an emerging phenomenon which will not only give diverse options and affects of colouring in uPVC, it will also be economical as compared to powder coating in aluminium.
What are the other major challenges the uPVC window industry faces?
The biggest bottleneck is industry standardisation. Today it is extremely easy and economical to set up an uPVC door and window manufacturing unit involving low capital investment thanks to availability of low quality equipment and machineries. This intentionally or un-intentionally leads to manufacturing of sub-standard products which are not sustainable in the long run. We believe that the government and other concerned authorities should lay core emphasis on defining standards for manufacturing doors and windows to uplift and add value to this industry. We at LGF SYSMAC are committed to supply high quality machinery and hardware for manufacturing uPVC doors and windows to the industry backed with a sound and efficient after sales network. Our state-of-the-art manufacturing plant for uPVC door and window hardware is now fully operational to meet the demands and requisites of the industry.
Where do you see the fenestration business heading by 2020?
The scope is huge. However the sooner we bring in regulations for standardising doors and windows in India, the better it will be for the industry as well as for the end consumer. At the end of the day, the person who is actually moving into a new house or premise needs to be comfortable in operating and getting the sustainable value of the doors and windows so installed. End consumers have put in their hard earned money buying a new house and it is expected that the doors and windows so installed are durable and nuance free. Delivering high quality products will be possible once standardisation and regulations are set for manufacturing. We hope that this happens soon. Moreover with our GDP growing at over 7 per cent per annum and development projects being put into motion by the government, the fenestration industry has no dearth of growth in the next five years.