05 Apr 2017
Godrej unveils green inverter AC with 5.8 ISEER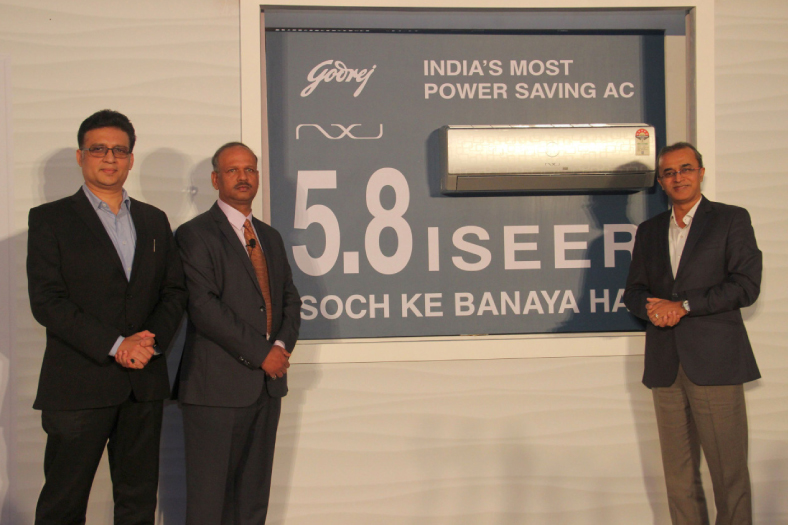 Godrej Appliances launched the new green inverter air conditioner with 5.8 ISEER under its premium sub-brand NXW. With this ISEER rating, Godrej NXW Inverter AC claims to be the nation's most power saving green inverter. After having doubled their investment in the brand as compared to last year, Godrej Appliances plans to strengthen its position further and capture a market share of 20 per cent in the 5-Star and inverter AC segment by the year 2018 with this launch.
ISEER or Indian Seasonal Energy Efficiency Ratio is a new rating system introduced by BEE (Bureau of Energy Efficiency) in June 2015, for inverter ACs. The minimum ISEER required for an inverter AC to be rated as 5-Star is 4.5.
Commenting on the launch, Kamal Nandi, Business Head and EVP – Godrej Appliances, said, "With the thought of building an AC that consumers can use without worrying about electricity bills, we created the Godrej NXW AC with 5.8 ISEER- India's most power saving green inverter AC."
Anup Bhargava, Product Group Head- Air Conditioners, Godrej Appliances adds, "We have designed NXW to be the best 5-star inverter AC in the industry with the highest efficiency of 5.8 ISEER, making it the most power saving and green inverter AC available in India today. This AC has been specially designed to suit the Indian climatic conditions while delivering high efficiency – and therefore comes packed with advanced technology and features such as 3X BLDC Motor Technology; Gold Nano coating for increasing the life of the condenser; ECO mode for 25 per cent more power saving, Intelligent Air Throw as well as user defined air throw along with many other features which deliver comfortable cooling."
The NXW range of ACs will be available in two different cooling capacities of 1.5-tonne and 1-tonne. They are priced in the range of Rs. 55,000- Rs 66,000. To make it even more delightful for consumers, Godrej Appliances is offering a 10-year compressor warranty and a 5-year condenser warranty, along with free standard installation.
Concurrently, the company also unveiled its brand philosophy 'Soch ke banaya hai' (Things made thoughtfully) that fuels the brand's new communication strategy.