11 Aug 2017
The luxury of water that moves to your command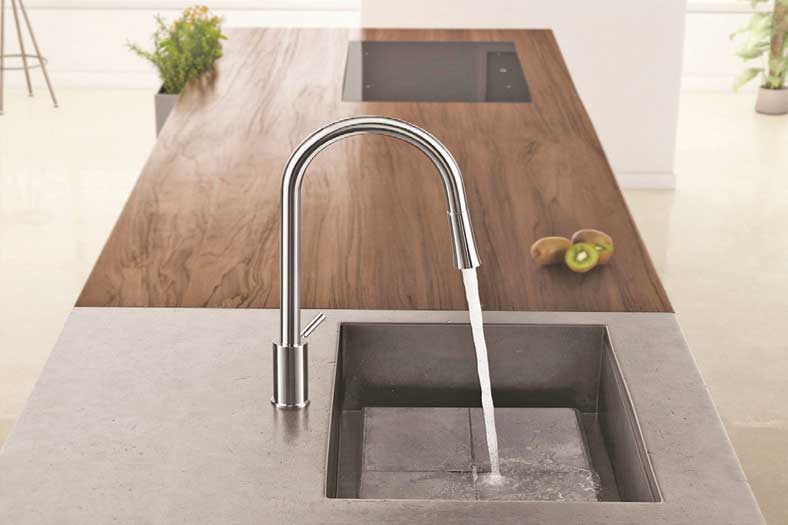 Jaquar Group has launched an exquisite designer product, FLO2 under its luxury brand Artize. The concept of FLO2 is designed to bring utmost comfort and aesthetic elegance to the kitchen. The luxury brand Artize from Jaquar Group believes in providing products that are magnificent, where design, technology and talent combine to deliver a masterpiece.
Artize FLO2 is a pull-down kitchen faucet that delights with its design versatility. Standing tall and proud, it is a functionally brilliant kitchen aide with the potential to adapt to your requirements. It amazes with its ability to provide water wherever you pull it down to, and a choice of flows to make your cleaning chores easier than ever before. The intuitively simple technology comes equipped with a 360-degree spray head that provides smooth operation and easy maneuverability. The high arch spout offers superior clearances for filling pots and a compact two functional spray head with spray and aerated flow.
It brings a sense of ergonomic style statement, and is built to provide uniqueness in usage experience. The ease with which it can be installed in a single hole installation only adds to the convenience of the user. Also, the 1.75-metre long hose provides an outstanding reach to make the faucet experience hassle-free.
This unique product will enhance the everyday working experience in a kitchen and is packed with a range of stunning features.
Commenting on the launch, Rajesh Mehra, Promoter and Director, Jaquar Group said, "Through our luxury brand Artize, we craft products that are unique, exquisite and can redefine the concept of luxury spaces across the globe. FLO2 is aimed to provide the luxury segment, a synthesis of true craftsmanship – a combination of expert detailing, form and technology which an evolved customer is always looking for and those who aspire to get both comfort and convenience in their kitchen spaces."
For more details, visit www.artize.com