09 Nov 2017
Building Tall: The Innovative Way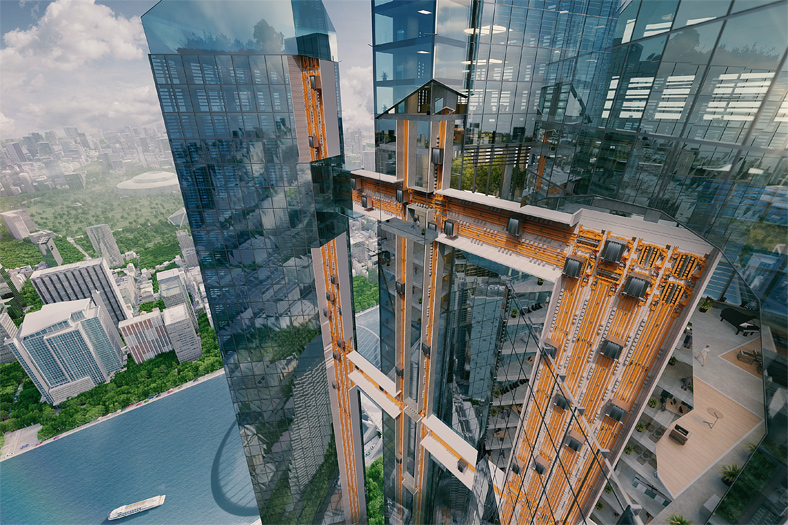 Featuring some of the most advanced tall building solutions that are on the spot.
Faster and safer elevators for tall buildings
High-rise buildings are towering achievements that indicate the future of urban living. Every single day, there are millions of people moving around these impressive structures – working, living and visiting. Tenants expect the best in comfort, security and convenience. Building owners and managers require the project to be completed on time with cutting-edge technology and integrated systems that enable efficient building management. Meeting all these demands in a high-rise building is always a challenge since the elevator operates under highly demanding conditions. When existing technologies and solutions can be taken further to meet challenge, there comes the need for innovation.
JumpLift
Completing the projects on time is one of the top priorities for all the builders in any project and if it's a high-rise, it becomes a greater challenge for the elevator company to safely transport all the required construction material and people to the desired height. That's when KONE came with an innovative solution called the JumpLift – a construction time elevator which uses the building hoists to move upward as the construction progresses. This unique construction time elevator uses a temporary machine room that can be shifted up or down, depending upon the need. It enables safe and fast construction process, reduces downtime and costs, facilitates early closing of facades and enables safe and efficient transportation for people and materials in all weather conditions.
KONE also introduced 'KONE UltraRope' – a super light carbon fibre core. The company claims that the UltraRope is 90 per cent lighter than the equivalent steel cable, thereby bringing a reduction of more than 50 per cent in moving masses and 15 per cent in energy consumption. It also allows the elevator to travel up to 1km in a single run, double of what's currently possible with a steel cable.
KONE Elevators became the vertical transportation partner for the world's tallest tower Jeddah Tower, Saudi Arabia. This tower will have the world's fastest double decker elevators with Ultra rope technology travelling at a record speed of 10 metre per second.
Amit Gossain, Managing Director, KONE Elevators India, "KONE has always made systematic and long term investments into its R&D capabilities to strengthen its innovation leadership in the elevator and escalator industry. One such example, is the coming together of KONE and technology giant IBM – the agreement to provide cloud based Internet of Things, technologies and services. This will benefit the customer in remote monitoring of elevators and escalators thereby reducing downtimes."
Thyssenkrupp's TWIN
Thyssenkrupp has pioneered a significant advancement in elevator technology by introducing smarter and faster elevator solutions for tall buildings.
TWIN, the fast and energy efficient elevator system from Thyssenkrupp, comes equipped with intelligent traffic control, which optimises traffic automatically and reduces empty runs in tall buildings. This state-of-the-art system has two cabs running independently in the same shaft, each with its own counterweight, safety and drive equipment. With reduced shaft core space and construction costs, the TWIN elevator system offers the most flexible elevator solution with an eco-conscious heart.
The company's double-deck elevator system is designed specifically to meet shuttle operation needs in high-rise buildings. Designating double-deck elevators to conduct high speed transport for a high volume of passengers at pre-defined stops or transfer points optimises traffic flow. The system can also transport heavy traffic to specific floors – for instance, the lower cab can serve all even floors and the upper cab all odd floors.
Informing about most advanced solution for tall buildings Bharat Vishnani, Managing Director, Thyssenkrupp Elevator (India) Pvt Ltd says, "We have high-speed elevators for high-rise buildings. Sonic, for instance, is our extra-fast passenger lift that can travel up to 12 metre per second. It's the perfect high-speed choice for your skyscrapers, office towers or other tall buildings where passengers need to rapidly reach great heights. Opt for an eye-catching panoramic car design or combine sonic with our TWIN lift for a truly one-of-a-kind solution."
With the increase in the number of high-rise buildings there is a need for faster and safer elevators. Now elevators can run at dizzy speeds like 21 metre per second. Such high speeds are now possible as there is a need for such high speed equipment and also developments have been done in the field of High Speed Permanent Magnet Motor Technology, informs Kulvinder Singh Bansal, Director, Sophus Elevators.
Bansal adds, "We use state-of-the-art machinery for manufacturing the latest equipment that is used in our elevators. These are Japanese machines that produce products with high accuracy. Use of robots in manufacturing process reduced the chances of human error and increases the speed of production and also reduces time required for quality inspection as the process is self inspection driven."
In the Japanese factories the material movement is also through robots. This ensures high quality of manufacturing which ensures that the product rolled out is nothing but perfect in the specifications required. Only the best steel is used to produce these high speed and high end elevators. "Steel raw materials are procured from only directly manufacturing mills that help us monitor the quality of the material going into our products. All suppliers are ISO certified to ensure that the material passes through standard processes and quality systems," he informs.
Tower cranes are essential for constructing tall buildings
Tower cranes are commonly used facilities for the construction of high-rise structures. They are now essential for constructing high-rise buildings because it provides economical solution of lifting heavy loads. In high-rise construction steel is extensively used in all forms of construction and is present in nearly in every form of reinforced concrete and by using tower cranes we can easily lift these loads, which increase the speed of construction and savings because of man-power reduction, savings because of reduced concrete wastage and advantage of timely completion of projects.
Inner climbing and luffing tower cranes
Action Construction Equipment (ACE) is the one of the largest tower crane manufacturing companies in the country with a wide range of tower cranes models for every need. "We have specialised models of tower crane for high-rise building e.g. inner climbing tower cranes and luffing tower cranes, our tower crane range starts from 1.6-tonne mobile tower cranes to bigger size cranes of 25-tonne capacity," informs Mayank Pundir, Country Head-Tower Cranes, Action Construction Equipment Ltd.
Safety is very essential for tower cranes and for this ACE has its own R&D Centre where experienced R&D professionals are working continuously towards product upgradation, development of new products and value engineering. The company has developed several new technologies and safety features in its tower cranes like Safe Load Indicators (SLI) which provide additional safety apart from other regular safety systems.
"Our tower cranes are provided with anemometers to check the wind speed while working on skyscrapers, dynamic braking system is used to avoid free fall of loads during hoisting brake failure. We also offer anti collision device for buildings where two or more tower cranes are working in proximity of each other. Our cranes are supported by Pan India sales and service network operating from more than 100 locations in the country with more than 50 dedicated service engineers for tower crane," Pundir says.
Luffing-jib crane
To meet the tight deadlines, especially in high-rise construction, the hoist speed in a tower crane is essential. To ensure the maximum productivity of its complete range of tower cranes, Linden Comansa features hoist mechanisms with Effi-Plus system, which allows high speeds especially when lifting light loads. Linden Comansa's range also includes large capacity drums, for up to 1,450 metres of rope, for the cranes to work in high-rise projects.
Most of the tall tower buildings are located in large cities. When constructing these high structures, it is very common to find other buildings around, so the space is usually very narrow. For this type of jobsites, luffing-jib cranes are the best solution as they can avoid other cranes, buildings or forbidden areas with their luffing-jib.
Mariano Echávarri, Communications Manager, Linden Comansa, says, "In July, Linden Comansa's sister brand Comansa CM launched its latest model of luffing-jib crane, the CML165, with maximum load capacity of 12-tonne and 50-metre reach. This crane features a 45 kW standard hoist mechanism that achieves maximum speeds of up to 94 metre per minute and a drum with capacity for 545 metres of rope, allowing the crane to work in projects of up to 270 metres in height. With the optional 65 kW winch that features a larger wire rope drum, this new model can build towers of almost 400 metres in height, working with hoist speeds of up to 131 metre per minute."
"The new crane also features one of the shortest counter jibs in the market, only 6.5 metres long, and an out of service radius of 19 to 22 metres (depends on the jib length), which make the CML165 a perfect solution in narrow sites," informs Echávarri.
Steel for tall
Jindal Steel and Power Ltd (JSPL) provides end-to-end solution for tall building projects by supplying fabricated steel structures for composite construction (that is for columns, beams and joists) including solutions for floor by using speed floor system or hollow-core slab. JSPL uses higher grade of steel up to E550 grade because of which the consumption of steel minimises substantially without compromising on strength because of reduced cross-section of structures, in turn increasing the carpet area as well thus providing an economical solution. "The USP of steel construction for tall building is to minimise the overall time frame of the project thus increasing return on investment (RoI). Also because of RERA, the timelines of project are now fixed with heavy penalties on developers due to any delay there is growing inclination towards choosing composite steel structures in high-rise building projects," informs Ajay Agarwal, Executive Vice President, Construction Business Solutions, Jindal Steel & Power Limited.
JSPL has provided its Construction Solutions for several mega buildings & tall structures in India, including Embassy Tech Village in Bangalore, Mist Tower 1 in Noida, Alphathum Towers in Noida and Multi level Car Parking at Sir Gangaram hospital-New Delhi where this new age design and construction procedure was followed.