28 Feb 2018
Bring sustainability by analysing all stages of construction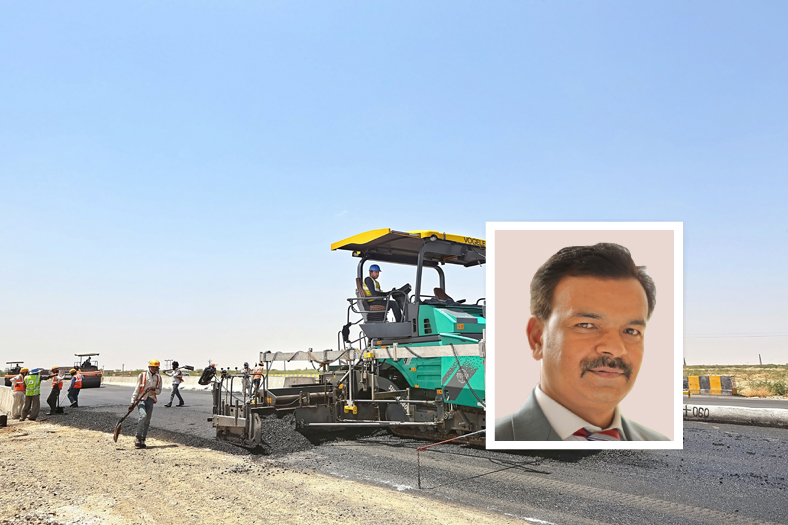 In order to bring sustainability in the Indian construction industry there should be proper analysis of all the stages of the construction.
Ratan Lal Kashyap, Sr. Vice President –Procurement, G R Infraprojects Ltd
Construction industry doing remarkably well
Stating on the recent performance of the construction industry in India Ratan Lal Kashyap, Sr. Vice President –Procurement, G R Infraprojects Ltd says, "The construction industry in India has been doing remarkably well in the current scenario. However, to develop the economy further lots of initiatives are being undertaken by the government and playing a vital role in improving the pace of implementation of key projects. Construction companies need to upgrade their project management expertise and ensure that there is adequate capacity to undertake and execute projects on time. The government through various initiatives is working on policies in order to attract significant investor interest in this sector."
He adds, "The pace of the construction of the road has also increased considerably for India over the last few years and this has led to induction of new technologies, created a lot of employment opportunities, brought ease in logistics from different business destinations, helps the people in travelling to far off places for jobs and thereby helping in the overall economic growth." The highway traffic in India is also on a growth trajectory. With the growth in the freight traffic, the demand of roadways will increase to a much greater extent in the future due to the increased road transportation. The growth in this sector have also lead to better accessibilities to healthcare facilities and higher educational facilities in the nearby cities due to improved road construction and reduced travel time.
How to bring sustainability
In order to bring sustainability in the Indian construction industry there should be proper analysis of all the stages of the construction, believes Kashyap. He says, "In the planning design and specification stage considerations should be given to minimise the use of energy in operational stage by effective utilisation of nature. Specifications should keep in view to use eco-friendly and sustainable materials and methods for sustainable development. In the current scenario there are a lot of activities that absorb resources, man hours and materials but create no value and this is the wastage in the construction sector which hinders the economic growth of our country. The wastage needs a lot of attention and needs to be minimised to a great extent to maximise growth."
To bring sustainability, innovation is integral to developing new products for the market and new processes and ways of working. The innovations in construction industry shall focus on sustainability on reducing consumption of resources, provide better ways of practices, provide better product and apply resource management in construction project.
"Government should also formulate mechanism to regulate non-performing bidders or contractors who have failed in awarded projects and encourage companies delivering quality projects on or before time," he suggests.
Reclaimed Asphalt Pavement
G R Infraprojects Ltd (GRIL) is among the pioneer Indian companies introducing use of new construction methodologies and technologies. It has immensely contributed to the growing economy by delivering quality roads and bridges on or before time and also has led to infrastructural development attracting more investors for the overall development. "We look at our projects as national assets that must provide the highest quality, convenience and safety standards to commuters in line with global benchmarks. We use best-in-class technologies at each stage of the process to reduce environmental impact and to achieve an advanced level of quality and safety standards. The result is enduring engineering marvels that have withstood natural calamities and other adversities. Our fine art of road making connects geographies and brings hope and opportunities to millions. Our in-house integration ensures that products and services required for project execution are delivered in a timely manner, thereby reducing contractual risks involved with third-party suppliers of products and services. We believe that our in-house integration model has contributed significantly to our successful completion of several projects on or before time, without compromising on quality. We continue to enhance our investments in best-in-class technology to support our operations and consistently achieve high quality standards," states Kashyap.
He adds, "Our continuous value engineering by in-house design team has always supported has constructing quality roads and bridges with best of construction designs, technology and construction methodologies."
In India, the use of recycled material in road sector has not been adequately explored.  GR Infra has been using RAP (Reclaimed Asphalt Pavement) by milling the roads on bridge approaches and pavements  which has change in levels leading to reuse of aggregate and bitumen which was a waste conventionally. They are also using warm mix technology reducing the fuel and environment emissions of toxic gases.
Government should attract investors
The government, through a series of initiatives, should work on policies to attract significant investors interest, suggests Kashyap while commenting on the expectations from the policy makers to push the construction industry. The current government is already working on various corrective measures considering the past bottlenecks which had impacted the growth in Indian Infrastructure, believes Kashyap. He adds, "The change in model concession agreement, bringing in Hybrid Annuity Models making it more balance and mitigating risk of all stake holders, implementation of GST has brought in ease in business. Government should  put more focus on forest and environment clearances which is still at times appears  to be bottleneck to project start and progress. The current very stringent mining policies in all states have restricted the availability of major raw materials required for construction of roads leading to abnormal delay on project and steep hike in construction cost. There should be provisions made with local state govt for raw material made before award of projects to concessionaire so that projects are not delayed due to government's lengthy approval process and bureaucratic hurdles."
He suggests, "Government must aim to boost corporate investment in roads and shipping sector, along with introducing business-friendly strategies that will balance profitability with effective project execution."