03 Apr 2018
Ajax Fiori's concrete equipment: Designed for high-rise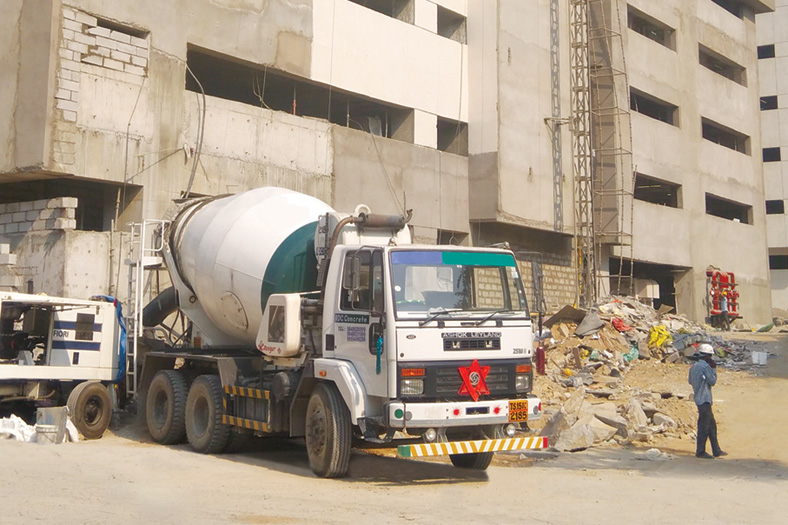 Ajax Fiori is serving the construction industry for the last 25 years and playing a pivotal role in nation building in the areas of housing and infrastructure like irrigation, roads & bridges, railways, power, urban infrastructure, to name a few.
Ajax Fiori provides total concrete solutions to its customers for their specific needs in concrete production, transportation and placement, whatever the need, wherever the need and whenever the need may be.
Debasis Bhattacharya, Head – Sales, Marketing and Product Support, Ajax Fiori Engineering (I) Pvt Ltd says, "Today, Ajax Fiori is the global leader in self loading concrete mixers and a major force in India for batching plants, transit mixers and concrete pumps. Our main offerings for this sector are our compact type CRB series batching plants for producing high quality concrete and our next generation ASP series concrete pumps, for efficient vertical placement of concrete to challenging heights."
He adds, "Our CRB series batching plants come standard with Planetary Mixers, which is the most ideal mixer for producing all grades of concrete and all types of slumps. Our ASP series concrete pumps come standard with superior 'S' valve technology, efficient hydraulic system and customised manifold, which is ideally suited for high pressure vertical pumping of concrete."
Key Features of Ajax Fiori concrete pump –ASP series
• Efficient use of engine power for effective fuel consumption.
• Appropriate feeding height ensures clear visibility of concrete at hopper.
• Effective control system with simple electrical Panel
• Efficient open loop Single hydraulic pump.
• Automatic greasing, wired remote, hopper vibrator, limit switch for hopper grill safety ensures high performance of the pump
• High quality wear components to ensure longer life.
The ASP series of Stationary concrete pump is currently available in 3 capacities viz., 40, 50 and 70 cu.m. per hour, working in multiple job sites all over India.
Bhattacharya briefs,"The latest offering into Ajax Fiori concrete pump range has been the 26 metres Boom Pump mounted on 4 x 2 truck chassis, which is destined to change the market dynamics of pumping concrete. This boom pump has been designed and developed in-house to cater to customer requirements of compact, manoeuvrable and productive mobile pumping unit, which can work effectively in confined job sites. The Boom Pump has a 70 cu.m. per hour pumping unit, coupled with a 26 metres Z folding boom made of high grade, light weight steel, mounted on a 4 x 2 truck chassis, thereby positioning it as the most productive and versatile boom pump in its category in the market."
Key features of Ajax Fiori batching plants –CRB series
While a majority of Indian structures both residential, commercial and infrastructure are being built the cast in place or in-situ model, there is a growing popularity for precast technology within the Indian construction community.
He states, "Today, with critical housing shortages, rising labour and input costs and an increased emphasis on quality and timely delivery, more and more builders are opting for innovative construction practices like precast."
Ajax Fiori's Compact Reduced Bin batching plant (CRB Series) with planetary mixer is a perfect choice for pre cast Industry.
Bhattacharya informs, "The USP of Reduced Compact Batching Plant are that they are supplied standard with planetary mixers and customised PLC based control system. More so, these planetary mixers are manufactured in-house under strict quality control procedures, in technical collaboration with Eurostar, Italy. World over, the planetary mixers have replaced the turbo mixers for most applications, owing to its capability of producing high quality concrete of different types."
The key benefits of planetary mixers over conventional turbo mixers are:
• The planetary mixer mixing tools rotate in a synchronised manner and are able to turn the material distributing all of the material uniformly in the pan without favouring the different nature of the materials creating a homogeneous mix; each revolution changes the flow pattern.
• The intensity of the mixing action, appropriate speeds combined with design of the mixing tools provide a complete homogenisation and an efficient flow pattern.
• The pan of the planetary mixer is completely empty thus allowing the material to cover the complete area in a minimum time.
• Planetary mixers have a single type of mixing tool with a geometry that together with a combination of movements distributes evenly the material.
Ajax Fiori is headquartered at Bangalore, having regional offices at Mumbai, Delhi, Kolkata, Hyderabad, Indore and Bangalore and a pan India network of 28 dealers with 83 touch points, catering to sales and product support to its customer. Ajax Fiori has also gone overseas in SAARC countries, with dealers located in Nepal, Bhutan and Sri Lanka. Currently it has 2 service centres at Bangalore and Hyderabad to cater to major repairs and overhaul of its equipment.