03 May 2018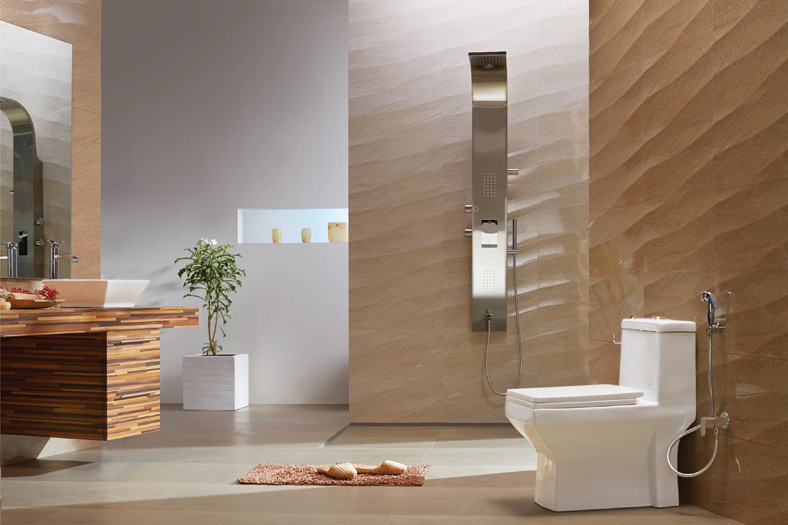 Featuring some of the most advanced sanitaryware that are designed to enhance user experience with unique features.
The bathroom is becoming increasingly important as a living area and somewhere to relax; a bathroom that is also based on individual needs. Increasing consumer preference for bathrooms, rising hygiene consciousness and growing preference for modern amenities increases the overall value of the homes nowadays. People are undertaking style updates to transform their bathrooms into more comfortable areas. "Instant cleaning, automatic flushing, water saving, health tracking are the smartest bathroom trends available in the current market," informs Asutosh Shah, Managing Director, Duravit India Pvt Ltd.
According to Manish Bhatia, President – Building Products Division, HSIL Limited and CEO of EVOK Retail, "Smart sanitaryware products are technologically advanced and offer superior functionality. The sanitaryware industry is making significant advancements such as integration of sensors, electronic touchpads or making the whole system automatic, for consumer convenience."
Giving an overview of the Indian market in the context of 'smart' sanitaryware, Pankaj Sharma, President, Johnson Bathrooms & Kitchens said, "Sanitaryware segment in India has undergone a significant revolution. The Indian consumers have come of age and their tastes and preferences have been changing to more contemporary designs. Consumers are now well travelled and well-versed with global trends. They are choosing products that are the right mix of visual aesthetics, functionality and benefits, as well as a completely seamless experience while using the products. They are more inclined towards making high-end smart bathrooms in their homes."
Smart range from Johnson Bathrooms
There are some very innovative and sustainable germ-free and water saving sanitaryware and faucets that are available in the Johnson Bathrooms range. For instance, the Thermostatic Shower Set by Johnson Bathrooms provides precise control over the mix of hot and cold water. It comes with cascade flow rain showers and body jets which give therapeutic massage benefits and a complete luxury shower experience.
1 Rain Showers: The Rain Showers that Johnson Bathrooms offers come in different shapes and sizes that perfectly gel with bathroom ambience and size. Special internal design ensures uniform flow from all the nozzles there by giving a luxurious bathing experience.
2 Elite collection of faucets: This collection has been designed using superior quality stainless steel and silicon nozzles. Elite collection also has the chrome-plated faucets that use high quality of brass to ensure uniform flow and temperature of water. Water-saving technology and thermostat control are add-ons to this list of features.
3 Free standing bath tubs: With an aim to enhance the bathing experience, the free-standing bath tubs from Johnson Bathrooms are designed using high quality gloss Lucite special cast acrylic sheet with fibre glass reinforcement. The thick acrylic sheet gives consistency in colour which does not fade or turn pale even after years of use. The bath tubs come with an extra deep design for full body immersion which can be easily installed in a free-standing configuration.
Duravit's latest sanitaryware in 'smart' segment
4 Rimless Toilets: Duravit has created an example of pure efficiency. The open design of the toilet rim enables an innovative and efficient flush. A dynamic and powerful flow of water describes a horizontal arc, before the water runs down, flushing the entire inner surface of the bowl. Of course, the applicable standards with regard to possible splashing are also observed and, in part, even exceeded.
5 WonderGliss: Hygienic flushing results are achieved even with small water volumes of just 4.5 litres. Thanks to the open, easily accessible rim area, the bowl is also particularly easy to keep clean, and this reduces cleaning times considerably. The tried-and-tested WonderGliss coating makes the toilet even easier to keep clean.
6 HygieneGlaze 2.0: HygieneGlaze 2.0 further improves the hygienic properties of the toilet. The new development is not a surface coating, but an antibacterial ceramic glaze that provides almost indefinite effectiveness. Fired into the inside of the toilet as far as the rim, it kills the unwanted bacteria that are often concealed in toilets and urinals: after six hours, it eliminates up to 90 per cent and, after 24 hours, 99.999 per cent an unprecedented level.
7 SensoWash shower-toilet: The extremely flat SensoWash shower-toilet seats are difficult to distinguish from a classical toilet. They thus meet the customer's needs for elegant aesthetics, but also offer every comfort of modern toilet hygiene and thereby greater quality of life. All of the SensoWash functions are operated by remote control. After using the toilet, simply select the desired function Rearwash, Comfortwash or Ladywash and enjoy the pleasant and gentle cleansing with warm water. The motor-operated toilet lid and toilet seat open and close by remote control.
HSIL introduced a plethora of 'smart' products
8 Automate by Hindware Italian Collection: A range of high-tech European Water Closets (EWCs) that come with a remote control to cater to your needs at just the press of a button. The intelligent toilet comes packed with features like auto post flush, twin jet sprays, warm air drying, etc. Apart from providing the aforementioned features, Automate also ensures that there is minimal wastage of water.
9 Rain Spa Shower by Hindware Italian Collection: A seven coloured LED shower with three different water flow options is the perfect companion in a bathroom for a refreshing shower experience. The highly indulgent shower is equipped with features such as multi-function shower head with LED lights, three function diverter controls water flow, sleek electronic touch panel controls light settings, etc.
10 Hindware 100% Rimless 100% Clean: Ushering in a new era in flush technology, the rimless WCs as the name suggests, have no rim. Hindware Rimless claims to be the only WC in the country recommended by The Indian Medical Academy of Preventive Health (IAMPH).
11 QUEO Wet Beatz musical shower: The rain shower head comes with an in-built magnetic wireless speaker which can be paired with Bluetooth-enabled devices and this in turn enables the consumers to enjoy their playlist even while taking a shower. The musical shower is compatible with popular platforms like Microsoft Windows, Android and IOS.
The Indian consumers have come of age and their tastes and preferences have been changing to more contemporary designs.
Pankaj Sharma, President, Johnson Bathrooms & Kitchens
Instant cleaning, automatic flushing, water saving, health tracking are the smartest bathroom trends available in the current market.
Asutosh Shah, Managing Director, Duravit India Pvt Ltd
Smart sanitaryware products are technologically advanced and offer superior functionality.
Manish Bhatia, President – Building Products Division, HSIL