03 May 2018
Building smart cities: Materials, Energy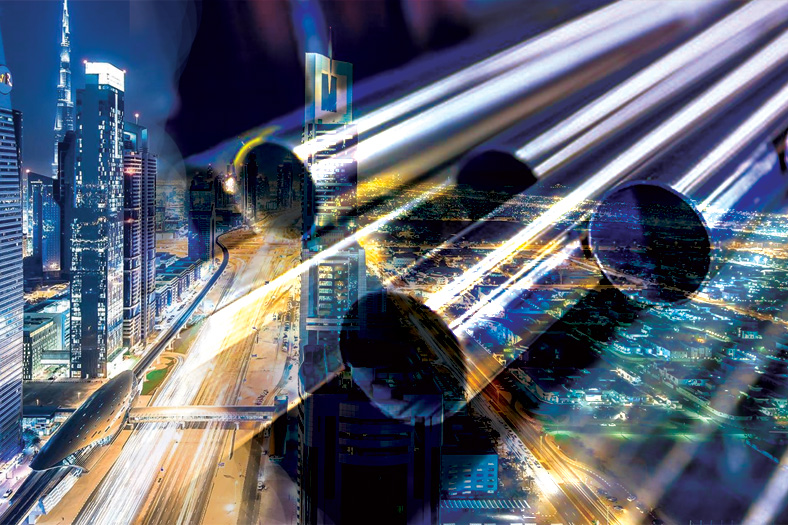 Here, we take a look at some of the essential 'smart' building materials for building future smart cities.
The Indian infrastructure sector has been observing significant change and has further been brought to the forefront following the government's announcement of India's 100 "smart cities". Smart cities focus on a concern for extending the lifespan of natural resources; plummeting operating costs such as for use of energy and water; and providing human comfort, safety and productivity. Other distinctive features would include the use of non-toxic, recycled and environmental friendly building materials.
For India to realise the ambitious infrastructure idea of smart cities, it would require not only safe architecture, but also smarter materials and solutions which make construction process easier and faster. Today, the most promising technologies for lifetime efficiency and improved reliability include the use of smart materials and structures. The new age infrastructure demands a combination of innovative construction styles along with usage of robust technology and high end and durable building material to give it the desired shell life and sustainability.
Roofing
One of the biggest influences on the sustainable and energy efficient building is the type of roof that it has installed over it. Fundamentally, for a roof to be energy efficient, it needs to do a good job of blocking the heat out instead of absorbing it. When a roof absorbs heat, that warmth is transferred into the air inside the building radiantly, and pretty soon the entire interior has gotten much warmer.
PEB
The PEB (pre-engineered buildings) can supply at large to capably accomplishing the vision of smart cities. PEB encourages green construction. PEBs are entirely manufactured in the factory premises under controlled environment and hence do not pollute environment. Also, these buildings are extremely recyclable with 70-80 per cent recyclable content. Furthermore, the use of galvanised steel makes these buildings rust-resistant which reduce the maintenance cost. Likewise, these buildings are earthquake safe and designed as per the criticality of seismic zone.
PEB has developed manifolds in the last few years. From simple box like buildings to multifaceted high-rise buildings, PEB has displayed immense latent. PEB is now being used for multiple applications.
Insulation
Insulation decreases the exchange of heat (both heat gain and heat loss) through the many surfaces in a building—walls, ducts, roof, etc. In a well-insulated building, less warm air escapes during the winter, and less cool air escapes during the summer, reducing the amount of energy needed for heating and cooling. Insulation can actually be one of the most practical and cost-effective ways to improve a building's energy efficiency: by improving the insulation in new and existing buildings, one can enjoy significant savings and reductions in energy usage.
A spokesperson from Rockwool India Pvt Ltd says, "Insulation is one of the easiest and cost-effective solutions for energy conservation. Currently only some warehouse/hangers and commercial buildings use insulation but we are sure we in the coming building in smart cities, more insulation in buildings will be used in all building types, transforming construction and the energy demand of our county as a whole."
Smart cities will have modern buildings and these buildings will be safe, sustainable and energy efficient. Insulation plays a key role in achieving their objective of building sustainable buildings. It is undisputed fact; insulation is one the very critical and cheapest way towards sustainability, the company further adds.
The roofing and cladding system is now a preferred substitute for the conventional mode of construction and Insulated sandwich panels are trending nowadays. One of the most important elements of insulated sandwich panel is its ability to reduce thermal heat gain and its basic material itself has better thermal efficiency. These panels consist of PUF (Polyurethane Foam)/PIR (Polyisocyanurate)/Rockwool insulation sandwiched between double layered metal sheets.
Saurabh Jindal, MD, Jindal Mectec Pvt. Ltd says, "Insulated Sandwich panel can be considered as the most preferred one due to its unique advantages. In order to fulfil the dream of smart cities there is a huge requirement of smart technological solutions and keeping in view 'Double Skin Metal Sandwich Insulated Panels' can be considered as the best solution for same."
Jindal claims that one of the most important aspects of insulated sandwich panel is, it is eco-friendly and considered as green material. These panels comprise of PUF/PIR/Rockwool insulation infill materials as per design and customer needs. PUF panels are ideal product to maintain the required temperature inside the building and Rockwool panels are fire resistance, he adds. These panels are readily available in variable thickness for diverse application as per building requirements. These panels are supporting the development of smart cities with faster pace and letting the flexibility of designing and construction of absolute intricate shaped buildings in no time.
Steel
Steel, due to its physical properties, have emerge as a strong component in and contributor to the fabrication of infrastructure required for smart cities. Creating new smart cities or upgrading old cities is fastest and cost effective with steel structures.
Prabhat Kumar, Chief of Marketing & Sales, Industrial Products, Projects & Exports, Tata Steel Ltd says, "One of the products finding acceptance in Indian markets to support the latest construction technologies like modern formwork and free-flowing concrete is welded wire fabric or wire mesh."
Tata Steel's Sm@rtFAB solution is a wire mesh product supported by tailor-made design and support services by the company. It is a prefabricated reinforcement product which aims to bring speed, value and convenience to construction projects. Finding its applications in a variety of projects like residential, commercial, runways, prefabricated buildings and tunnels, the product would revolutionise Indian construction scenario which would highly focus on speed and cost-effectiveness, he adds.
Kumar further adds, "Smart City projects in India are synonymous with efficient, fast and optimised solutions, leveraging technology, leading to holistic urbanisation. With ambitious timelines and exponentially growing population, the smart city projects demand high speed and convenience for faster project completion and less dependence on skilled labour."
Hence, Sm@rtFAB relevantly adds a lot of value to these projects improving the on-site efficiency of construction and decreasing the wastage because of prefabrication using automatic machinery and optimal steel utilisation because of availability in more diameter options and design flexibility, he states.
Solar
Simarpreet Singh, Strategy Head, Hartek Group says, "Bio-based building materials are poised to bring about a revolution in the construction sector in years to come. Green buildings of the future will have bricks made out of bacterial by-products which cement sand particles together in a matrix, making the structures stronger and much more resilient."
So, bricks baked in kilns will soon make way for bricks grown in moulds. Another path-breaking product in the offing is concrete infused with bacteria which can fix holes and cracks in the concrete, thus making it last longer and reducing maintenance costs.
Catering to efficient power supply, a state-of-the-art transmission and distribution (T&D) network based on smart grid applications like SCADA is one of the most crucial components of any Smart City. After all, smart grids make Smart Cities. While smart grids entail a variety of operational and energy efficiency measures like smart meters and smart appliances, self-correcting mechanisms like SCADA are also a vital element of smart grid technologies, he adds.
SCADA systems enable collection and storage of information relating to any indications for troubleshooting and maintenance, thus making the power systems smart and robust.
The automated and computerised applications used under SCADA to detect faults and identify faulty equipment not only reduce the need for manpower but also bring down costs, aided by lower operation and maintenance expenses, and ensure reliable and efficient power supply prompted by a faster response. Besides, the outages are fewer and the time taken to rectify faults is considerably reduced. SCADA systems are also ideal for integration of renewable energy systems, Singh comments.
One of the products finding acceptance in today's Indian markets is welded wire fabric or wire mesh.
Prabhat Kumar, Chief of Marketing & Sales, Industrial Products, Projects & Exports, Tata Steel
One of the most important aspects of insulated sandwich panel is, it is eco-friendly and considered as green material.
Saurabh Jindal, MD, Jindal Mectec Pvt. Ltd
While smart grids entail a variety of operational and energy efficiency measures, SCADA are also a vital element of smart grid technologies.
Simarpreet Singh, Strategy Head, Hartek Group