03 May 2018
Riding the Wave of Smart Cities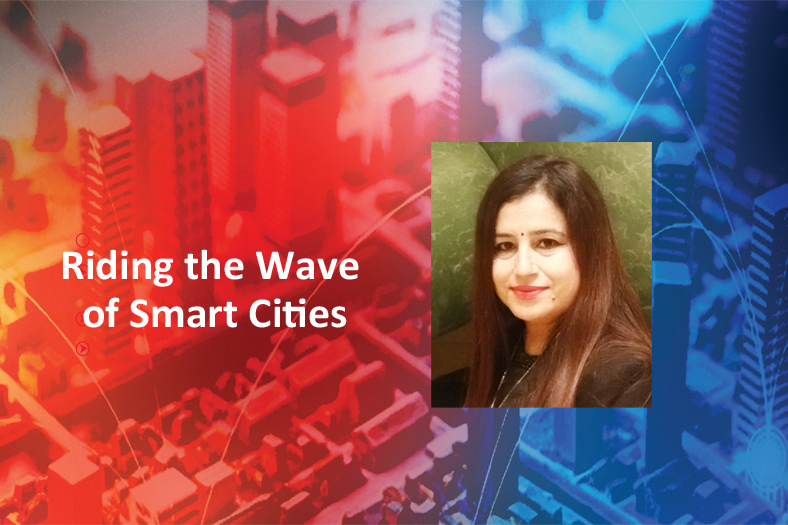 Mala Singh, CMD, PEC Solutions Green Designs Pvt Ltd
Feasible economic incentives, realistic and not idealistic planning schemes, visionary determination and leadership are the key drivers for development of Smart Cities in India.
Mala Singh, a renowned green entrepreneur, has recently been appointed by the government bodies like CIDCO and Thane Municipal Corporation as an expert member of the environmental cell to scrutinise sustainability aspects in building proposals.Here, she explains about how a "smart city" can become an integrated movement towards intelligent national development.
With government's Smart Cities plan is catching up, how do you envisage this as a stepping stone to infrastructure development?
Presently, even though urban population in the country is only 31 per cent, it contributes over 60 per cent of India's GDP. It is anticipated that urban India will contribute nearly 75 per cent of the national GDP in the next 15 years. It is for this reason that cities are referred to as the "engines of economic growth" and ensuring that they function as efficient engines is critical to our economic development.
The Smart City Mission is an ambitious, dynamic movement towards building a thriving economy. Its rapid growth is promotinginfrastructural development at a national level.
Urban mobility is proposed to be enhanced by increased access to public transport, development of pedestrian avenues, bicycle tracks and last-mile para transport connectivity. The Smart City Mission aims to provide affordable, clean housing to all with optimised open spaces, maintaining eco-spaces and reducing heat island effect. This development will also focus on better sanitation, drainage,integrated solid waste management systems and renewable energy infrastructure.Enhanced Internet connectivity in all aspects, better education, healthcare, entertainment facilities and attractive investment opportunities will also be provided. All these strategies will prove to be stepping stones to institutional, social, physical and economic infrastructural development.
What are the key drivers for development of smart cities in the country?
Feasible economic incentives, realistic and not idealistic planning schemes, visionary determination and leadership are the key drivers for development of Smart Cities in India. According to the current environment regulations issued by the Ministry of Environment and Forests(MoEF) and Bureau of Energy Efficiency (BEE) to implement Energy Conservation Building Code(ECBC) of India, all new constructions need to ensure optimum design and resource efficiency at both macro as well as micro level planning to achieve energy efficiency and the common goal of mitigation of climate change and global warming. However, Green Governance is the need of the hour which would ensure that these norms are followed through practically instead of just being on paper. The most important key driver for development of the smart city agenda would be the understanding of individual responsibility by each citizen of the country.
What's your take on the role of sustainable building material in building smart cities?
Building materials are a significant part of the construction industry. The government of India is providing new incentives every day for research, development and production of cutting edge technologies in construction and design. The advent of sustainable materials with low embodied energy like flyash, aerated concrete blocks, recycled materials like glass and steel and materials with recycled content are now sold at competitive rates in the Indian market creating a whole array of green employment.
Green building is the practice of creating structures and using processes that are environmentally responsible and resource-efficient throughout a building's life-cycle from siting to design, construction, operation, maintenance, renovation and deconstruction.
The Indian Green Building Council (IGBC) declares sustainable building materials to be a major parameter in the declaration of a "Green Building". The GreenPro certification by IGBC is a product certification which helps environmentally conscious customers to make an informed choice to buy eco-friendly products.
How crucial is architectural design for creating a sustainable smart city?
Rapid global urbanisation provides the opportunity to create striking, new forms of city living, supported by the proliferation of new "smart" technologies. However, the convenience and betterment of public at large cannot be neglected.
Architects bring a humanised understanding of technology which may complement the technology driven strategy of current Smart City advocates. Architects and environmentalists have learned that sustainability in a holistic conception and it is much easier to design a building with new technology already in place than it is to retrofit a pre-existing building.
By better employing the collective skills of architects and environmentalists at the planning stage of all construction and design projects, who can mediate between new technology and the people it aims to serve, the "smart city" will cease to be a mere popular notion, and truly become an integrated movement towards intelligent national development.
Technology will play an important role in creating smart cities. Which are the areas of its implementation?
The concept of smart cities was premised on integrating information, communications and Internet of Things (IoT) technologies like sensors and cameras in a secure fashion to manage a city's assets. One goal was more effective and cost-efficient management of city infrastructures and property, but equally important was responsiveness to emerging infrastructure events to help cities and their occupants.
Breakthrough technologies in the field of renewable energy, wastewater treatment, organic waste management, automated building management systems, occupancy and daylight sensors and energy efficient lighting will pave the way to sustainable planning and design in smart cities.
Could you tell us about your contribution towards development of smart cities?
I have been appointed by government bodies like City and Industrial Development Corporation of Maharashtra (CIDCO) and Thane Municipal Corporation (TMC), Maharashtra as an expert member of the environmental cell to scrutinise sustainability aspects in building proposals. The MoEF (Government of India) has already taken steps to establish an effective mechanism to enhance Green Governance from the design level of the projects till its operation by involving certified environment auditors.
Our company, PEC Greening India is a leading premier consultant to facilitate builders to adopt climate responsive architecture ingreen building design, smart design analysis to achieve energy efficiency by energy modelling and simulation approach, integration of sustainability parameters w.r.t. water management and waste management, building commissioning services, green audits, legal regulations etc.Presently our company is involved in transforming more than 2,000 million sq. ft. construction footprints into 'green'across the country, Projects like smart cities, industrial townships, hospitality projects, educational projects, warehouse and green factories, healthcare projects, green homes, commercial and retails buildings, malls etc. Are an integral part of our green buildings certification process throughout the project development from planning level till commissioning under IGBC, GRIHA, LEED, and ECBC Ratings. We also provide ECBC compliance reports to get environment clearances.
We are pioneer in transforming existing bank buildings like ICICI Bank, Head office Mumbai, SBI Bhavan Mumbai, SEEPZ, Mumbai etc. into green buildings.
PEC is associated with leading developers namely, K Raheja, Raheja Universal, Rustomjee, Omkar builders, Rizvi, Hiranandani, Happy Homes etc andseveral government bodies like National Thermal Power Corporation(NTPC), GIFT city Ahmedabad, Renaissance smart cityand various others. Our sustainability journey will continue.