03 May 2018
Why smart cities should be green?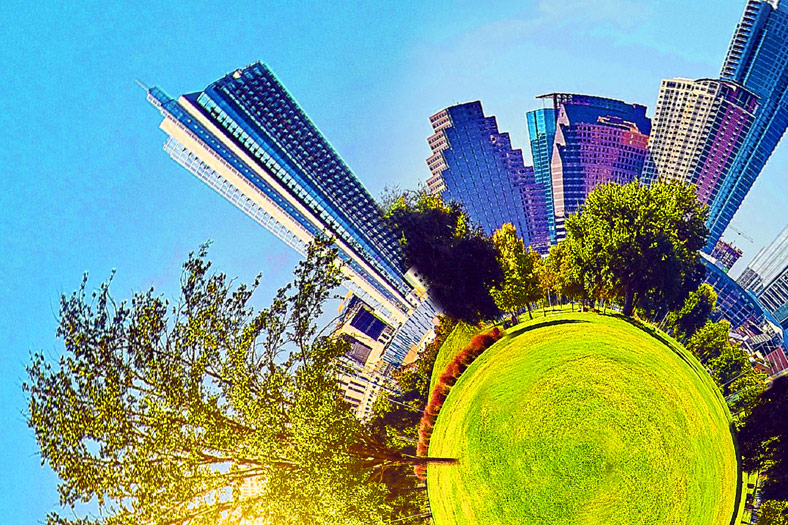 An in-depth analysis on why the upcoming smart cities should be green. It also highlights some of the green features of a smart city.
The number of urban residents in India is expected to reach 800 million by 2050, by then it is estimated that one out of every two Indians will reside in urban areas. This rise in our urban population will demand an expansion of existing cities and the development of new urban centres (townships). "With cities now acknowledged as key consumers of the world's natural resources (and energy), we have to ensure 'smart and green' cities that are sensitive to environmental needs, and better able to manage this consumption of resources," said Jaimin Desai, Head – Design & Sustainability, Mahindra Lifespace Developers Ltd.
Dr Niranjan Hiranandani, MD, Hiranandani Group adds, "The concept of creating urban conglomerations as also efforts to decongest densely populated Indian cities has grown in a haphazard fashion and has largely focused on 'green' as an ornamental aspect – not as a means of ensuring sustainable development. There is a need to go beyond being just 'ornamental' in terms of ensuring a green, but also an eco-friendly development of smart cities in India, to acutely focus on this as a critical issue."
The need to make a smart city green stems from the idea that in addition to being potentially modern and problem – solving, a city should be able to sustain the fangs of deteriorating conditions that our planet is facing with the passing time and in turn be able to contribute in making it better; a city in which the structures and the city grain does not contribute to the carbon footprint but in turn helps in reducing it, a measure that is desperately required to be taken. The dying lungs of a city can be replenished by adopting the green measures and the 'smart city' initiative will make sure that the measures are being adopted efficiently.
However, Ar. Charanjit S Shah, Creative Group believes, "An attempt to create green smart cities can be achieved by following the philosophy that 'a built form should not be treated as a dead mass of brick and concrete, but as a living organism, allowing it to breathe with nature.' Keeping this thought in mind, our development needs to be intrinsically focused on creating sustainable smart cities."
In the opinion of Anindya Ghosh, Sr. Architect at Archohm, by projecting smart smart cities, we will be sparking a movement to promote energy efficiency, less reliance on fossil fuels, and a reduction in air and water pollution. He adds, "Nevertheless, we ought to make the most out of what exists, in an efficient way. Such changes are necessary to protect our environment from further harm. The construction industry perhaps consumes a huge quantity of energy and resources and results in a lot of pollution, terrorising human race, in general."
Given that our cities occupy a mere 2 per cent of the Earth's land surface and yet consume 75 per cent of the Earth's resources, there is a need to start exploring the possibilities of a closed-loop typology of architecture that looks at consumption and waste simultaneously. Ar. Manit Rastogi, Founder Partner, Morphogenesis opines that the starting point to planning a smart 'green' city should be with the assumption that if there is no energy, no water and no waste disposal, how does one approach design. He adds, "Traditional architecture and planning has always been green with reference to paucity of resources and is thus often a useful resource for contextually relevant inspiration."
Morphogenesis has its own interpretation of 'SMART' and how it defines a city. For Morphogenesis, SMART is an acronym that stands for sustainability, mobility, affordability, resilience and technology. "A sustainable smart city is much more than a development that embraces technology; the future of the city must be sustainable and green – net-zero on water, net-zero on energy and net-zero on waste-to-landfill. We see SMART urbanism as an emergence of these interwoven networks," said Rastogi.
Think smart, think green
According to Vrinda Shetty, Associate Director, Bentel Associates, "Thinking smart is all about thinking green and thinking green is about making urban areas lessen their environmental impacts by reducing waste, expanding recycling, lowering emissions, converting waste to energy and implementing sustainable local businesses. All these processes aim towards sustenance."
The concept of sustainable development, ecological modernisation, and regenerative sustainability implies that there is major overlap of smart and green city. "Smart city is a vision to integrate nature with living beings through use of technology, digitisation, governance and most importantly green thinking. Smart cities are much about nature, health and wellbeing of all its citizens," opines Vrinda.
Green features of a smart city
"A smart city is built keeping the surroundings in mind using renewable building materials making the construction seamlessly merge with its surroundings. The use of recycled resources helps in cost reduction at the same time careful site selection minimises the human impact on the surrounding environment," observes Ashok Mohanani, Chairman at Ekta world and Vice President of NAREDCO West.
According to Aakash Setia, Director, Mona Townships Pvt Ltd (MTPL), "The most important green feature of any smart city is its green buildings. As we embark on rapid urbanisation, the unprecedented upsurge in the number of new constructions will be accompanied by a manifold increase in demand for electricity. The impending situation calls for designing and developing buildings of the future by incorporating energy-efficient features and sustainable practices."
Explaining the green features of a smart city, Dr Hiranandani said, "Very simply, it is about ensuring there's a connection among the various aspects that elevate an eco-friendly township or smart city into a sustainable one, to my mind that is the factor that defines the green features of a smart city."
A smart city, in the Indian context for urban development, is one that enables a city to be equipped with basic infrastructure to give a decent quality of life, a hygienic and sustainable ambience through smart solutions. The goal is to improve the quality of life by using the advantages of technology for efficient solutions. Basic infrastructure includes assured water and electricity, sanitation and waste management system, a robust mobility and transportation network, IT connectivity, provision of e-governance, safety–all through the involvement of citizens. Smart cities envision providing greater opportunities and a better standard of living to all citizens.
However, Ar. Anindya Ghosh of Archohm said, "All this can be achieved through careful planning and sensitive development. During the construction and operation, a special focus is laid upon minimising the demand on fossil fuel-based energy, promoting the recycle, reuse, renewable energy and energy efficient devices and appliances. It is always effective to utilise energy efficient building materials, besides taking care of water conservation, waste management, energy conservation etc."
Green buildings promote the use of renewable energy systems i.e. solar water heating systems, rooftop PV system, waste recycling for energy generation etc. The overall sustainable mechanism of construction industry depends upon various factors. The consideration of natural or ecological concerns primarily measures the green performance rating of a building. Green performance of a building is based on broadly five key parameters i.e. sustainable site, water efficiency, energy, materials and atmosphere.
Ar. Manit Rastogi of Morphogenesis said, "A new sustainable urban blueprint needs to be derived from the opportunity that lies within. The approach must be multi-pronged and bottom-up to gradually bring about positive change in the city. There is a need to mobilise organisational systems, finance, industry, and architectural imagination to aspire to this end." He believes that there are several factors which positively impact the quality of this nexus:
• Design interventions that are socio-culturally deep-rooted in their local context
• Revitalisation of walk-ability and creation of separate fields to promote pedestrianisation
• Enhancing the sense of 'physical safety' and 'perceived safety'
• Building for multi-generational living, and understanding the varied needs of a wider band of users
• Creating comfortable urban conditions by designing for microclimates to widen comfort bands
• Designing interaction and collection spaces, to promote chance interactions within a development
• Introducing technology to develop SMART communities.
However, Jaimin Desai of Mahindra Lifespace believes that the 'smartness' of a smart city lies in its planning process, in incorporating flexibility at every level and in ensuring that resources are planned efficiently to enable long-term sustainability for future generations. At the same time, quality of life must be prioritised. According to Desai, some of the key 'green' features of a smart city entail:
• Reduced water demand and pumping requirements – via water-efficient fixtures, minimised water requirements in cooling towers, gravity-fed systems, building and district-scale rainwater harvesting, air-conditioner condensate, and greywater treatment and recycling.
• Organic waste treatment – via on-site composting, anaerobic digestion to generate biogas for transportation, incentivisation of waste reduction and waste separation, and incentivisation of recycling.
• Renewable electricity – rooftop photovoltaic panels
• Reduced energy consumption – via energy-efficient lighting, passive energy reduction, radiant cooling, and district cooling via solar cooling. It is also important to raise consumer awareness of energy usage.
• Smart transportation – via walking and cycling infrastructure, bike-sharing and adequate bicycle parking, optimised public transportation options (and incentivisation of use), and low-emission bus transport systems.
Mahindra Lifespaces believes that cities have the potential to be places where high living standards can be delinked from unsustainable levels of consumption of all three types of resources – environmental, financial and human. Their Mahindra World City (MWC) developments are built on green principles and incorporate sustainable urban practices at the design or planning stage itself – these include energy-efficient green buildings, LED street lighting, solar PV rooftops, LED retrofitting, urban tree plantation drives, sewage treatment plants (STP), bio-gas from food waste, treated water for landscaping, and low-flow fixtures & fittings.
MWC Chennai is India's first IGBC (Indian Green Building Council) 'Gold' certified Green Township. In addition, MWC Jaipur is the first project in Asia to receive Climate Positive Development Stage 2 Certification from the C40 Cities Climate Leadership Group (C40), a global network of large cities acting to address climate change. The company has recently launched its new brand of industrial clusters – 'ORIGINS by Mahindra World City' – these developments will also incorporate environment-friendly, smart elements encompassing solutions in the areas of water and waste management, energy efficiency, security, etc.
Smartness' of a smart city lies in its planning process, in incorporating flexibility at every level and in ensuring that resources are planned efficiently to enable long-term sustainability for future generations.
Jaimin Desai, Head – Design & Sustainability, Mahindra Lifespace Developers Ltd
There is a need to go beyond being just 'ornamental' in terms of ensuring a green.
Dr Niranjan Hiranandani, MD, Hiranandani Group
Our development needs to be intrinsically focused on creating sustainable smart cities.
Ar. Charanjit S Shah, Creative Group
Thinking smart is all about thinking green and thinking green is about making urban areas lessen their environmental impacts.
Vrinda Shetty, Associate Director, Bentel Associates
A smart city is built keeping the surroundings in mind using renewable building materials.
Ashok Mohanani, Chairman Ekta World & VP NAREDCO West
Nevertheless, we ought to make the most out of what exists, in an efficient way.
Anindya Ghosh, Sr. Architect, Archohm