12 Nov 2018
Cleaning façade of your building in the right way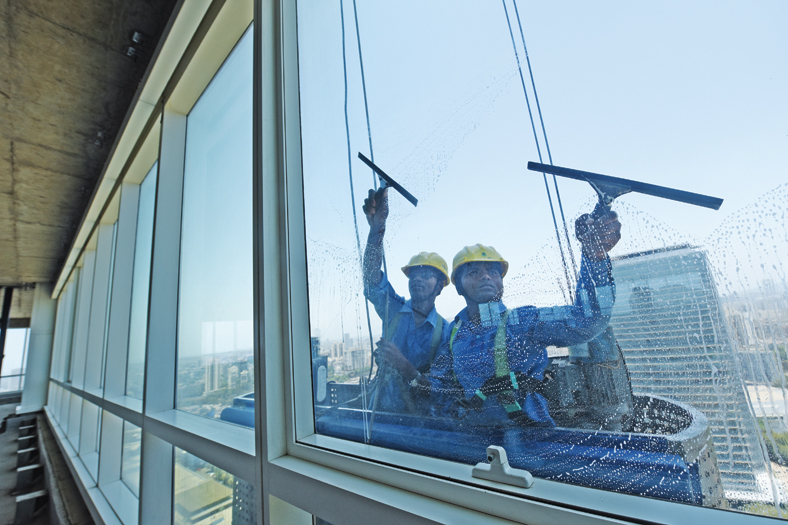 Clean India Group is India's largest façade access solution, equipment manufacturers, suppliers and maintenance company. A group company, Cradle runways is the leader in façade access systems with over 85 per cent market share across the country and it is actively exporting complete systems and components to more than 10 countries in Asia and Middle East. Group Founder Ashok Khemlani shares his views on the industry and various trends across the world in façade access and maintenance business.
Challenges with tall buildings
If we are to categorise tall building into two categories as tall and super tall, the super tall buildings are ones which are above 50 floors with a height of above 200 metres. We are proud that we have trained staff who are more than happy to work on heights to maintain the façade. We as a precaution have made it imperative to conduct medical tests for our employees. The second important factor we take into account is the habits of our employees. As the profession of accessing façades of buildings requires the individual to be mentally alert at all times, we ensure that our employees do not drink alcohol or take drugs as these practices impair mental alertness. Finding the right people is a challenge we face and we never compromise on quality of manpower and service.
Additionally, in the case of a high-rise buildings, one has to control a person in many ways viz. while coming down from a height, it is crucial to remember that there is no access to washrooms, mobile connections, among other limitations. Because of that, two people working together is a minimum requirement because it takes 3-4 hours to complete one drop. Our employees for the façade cleaning usually start in the morning, spend three to four hours to finish one drop of a tall building (top to bottom) in a building that is 300 metres in height.
Fortunately, the Indian Government have done wind mapping of the country. Indian standards provide the wind speed for every city and area and also the variations with the height. Besides, consultants do wind tunnel testing of the building so that they know the wind pressure existing around the building. Our employees are aware that when the wind speed goes beyond 11 m/s, they need to stop the work and alight immediately.
In order to control the sway of the cradle, we provide a restraint system which contents the main cradle ropes to the building and avoids the swinging of the cradle. Our employees are informed to put the restraint on every 20 metres to tackle the swaying of the cradle. We also provide a walky-talky as mobile phones and Wi-Fi networks usually do not work at such a height. Another requirement is of a supervisor to ensure proper safety at the outset of the work. We have printed a safety booklet in Hindi language about 20 years ago and we keep updating and listing the safety precautions that must be taken by the employees. To make it convenient, we have easy to read and easy to understand sketches.
There is high level of skill required in managing the window cleaning and it is the expertise that the company must have over the period for large variety of projects.
Hence, highly-skilled supervisors are needed who can see where the problem is, what the problem is and tackle it accordingly.
Recommendations for Designers, Architects, Builders
Quite often, the need for a façade access system is ignored in the hope that the glass, concrete, steel, or metal would get cleaned during monsoons. In reality this is not the case and the need for façade access system is required even during the project stage. We recommend that the façade access system should be put up right in the beginning for accessing and cleaning the building façade safely.
It also enables the project managers, engineers, installers to go up and see what's being fixed as a façade. If you ask a façade labour to fix the façade glass or ACP after he comes down, he would never tell you that the glass was loose or that it had a patch. Also, when storing the glass or any panel which is going on the face of a building, it needs to be clean at the point when it is being fixed. Also, the civil work like plastering, fittings of glass or concreting being carried out usually harms the glass and makes it difficult to clean it at a later stage. While there is rope access for buildings up to four or five floors, it is not at all recommended option to access facades of tall or super tall buildings. We have many variants enabling façade access and I think it is a necessity to consider these options, especially when you look at tall and super tall buildings. Architects have to provide a system which should be user friendly, with good availability of water and convenient for the window cleaners.
Serving at airports
Talking about airports, all the major airports went for our systems. As far as our company Cradle Runways is concerned, we have supplied façade access systems to airports in Delhi, Hyderabad, Bangalore and Mumbai. We have also supplied to Chennai airport. In case of all the major airports, discussion on type of system start at the planning stage.
Adding value to the building
Cleaning of the façade adds value when the building spaces are being sold or being rented. Large portion of the building is sold or rented only after the building is ready. Hence, the marketability of the building increases if it is nearing completion and is installed with façade access systems. Glass used in window
panes is provided to have a transparent view of the outside world. In such a case, if the glass is stained or has dirt accumulated on it, the view will definitely not be appreciated. As per our experience, companies take pride when the façade is clean specially when they have visitors.
Similarly, in hotel rooms, guests prefer to wake up to a beautiful view. If the hotel glass façade is not clean and has dirt accumulated, the guest will carry a poor impression of the hotel. Cleanliness is something which all of us are inherently conscious about. Considering these facts, cleaning the façade of buildings is of high importance.
Authored by:
Ashok Khemlani,
Founder,
Clean India Group