12 Nov 2018
Precast pumps demand for high-capacity cranes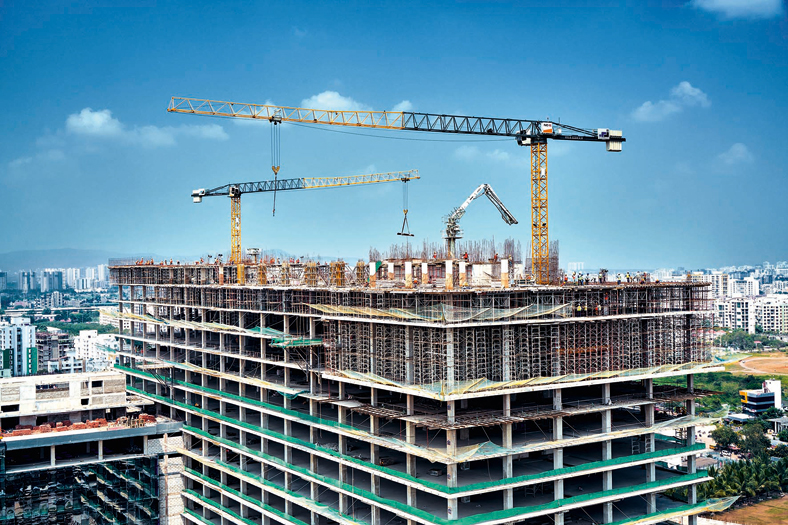 While tower crane market has slowed, reforms like RERA and GST are gradually warming up enquiry level.
Tower crane technology has not changed much. What is new, however, are cranes with rated capacities of 5 tonnes and 10 tonnes. As precast construction becomes more prevalent, there is also demand for cranes with higher capacities of 20 tonnes and above.
Demand for tower cranes in high-rise buildings
10-tonne capacities and higher cranes seek gradual shift
In general, market is seeing a gradual shift towards cranes that have capacities of 10 tonnes and higher. These are typically flat-top and luffing jib cranes.
Ashwani Mattoo, Sales Director – Tower Cranes India and Indian Subcontinent, Manitowoc Cranes says, "Preference is shifting towards flat-top and luffing jib cranes that have capacities of 10 tonnes and above."
"Close control is very important for our cranes. For every movement of our Potain tower cranes, there are switches that set parameters for the range of movement. It is also important that operators are well-trained and we do that by regularly providing training sessions for them," he added.
These sessions serve not only to strengthen the competency of operators but also refresh their understanding of cranes. Additionally, certified engineers conduct regular maintenance and checks to prevent problems from arising and provide timely assistance, if necessary.
Rehabilitation projects enable high demand
According to V.G. Sakthikumar, Managing Director, Schwing Stetter Sales and Services Pvt Ltd, "While tower crane market has slowed down in recent years, RERA and GST reforms have led to gradual improvement in the enquiry level. Owing to augmenting demand for affordable housing, special techniques like precast, formworks like Mivan, Doka and tunnel formwork have come up to meet the increased requirement."
Of late, people are more fascinated by flat top tower cranes because all major customers and MNCs are looking towards flat top tower cranes. Sakthikumar says, "The major contribution of tower crane market in capacity is 5 and 6 tonnes but at the same time, many rehabilitation projects in metro cities are starting with precast and special formworks for which 10-tonne to 25-tonne capacity tower cranes are in demand."
New high-rise development anticipates market growth
"High-rise towers need proper tower crane planning for timely completion of the project safely," says Krishna Kumar, Divisional Head – Tower Cranes, Liebherr India Pvt Ltd.
Cities like Mumbai have many towers mainly built with tower cranes, and more high-rise towers are expected in Mumbai due to redevelopment programmes declared by the government.
He added, "Liebherr provides complete safe and timely solution for high-rise towers by discussing with customers with project proposal by Liebherr 'tower crane solutions department' right from start to end of the project including dismantling solution of crane after project."
Latest technology
Specification of Schwing – XCMG tower crane
Schwing – XCMG tower crane is of 16-tonne capacity and has VFD control systems, working platform for jacking operation, slewing mechanism with manual brake and safe load indicator. The company is more focused on special applications where 10 tonnes and above capacity cranes are required. The cranes in that category are flat top with applications in precast, tunnel formwork, cable stayed bridges, hydro projects, cement plants, cooling towers, power projects, etc.
Flat top – head model for 5-tonne tower crane XGTY63YD (5013- 5) is another model of tower crane which is with the inner climbing mechanism.
Sakthikumar says, "In terms of safety at project site, to ensure the wind force, we have installed an anemometer along with a safe load indicator to ensure the weight at corresponding radius." The introduction of a two-trolley mechanism to change the rope fall as well as an anti-collision device have been ensured to keep up with the customer and market expectations. The company is also importing luffing cranes for higher capacities.
Ranges of Liebherr tower cranes
Liebherr works on developing modular systems for simple, practical and quick assembly which take into account the very relevant safety aspects. Kumar says, "Customer benefits from the most advanced technology from Liebherr tower cranes which is focusing consistent development of product without any compromise on factors like quality, safety and reliability. Liebherr PLC controlled cranes are adopted for high performances and safety standards."
Liebherr started manufacturing tower cranes from India, having models like 85 EC-B5i, which has 50 – metre working radius, 5-tonne capacity and NC-B cranes having 6-tonne and 9-tonne versions with 62.5-metre working radius, the NC-B cranes are designed for both commercial building with long job and also suitable for high-rise buildings with high hook heights up to 500 metre.
Manitowoc Potain MCT 85 and MC 125
Manitowoc has opened Potain tower crane factory in Chakan, just outside Pune. While not new, the Potain MCT 85 and MC 125 produced at this factory are popular units in India and the surrounding markets in the region. The MCT 85 can lift a maximum of 5 tonnes or 1.1 tonnes at its jib end of 52 metre. It is a practical unit designed for easier transportation, with its entire top portion able to travel on just two trucks. Assembly is easier too as most of the pre-assembly work happens at the factory before the crane is delivered to the customer.
The MC 125 has a maximum capacity of 6 tonnes and a maximum jib length of 60 metre. It can lift 1.15 tonnes at its maximum jib end. Mattoo says, "We have introduced flat-top cranes in the 5-tonne and 10-tonne categories and will launch our largest ever, the new MCT 565, later this year at bauma China."
Topless cranes offer ease of erection and facilitate overlapping. Manitowoc's major customers are some of the biggest contractors and developers in India, namely L&T, Shapoorji, Gammon, HCC, KEF and Sobha Developers.
Owing to augmenting demand for affordable housing, special techniques, formworks and tunnel formwork have come up.
V.G. Sakthikumar, Managing Director, Schwing Stetter Sales and Services Pvt Ltd
High-rise towers need proper tower crane planning for timely completion of the project safely.
Krishna Kumar, Divisional Head – Tower Cranes, Liebherr India Pvt Ltd
Preference is shifting towards flat-top and luffing jib cranes that have capacities of 10 tonnes and above.
Ashwani Mattoo, Sales Director – Tower Cranes India and Indian Subcontinent, Manitowoc Cranes