06 Dec 2018
Booming demand for customised equipment likely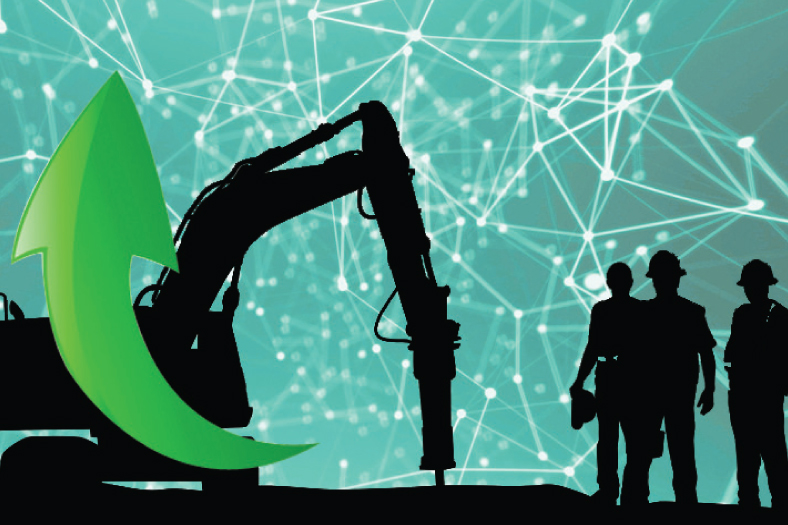 Rapid urbanisation, increasing foreign investments are among major factors expected to boost demand.
The construction equipment (CE) market is expected to grow at a CAGR of 6.8 per cent during FY18-FY24 in India, on account of the country's expanding construction industry. Current concrete construction equipment segment is to grow at a CAGR of 25 per cent, according to industry data.
Government initiatives assist growth
According to V.G. Sakthikumar, Managing Director, Schwing Stetter Sales and Services Pvt Ltd, increasing number of public private partnerships and government initiatives such as Bharatmala, Sagarmala, Smart City development projects, etc., would also aid CE market during the forecast period.
Market at peaks
Ashok Kumar Malan, Vice President (Operation), Roljack Asia Ltd says, "The current market is at the maximum height in construction and every construction machinery manufacturer is drawing a due part from the market and relates to future demand. Construction equipment will have its own role to play in the coming providing additional boost to the OEM of CE."
Varying demand
Considering the growing traffic across India, in most of the urban areas including high traffic zone, the structures constructed are elevated for smooth flow of highway traffic where concrete volumes are high. government's strategy is to connect all states including border areas and lower travelling time so many highway tunnels are being constructed entailing huge amount of concrete. This is likely to augment demand for high capacity batching plants. High grade concrete are majorly required for the rigid pavements, structures, tunnels and lower grade for other activities.
Ratan Lal Kashyap, Senior Vice President –Procurement, G R Infraprojects Ltd says, "Diversity in the type of concrete requirement contractors will also prefer to own plants with latest technology, lower cost of operations, uptime, mobility, remote access etc. Increase in concrete equipment's demand may vary on type of projects being awarded."
Latest offering
Diverse solutions by Schwing Stetter
Schwing Stetter offers an array of products in concrete preparation, placement, transportation and recycling. Concrete mixers, concrete batching plants, concrete pumps, concrete placer boom, mobile concrete conveyor, shotcreting machines, recycling plants, water chilling plant are the well-established products in the market for the past 20 years. Self-loading mixers, tower cranes, wheel loaders, motor graders, cold milling machines, truck crane, crawler crane, aerial working platforms, horizontal directional drilling, rotary drilling rig, plastering pump and sludge pumps are the newer range of equipment that have been launched recently.
The company caters to infrastructure developers and also acts as an OEM supplier to various cement companies who offer ready mix concrete. The company offers a wide range of holistic after sales, spares and services for all the products. The company has been regularly launching new products to meet the requirements that arise from time to time.
For example, Schwing Stetter India's newest launches are SuperSix Concrete Transit Mixers with IoT Ready, IoTIn and GPS and Stetter Batching Plant M25 Z in response to the feedback received from customers, operators and project personnel at site. This is also in line with Digital India initiative. Supersix concrete transit mixer was launched in partnership with Mahindra Powerol Engines. The company is the first in India to have launched for solutions for IoT applications being available for the concreting and non-concreting line of equipment.
Sakthikumar says, "During the Bauma Conexpo India 2018, we will be launching many machines like mobile batching plant, stationary batching plant, concrete pumps, concrete transit mixer, concrete pavers, wheel loaders, excavator, rotary drilling rig, all terrain crane, crawler crane and cold milling machine."
Roljack Mobile concrete mixing equipment
Roljack Asia is one of the leading manufacturers of construction equipment such as concrete mixing technology, stone crushing and screening technology and stone engineering technology. Concrete mixing solution is the back bone of Roljack Asia and mainly, the company manufactures only PLC- based fully automatic concrete batching and mixing plant (capacity 20 M³ – 120M³). The company's concrete batching and mixing plant are being provided with PAN Mixing and Twin Shaft Mixing Technology in different models in mobile as well as stationary. Malan says, "The present Indian concrete mixing market is demanding mobile equipment to meet the number of site works in a sort period with the less inventory of equipment and on the same demand, we are offering mobile concrete mixing equipment with latest technology."
Increasing uptime
Planned maintenance is very beneficial for increasing equipment uptime to its optimum level as well as the cost impact.
Sakthikumar says, "Well targeted planning can maximise equipment uptime rates to the benefit of companies when compared to emergency downtime."
Systems like SchwingIoT Ready, SchwingIoTIn and SchwingIoT able in Supersix transit mixers offer scheduled proactive maintenance check inputs.
Roljack Asia Ltd is available with a strong dedicated team of innovators, designers, production engineers, service, sales as well as marketing and they act on customer to customer basis, resulting best solution for the future needs of upcoming market.
Malan says, "We analyse the market or customer's demand for the type of product, in turn increase of present market in the field of concrete mixing technology and further resulting development of new model of equipment and offering new technology to the upcoming market."
Buoying uptime in effectual ways
Productivity of an equipment and return on investment depend on how it is being utilised, its operator's skill and also on the periodic and preventive maintenance. Regular training enhances the skill level of the operator which enables better equipment uptime. OEM service network and availability or reach of the aftermarket crew always helps with a better response time and timely redressal of problems.
Kashyap "Self-diagnostic system in the controls of the plant helps in live update on productivity, alerts on faults. Remote access platform in the controls helps resolve software problems and helps for accurate diagnosis of the problems."
Presently, demand is for mobile equipment to meet the number of site works in sort period with less equipment inventory.
Ashok Kumar Malan, Vice President (Operation), Roljack Asia Ltd
Well targeted planning can maximise equipment uptime rates to the benefit of companies when compared to emergency downtime.
V.G. Sakthikumar, Managing Director, Schwing Stetter Sales and Services Pvt Ltd
Increase in concrete equipment's demand may vary on type of projects being awarded.
Ratan Lal Kashyap, Sr. Vice President –Procurement,
G R Infraprojects Ltd