08 Apr 2019
Developments fuelling urban transportation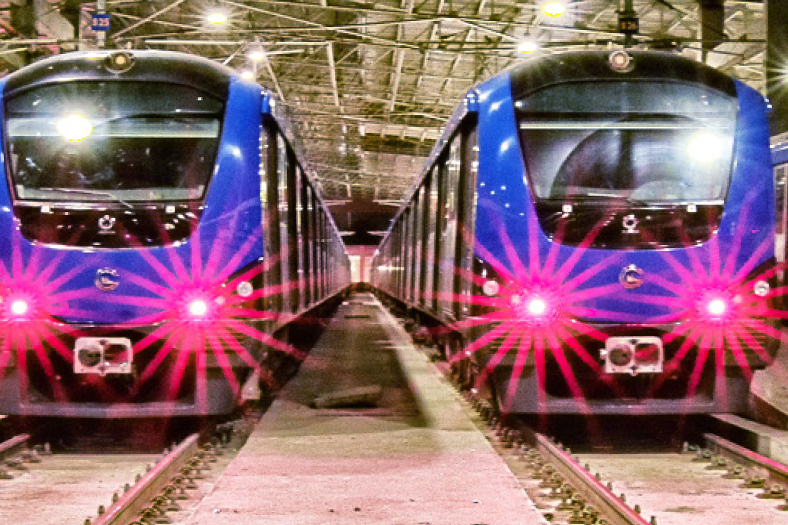 Metro rail is increasingly gaining acceptance as a modern and efficient means of transportation.
Metro rail is an indispensable aspect in modern transportation system. It is fast becoming an essential feature in the integrated transport system in almost every major city across the globe.
The pace of urbanisation and migration of population into cities has begun posing burden on the cities' transportation network. Further, in the wake of growing real estate and infrastructure development, surface space is becoming scarce. Therefore, the alternative is to build underground metro in order to relieve some of the pressures on the conventional surface transport system. Thus, it is easy to imagine that metro rail system which runs mostly underground does not interrupt regular surface vehicle movement.
Metro rail needs to be supported with efficient and user- friendly stations. A lot of planning is devoted to building state-of-the-art stations with modern amenities and facilities. The construction of the underground metro stations is designed meticulously keeping in view the durability and longevity factors. In the choice of construction materials used for metro stations, steel structures are preferred since these are quicker to fabricate and install, says Vijay Kalantri, Chairman and Managing Director, Balaji Infra Projects Ltd.
Why choose metro rail
Eco-friendly, comfortable travel experience
Metro rail does offer solutions to the issues that are not dealt by the traditional transport systems. An eco-friendly and comfortable mode of transport, can carry a large number of commuters from one point to another quickly and provides hassle-free journey, says Anuj Dayal, Executive Director, Corporate Communications, DMRC.
Metros across the world have smoothened public transport wherever introduced. The success of earliest MRT systems such as London Tube and New York Metro, paved the path for similar systems across the world over succeeding times.
Economic and environmental impact
An efficient urban public transport system plays a vital role towards a sustainable urban development. For a high dense metropolitan city like Chennai, urban mass rapid transit systems (MRTS) are proved to cater the demand for public transport overlong run by serving at city and regional levels. These systems are efficient in carrying large number of passengers in a lesser time which will have a huge positive impact on economic and environmental aspect, according to CMRL.
Various developmental activities in Chennai Metropolitan Area (CMA) have attracted people to migrate from rural areas and from various other states necessitating the need of additional urban transport infrastructure including Mass Rapid Transit System. Motor Vehicle population has increased at a phenomenal rate during the last two decades, added CMRL.
Efficient urban mass transport system
"Urban transport problems, like congestion and pollution seem to be similar everywhere. A critical examination of such issues is undertaken to propose metro rail as a suitable transport solution and due to high population densities, transport users favour metro rail construction," says Niraj Bhatia, Head – Strategy, Contracts and Procurement, Viiking Buildinfra Pvt Ltd.
According to MMRDA, cost, benefit and time of completion are the key considerations for proposing metro rail as a suitable solution.
Technological fuel
Innovation
Innovation has always been at the heart of Delhi Metro Rail Corporation (DMRC) in planning and construction. The trains used by Delhi Metro in its phase – III expansion are equipped with unattended train operation mode, which enables the possibility of operations of trains without drivers. With this, Delhi metro has joined the pool of highly technologically advanced metro systems in the world. DMRC introduced the highly sophisticated 'Communication Based Train Control (CBTC)' system which enables headway improvement to about 90 seconds. Other effective innovations include the installation of automatic screen doors on platforms which help maintain better crowd management, says Dayal.
Phase-1 and Phase-2
In Chennai metro rail, phase-1 project, advanced signalling systems, trains with automatic train operation or supervision, ticketing through automatic fare collection using modern technologies, Gas insulated substation, advanced tunnelling mechanisms through TBMs, advanced safety mechanisms such as installation of tunnel ventilation system, VAC, platform screen doors, etc are provided, according to CMRL.
In phase-2, CMRL proposes to have driverless train (unattended train operation), CBTC signalling system for shorter headways and various other improvised advancements are planned, adds CMRL.
Technology has made life easier for passengers right from buying travel tickets through various platforms which are conventional or kiosk based to online app based, getting real time information on the arrivals, departures, delays, cancellations increases productivity and also train based broadband services are considered to have high potential for profits, according to Bhatia.
According to MMRDA, cost reduction in rolling stock and CBTC equipment, has upgraded the metro and railway industry.
Existing and emerging trends in railways and metros
Metro rail network in the country is emerging as one of the best solutions for urban transportation. With the mass rapid transit system, corresponding measures and strategies can serve as a valuable reference for further development in our country, says Ar. SK Goel, Conarch Architects.
Public space planning
Public space planning has evolved to a great extent in India since a few years now – railway or metro stations are now being taken-up as human sensitive projects and their designs are not only being ergonomic, but various other factors like sociofugal, sociopetal etc. too are taken into considerations; the conventional public spaces were planned keeping in mind the basic principles of planning, says Ar. Prem Nath, Prem Nath and Associates.
Mass migration to cities
"In the emerging nations like our country India, where mass migration to cities is putting an increasing strain on the limited public transport networks mostly buses, as more and more vehicles clog the roads the focus is on acceptance of more efficient ways of moving millions of people. This has meant a creation of new metro rail transportation networks," says Ar. Er. S.P. Anchuri, Chief Consultant, ECBC Expert, Anchuri and Anchuri.
IT corridor, educational institutions
CMRL is connecting airport, bus station and Chennai central, high court in the phase-1 which serves Chennai pubic in a big way, says CMRL In phase-2, CMRL plans to connect major IT corridor, IIT, educational institutions with the heart of the city which enables the Chennai public to move faster, safe and reliable transport, he adds.
loT, Big Data Analytics
The Internet of Things (loT) is enabling metros to use sensors, machine-to-machine learning, Big Data Analytics, cloud- computing and other technology to gather and analyse information from a wide variety of sources. It is getting cheaper and easier to use such technology to drive efficiency, better manage operations and offer new passenger- focussed services, says Architect Surinder Bahga, Saakaar Foundation.
Some of the emerging trends are driverless trains, high speed and hyper speed rail, ergonomic station design. This design will ensure that large numbers of travellers can move freely and efficiently too.
Metro development in our country is in nascent stage, where we have just realised its potential in the future development of our cities. The metropolitan cities have taken up these projects now; but it is inevitable that within a short period of time, the second and third tier cities will soon follow lead, says Amol Prabhu, Partner, Shashi Prabhu & Associates.
Regeneration rolling stock with 66 per cent powering and CBTC signalling, escalators and elevators, according to MMRDA.
Placement of utilities
Catchy, barrier–free
Stations should be made barrier–free nicely to add to their aesthetics. Design of staircases, escalators or elevators can be catchy and pedestrian over bridges can be designed in such a manner that can add beauty to the otherwise dull looking stations, says Bahga.
Pre-planning of utilities
Pre-planning of utilities could be done to organise the utilities away from the passenger zones thereby allowing designers to focus on the aesthetics of the stations, says Prabhu.
Appearance
Appearance to reflect the contemporary high speed rail. Form dictated by the functional requirement and tailored to fit in with the site constraints of the urban scenario of Hyderabad station entry or exits modified as per site conditions and 5.5 m minimum ensured above all street levels, says Anchuri
When utilities become the highlight of station, approachability, convenience for using, quality of the overall usage determines excellent, good or bad user experience. Thus, to ensure easy accessibility for travellers, placement of utilities need to be aesthetically planned and strategically placed.
Integrated station and platform design
Integrated station and platform design should combine form with function to deliver inspiring infrastructure supporting rail network and associated facilities, whilst providing a user friendly environment for rail travellers. Coordination with roadways, entry and exit gates of stations, PD (property development) area and parking is also required to ensure usability, says Goel.
Material for design flexibility
Since metro work is carried out on congested roads, to minimise the inconvenience of general public, steel structure is favourable since it is ready to construct bolted structure, it is time and cost effective and has lesser reliance on labour. Steel structures are also low on carbon emissions and green building compliant.
An eco-friendly and comfortable mode of transport can carry a huge number of commuters from one point to another quickly.
Anuj Dayal, Executive Director, Corporate Communications, DMRC
Notable planning is devoted to building state-of-the-art stations with modern amenities and facilities.
Vijay Kalantri, Chairman and Managing Director, Balaji Infra Projects Ltd
Technology has made life easier for passenger's right from buying travel tickets to online app-based services.
Niraj Bhatia, Head – Strategy, Contracts and Procurement, Viiking Buildinfra Pvt Ltd
Mass rapid transit system, corresponding measures and strategies can make way for further development.
Ar. SK Goel, Conarch Architects
Public space planning has evolved and railway or metro stations are now being taken up as human-sensitive projects.
Ar. Prem Nath, Prem Nath and Associates
Focus is on accepting more efficient ways of moving millions of people, owing to road traffic.
Ar. Er. S.P. Anchuri, Chief Consultant, ECBC Expert, Anchuri and Anchuri
loT is enabling metros to use sensors, Big Data Analytics, cloud- computing, among other technologies.
Architect Surinder Bahga, Saakaar Foundation
Pre-planning can organise utilities away from the passenger zones thereby allowing designers to focus on aesthetics.
Amol Prabhu, Partner, Shashi Prabhu & Associates