3D Printing is the best way to provide affordable home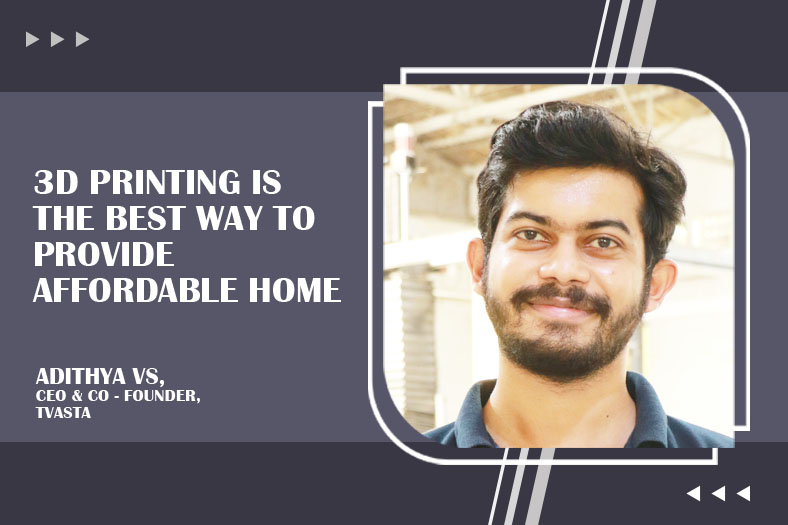 "India is currently planning to build 20 million houses and 120 million toilets by 2024 and 3D printing is the best way to achieve this target" says, Adithya VS – CEO & Co-founder of Tvasta
How is 3D printing fast emerging as a viable alternative in construction? What are the limitations which need to be overcome? 
It is estimated by Habitat for Humanity that there are 1.5 billion people around the world who require better housing. India is currently planning to build 20 million houses and 120 million toilets by 2024 to provide basic amenities to people. But the currently available construction technologies are not up to this task; they are slow, difficult to customize, varying in quality and lack sustainability. Construction is one of the very few sectors that has a major supply-side constraint while having a massive pent-up demand.
Tvasta plans to automate the construction and improve productivity and sustainability in the Construction Industry to provide affordable housing and better infrastructure to millions around the world. 
In a country like India where affordable homes are key to ensure 'Housing for All' what role can 3D -printing play? How soon before we see large-scale adoption of this technology in Indian construction? 
Concrete 3D Printing is a digital construction technology that can be used to build large scale structures. The technology works using the principles of Additive Manufacturing (commonly referred to as 3D Printing), whereby a specialized material is deposited layer by layer to manufacture a large structure. The instructions for the machine (3D Printer) to deposit the material in a structured manner is provided in the form of a 3D digital file. Concrete Printing came into existence to cater to the ongoing housing crisis all around the world. This rapid construction method reduces labour dependency, controls the amount of material wastage, and promotes a more organised manner of construction that promotes shorter lead time. These perks remove all possible last minute construction errors that significantly reduce the cost of the end product of building affordable houses. Large scale adoption of this technology is likely to happen by 2024. There is a lot of research going on to increase the affordability for the common sector applications.


Can you tell us about Tvasta Constructions' efforts/projects in making 3D printed homes a reality.
Tvasta built India's first 3D Printed house in 2020 with the support from Habitat for Humanity. This is a 1 BHK house (approximately 500 sq ft), located inside IIT Madras. Tvasta and its team built this house in less than 3 weeks. IIT Madras played a key role in this project with respect to materials mix design and structural analysis. Some key features of this house include:
It was printed in 2 weeks and entirely completed within a month. 

Enabled 30% material savings compared to the conventional construction ● Integrated MEPs was attempted. 

Utilized relatively less laborers to complete the structure 

Customized design with curves which cannot be executed by conventional method was printed. 
Tvasta in collaboration with Saint Gobain foundation built COVID Isolation wards / Doffing Units for frontline workers within a week. 
Each Doffing Unit was around 120 sq ft in area. 

Every Mechanical, Electrical and Plumbing wirings were pre planned and integrated at the time of printing.
8