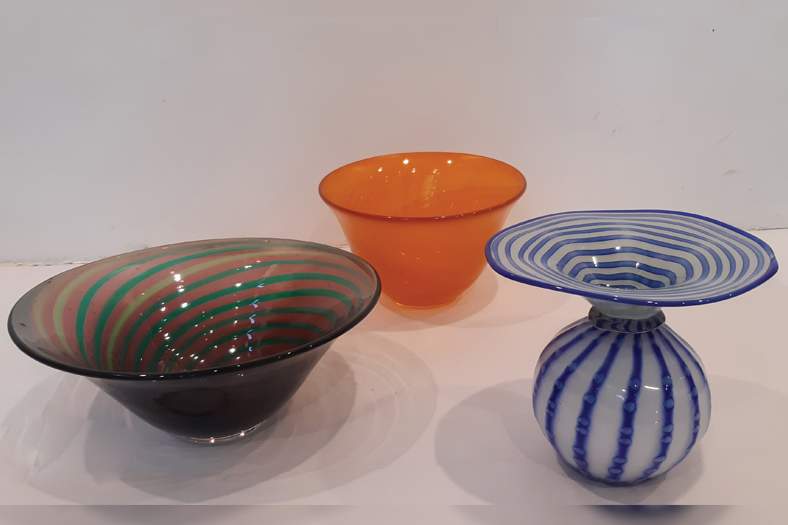 From ceramics to glass Jeramiah Jacobs indulges in an artistic polygamy, he tells Vikas Bhadra when working in the hot shop gets too intense, he switches back to pottery only to be tempted by glass again
What is your idea of good art?
Good art is the embodiment of true expression. Good art comes directly from the soul.
For the Artist, creating is not a matter of desire, rather a matter of need to make art in order to feel fulfilled.  Creating is a primal urge. A true artist trapped on a desert island would still create knowing that no one will ever see the product.  I believe good art comes from the soul and manifests in infinite forms.
What led you to be a ceramic artist, what kind of professional training did you undergo? Who were some of the artists you had worked with in the beginning of your career? 
I found ceramics early on during high school and began with wheel throwing. Instantly and completely enthralled with the medium, it wasn't long before I was spending 4+ hours per day in the sculpture studio honing my craft. It was life changing! Once I learned that people actually make claywork for a living, it was like a bomb went off in my head and I thought, "Why would anyone do anything else?!"
It was at this time that a teacher noticed my keen interest and arranged a work study under a local professional potter named Joel Huntley. My interactions with Joel set my life on an irreversible path.
I spent the next ten years studying under Joel Huntley, with the exception of one year spent at the school of the Art Institute of Chicago. I went on to continue my studies in sculpture, working with potters across the United States; training at MGA Sculpture Studio making patterns (molds), casting bronze, and creating and installing large-scale public metal sculptures; building pottery kilns with Charlie Parker; learning fine art concrete casting at Epic Artisan Concrete; and deliberating concept and theory with sculptor Dan Painter.
After falling in love with ceramics, glass became your new muse, how did this happen?
I first encountered hot glass after I moved to St. Petersburg, Florida for a pottery residency. Ceramics was in my soul, but after thirteen years of developing my style in mud, I sought after new mediums to express myself. I came upon Duncan McClellan's Gallery and hot shop and was instantly hooked on glass. The molten material presented an entirely new world of challenges and reinvigorated my love of materiality and process, the same way that I experienced ceramics as a young man. Hot glass is an incredibly difficult material to manipulate.
I thrived because of this, as it provided the opportunity to build upon everything I had learned as a young apprentice in ceramics, which allowed me to progress very quickly and achieve great results in a small amount of time. The process of working clay can be incredibly calming and pleasant. In direct contrast, working hot glass is crazy intense and time sensitive, only further piquing my interest.
Balance comes from switching between the two modalities: when working in the hot shop gets too intense, I switch back to the pottery studio, and when I need a jolt, glass is there to wake me up again.
Kindly share with us the projects you have worked on in your journey so far?
I work on many residential installation commissions, an average three per year, while my greatest interest lies in public art, which I'm still only getting started in. Today you'll find my name on about four pieces of public art in the US. In 2019 I completed a 3,000-pound ceramic sculpture titled Stonehenge Park which consists of large three-dimensional panels of ceramic depicting a jungle scene. 9 feet tall and 30 feet long on one side, a large snake eyes a heron sitting on the opposing branch. Many of the leaves in this project were large: 3 feet long x 10 inches thick. I've also worked on cast concrete benches and large-scale, stainless steel installations for public spaces. In the past few months, I completed another ceramic project, a 9/11 monument called Rise. This installation consists of 3,000 6×6" ceramic tiles that were hand painted by participants at public events, a steel beam from the World Trade Center Tower One, and a 30-foot, hammered copper phoenix wing. I created, glazed and fired the ceramic tiles and worked on the team that created the copper wing, but the true magic behind this installation is the community's involvement.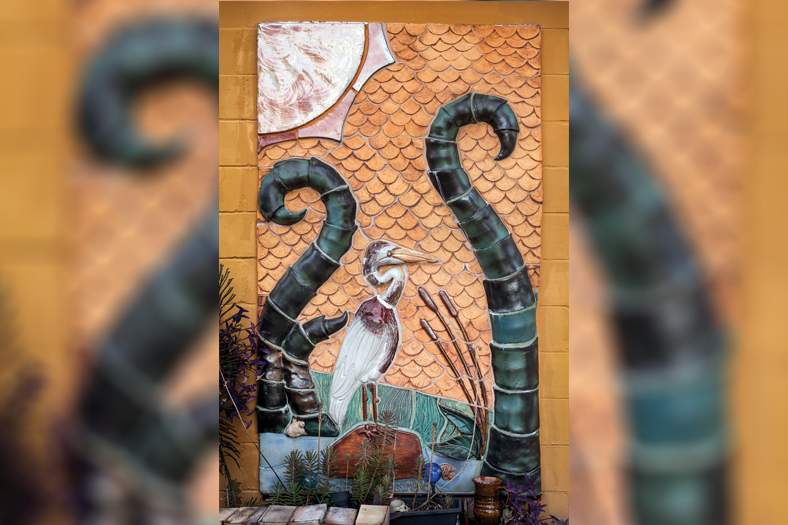 Kindly tell us about your experience at Rural Modern Glass?
I love to explore the world and immerse myself in other cultures. Exploration drives inspiration in a way that no other experience does. Rural Modern Glass has given me the unique opportunity not only to explore but meet the local glass community here in Mumbai. Much of what we are doing at Rural Modern Glass has never been done in India before. India has a rich history with molten glass, but its main priorities have always been large production volume and utilitarianism. Rural Modern Glass is breaking down that boundary and proving to be an exciting place to work!
Rural Modern Glass has assembled the first world-class hot shop in India's history and employed some of the best glass workers from Florida, USA. This is extremely exciting! I feel very fortunate to be able to come here and share my experience with the team,
The majority of my colleagues' training here has been in mold blowing techniques. They all have ample experience as glass workers but have never encountered many of the techniques that I am teaching them. I have taught a multitude of students throughout my career but I have never had as much fun as I am having now, even despite the language barrier! The Rural team picks up techniques faster than anyone I have ever taught. It's unique to be able to show someone a technique once and have them totally understand it.
Many of the projects that Rural Modern Glass has undertaken have pushed me outside of my comfort zone in hot glass, and because of this, I am experiencing rapid growth.
After having spent some time in India, what is your take on the Indian design sense?
I am very impressed with the Indian design sense and if I'm being honest, I'm a little intimidated! I was not expecting such a rich and lively design community, that is both very progressive while leaning on thousands of years' worth of cultural development. The colors and designs are unparalleled and represent a brand-new experience for this American boy.
As an artist who is exploring the infiniteness of newer materials, what kind of projects you would like to work on as also what are the projects you are working on currently?
Going forward, I hope to achieve a similar level of proficiency working in glass that I have achieved in ceramics. I am tremendously excited to bring clay and glass together; continuing my exploration in architectural ceramics; and adding elements of glass into projects previously conceived of only in ceramics. I think this blend creates a tremendous opportunity for contrast in surface, translucency, and light transmission. The hindrance here isn't coming up with the idea, but rather lies in acquiring the funds! The bigger the idea, the bigger the budget as these materials are expensive to work with!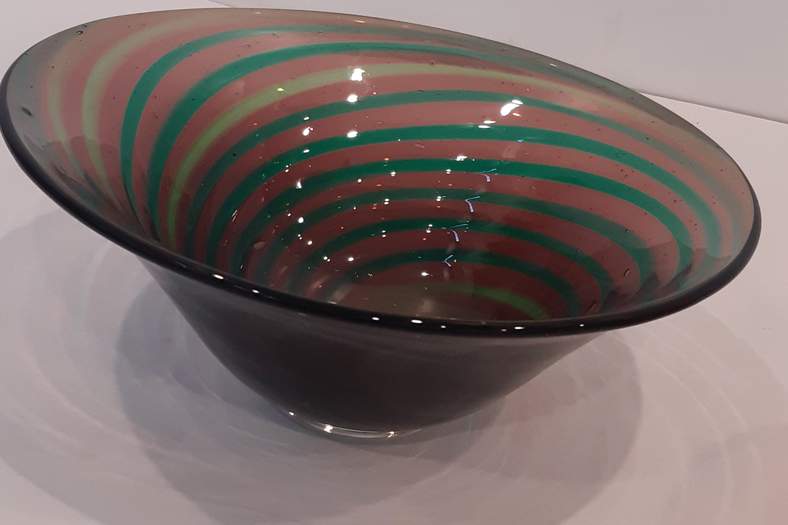 I am currently working on a variety of projects. I am beginning to explore more political work as a way for me to deal with the social tensions going on in the United States over the past few years. Many of my newer works also deal with environmentalism- a giant and daunting issue that I simply have no control over, but I can use Art to express my feelings about. None of these works are photographed or published as they are still in process.
I am also working on some very large scale (6 to 9 feet in diameter) blown glass flowers that will be held together via tension.
One of my favorite ongoing projects is called SCUBA Glass, in which I create blown glass bubbles, run fishing wire through them, and dive in open water to take them to the seafloor. There, I use my scuba tank to fill them with air until they float underwater. I then photograph and video the glass in its marine environment to observe its interactions with the marine life. One of the more interesting aspects of this project is the distortion effect of the water and its interaction with the optics of the glass. The glass and water work in tandem to distort light in a very unique and interesting way, which I never anticipated until installation. My Art is an ongoing process of discovery!
26