A good spatial design should make its inhabitants feel good and inspired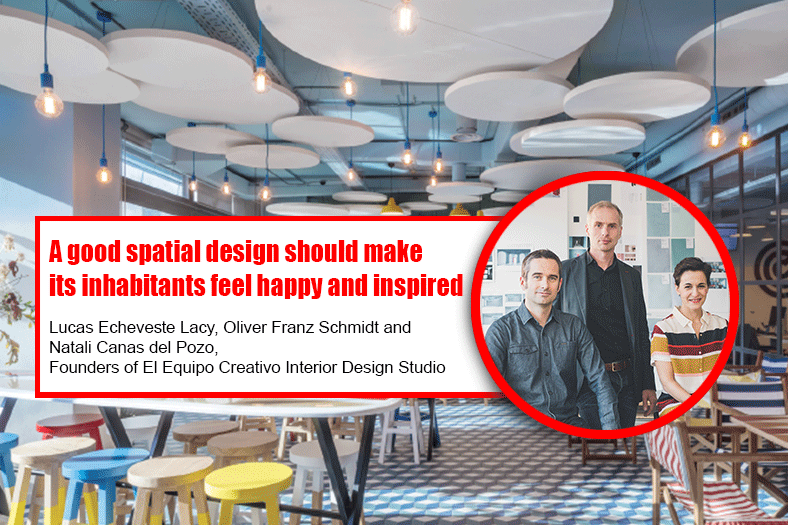 In a conversation with Vikas Bhadra; Lucas Echeveste Lacy, Oliver Franz Schmidt and Natali Canas del Pozo, Founders of El Equipo Creativo Interior Design Studio in Barcelona say architecture and design have a lot to do with a space's phenomenological qualities like experience, sensation and meaning. 
A good spatial design should make its inhabitants feel good and inspired say Oliver Franz Schmidt, Natali Canas del Pozo and Lucas Echeveste Lacy, Founders of El EquipoCreativo, an interior design studio based in Barcelona and specialized in the interior design of gastronomic, commercial and brand flag spaces. The trio first came together to design Tickets Restaurant, a restaurant of the well-known chefs Ferran y Albert Adriá. The project, a concoction of extravagance and a colorful syntax received a favourable response encouraging the firm's inclination towards hospitality design.  
El Equipo Creativo's success rate in hospitality projects is quite paramount. The trio designed Blue Wave Cocktail Bar which is situated at water's edge in the Port of Barcelona. The project won many design awards and was considered the "Best Bar in the World" by the Restaurant & Bar Design Awards. The space recreates a wave about to break which envelopes the clients in an aquatic atmosphere full of reflections and hues. The project utilises a ceramic material that was both versatile and fragmented and could be applied equally on walls, ceilings, and floors to generate a unitary space, enveloping and dynamic. Likewise, Disfrutar Restaurant, an award-winning project, and very successful from a gastronomic perspective was recognized with 2 Michelin Stars and is considered the number 9th restaurant in the prestigious "50 Best Restaurant" list. The design lingo of Disfrutar is a ready reflection of naturalness, humility and respect for the history and heritage of the Mediterranean, just like the client wanted. 
In both the above projects ceramics was utilized owing to its physical qualities and its relation to Mediterranean architecture. Although it is a traditional material, its versatility facilitated its use in a contemporary design 
Apart from these two projects there are few more which the trio holds close to their heart. "A project close to our heart is one of our first projects, Pakta Restaurant, which means "union" in Quechua, Peru's ancient language. The union of two cultures and two cuisines, the Peruvian and the Japanese, under the recognized Adriá brothers' chefs' direction. An explosion of Peruvian colours envelopes the space as if it were a second skin, an effect which is achieved through direct reference to the Peruvian loom. Also, our most recent realized project is KImpton Vividora Hotel in Barcelona is something we enjoyed designing. Here the idea is to create different and unique spaces inside the Hotel, inviting both guests and locals to stay, enjoy, meet and interact. They all reflect the local lifestyle, with a chic and joyful atmosphere, unforcedly elegant and genuine at the same time. The design brings handcrafted elements, local brands and art, colourful ceramic patterns, together with reinterpreted references to its historical past, mixed with a contemporary spontaneous design approach that gives Vividora Hotel a unique, energetic personality. 
"The type of projects that we do are technically complex projects, which have many different teams and specialists working together. The proper understanding and coordination of all the teams is one challenge we have to address in all our projects. Then there is client brief too which we have to keep in mind to channel our creativity in a way desired. We believe It is essential to maintain constant contact with the client and understand what his needs are fully; since our objective is to design a "custom made suit" which is in sync with his gastronomic concept, his target clientele, the location and surroundings in which we find ourselves. These components help us to develop a concept that serves as a guide. And in our journey so far we have realized that if we are able to define a good concept and remain faithful to it to the end, success beacons." 
"Having said that,our work method begins by determining a basic but powerful concept. We avoid being too literal to create atmospheres that evoke that concept rather than copy. Often this implies changing the usual means of using certain materials. Traditional materials, reimagined in unexpected, conceptual ways, often play a feature part in our projects: ceramics, wood, textiles, rope etc. Like our work our streams of inspiration are also vivid and diverse, our "design heroes" belong to very different disciplines: cinema, fashion, art, graphic design, etc.…. but perhaps our most direct references come from the world of architecture, from those architects who work with the idea of creating atmospheric spaces with original solutions: Kengo Kuma, Jean Nouvel, Kazuyo Seijima, to cite a few. Architecture and Design, we like to believe has much to do with the space's phenomenological qualities like experience, sensation and meaning. It is the manipulation of space, material, light and shadow to create a memorable encounter which appeals to the human psyche." 
"Our projects have been recognized in more than 50 international design awards, among them, Best Hotel Design Europe at the International Hotel & Property Awards, Best Hospitality Design at the WADA Awards, the renowned FrameAwards, and FX Design Awards. They have also been broadly published worldwide in design, trends and general press. The studio has also been recognized in many awards. The American Architecture Prize awarded us as "Firm of the Year 2017". We have recently received the Gold Medal as Interiors Practice of the Year at the WIN World Interiors News Awards 2019. The prestigious design magazine FRAME also selected us as one of the 20 most influential designers of the world." 
5