A sustainable approach to hospitality interiors by incorporating new-age materials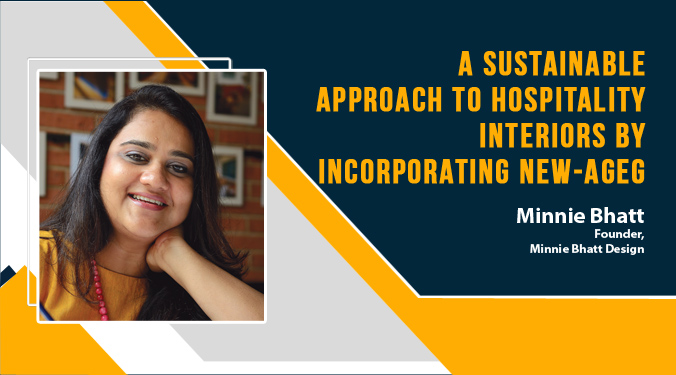 Minnie Bhatt speaks on the sustainable aspects of hospitality interiors
In the case of international hotels, the interiors have to cater to a global perception of what ambience and good taste is all about. From a design perspective, how easy or difficult is this task for a designer?
This is neither easy nor difficult if the designer has a good understanding of what the guest profile will be like. Depending on the age group, profile and purpose of travel, a hotel can be designed to suit the requirements. Business travellers generally do not spend too much time in a hotel but want some leisure spaces, post their working days. A holiday traveller comparatively spends more time in the hotel. The hotel's aesthetics needs to be timeless so that it has longevity and doesn't need to be reinvented
frequently.
What are some of the benchmarks of good hospitality interiors?
Warmth is what characterises good hospitality. This is created by lighting, colours and textures accentuating the primary design concept.
What are the new age materials redefining the design of hospitality spaces?
Sustainability in hotel designs has also gained traction since the pandemic. We try to incorporate sustainable elements in our designs in different ways. Using elements like rammed earth, natural stone, natural lime plaster and especially terrazzo as part of the material palette for designing the spaces. Plants should be an integral part of the aesthetics. Also, woven cane or rattan can be u in furniture or wall panelling.
As we get increasingly conscious about green and sustainable living, how are hospitality interiors embracing this change?
The design approach post- pandemic has changed in the sense that there are different considerations to be taken into account now. We must ensure good spacing between tables and try to accommodate open-air areas wherever feasible, as guests prefer these. Hotel spaces now look more at exuding warmth and a feel-at-home vibe rather than attempting to impress guests with overwhelming aesthetics. New hotel brands are considering bringing nature into the spaces and serving that as their USP for guests. Hotels and the hospitality industry, just like other industries, must lean consciously toward sustainability and eco-friendliness, not only in terms of the use of materials in construction but also in terms of operations in all possible aspects.
For more info visit : http://www.minniebhatt.com/projects/hospitality
7