ABB India's Nelamangala, Bengaluru Campus certified green; receives highest IGBC Rating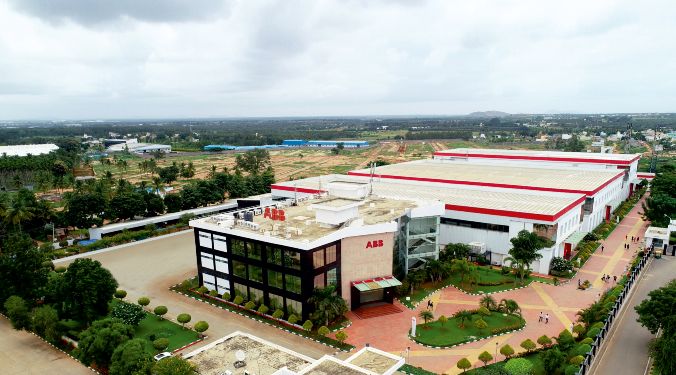 The integrated campus is one of the eight in Karnataka, and one among 63 in India having earned the Platinum rating by IGBC. With 30% energy savings, and a water positivity index of 1.24*, the campus testifies ABB's commitment to achieving carbon neutrality.
ABB India announced that its Integrated Campus in Nelamangala, Bengaluru, has received the Platinum-rated Green Factory Building certification from the Indian Green Building Council (IGBC). This is a significant achievement in line with ABB Group's 2030 sustainability commitment, a part of which aims to achieve carbon neutrality across its operations. Buildings globally are a major source of energy consumption and carbon emissions. Hence energy-efficient buildings and sustainable campuses with carbon-neutral operations would be key for countries such as India to deliver on their carbon emission reduction targets.
The IGBC Platinum certification is the highest rating offered by IGBC post evaluating a site on innovation in design and environmental categories including Site Selection & Planning, Water Conservation, Energy Conservation, Material Conservation, and Indoor Environmental Quality & Occupational Health.
"We embed 'sustainability in practice' in everything we do to accelerate our journey towards becoming Net-Zero. Along with a state-of-the-art robotics facility spread over 3600 sq mt, our Nelamangala unit also houses one of the first smart factories in the country to produce our entire range of smart power products. The IGBC awarding Platinum certification to our Nelamangala unit showcases our concrete efforts toward achieving the 2030 global sustainability targets. We are committed to introducing a variety of other such practices across all ABB India's facilities in an attempt to render a sustainable difference. We are also partnering with our customers and suppliers to support their sustainability journey," said Sanjeev Sharma, Country Head and Managing Director, ABB India.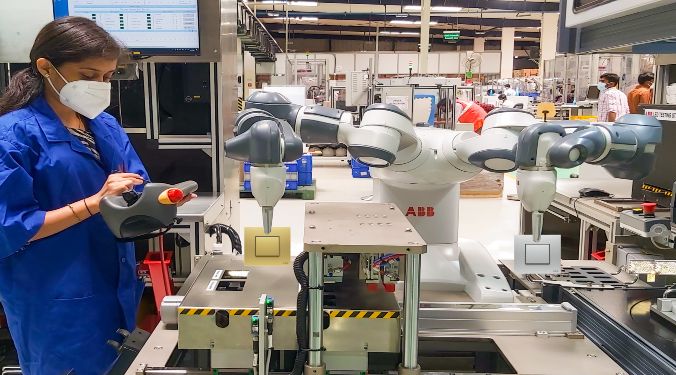 Gurmit Singh Arora, National Chairman, IGBC said, "An IGBC Platinum rating is a well-deserved recognition of the multi-faceted green initiatives implemented at the factories of ABB India. IGBC Platinum-rated green factory building projects adhere to the highest national and international efficiency benchmarks. I would like to especially applaud the measures taken to enhance the well-being of employees working at ABB's green factories in India. I am sure this prestigious achievement by ABB Nelamangala and ABB Peenya industrial campuses would inspire many more stakeholders of the Indian manufacturing industry to further practice the design, construction, and operation of green buildings and adopt the IGBC Rating Systems. As a premier certification body, IGBC would continue to handhold ABB in their journey to ultimately become Net Zero in terms of Energy, Water, Waste, and Carbon."
The Nelamangala campus offers more than 30% energy savings over the ASHRAE 90.1.2004 requirements, green electricity to offset 100% of the non-process load, and uses a high solar reflective index roof (100% of the exposed roof) while 80% of the shop floor area gets daylight through skylights. The campus has also achieved a water positivity index of 1.24, indicating that they are replenishing more water for the environment than what is being withdrawn for their operations. The campus uses a cross wave technology based rainwater harvesting system having an annual rainwater harvesting potential of more than 200 million liters.
With its global 2030 sustainability strategy, ABB is actively enabling a low-carbon society as well as working with its customers and suppliers to implement sustainable practices across its value chain and the lifecycle of its products and solutions. In line with their RE100 goal realization, around 43 percent of the electricity utilized is through renewable sources including solar power utilization & I-REC procurement. ABB India recycles roughly 95 percent of the waste generated across all their facilities within their grounds to satisfy long-term sustainability targets of zero waste to landfill. In 2021, compared to 2020, they boosted water recyclability by 4percent, resulting in a reduction in freshwater withdrawal and the company's overall water footprint.
9