Advancement of technology has been a game changer for construction of green structures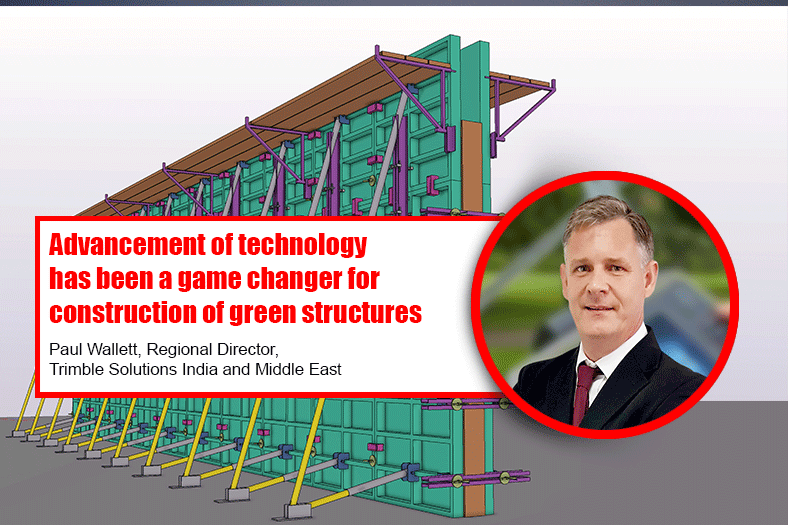 As the mid-sized and even smaller construction companies start digitization, their projects will increasingly benefit from sustainable practices and will give rise to a prevalence of green buildings in India says Paul Wallett, Regional Director, Trimble Solutions India and Middle East.

What is the role of technology and solutions in making green structures the new reality?
The concept of sustainable construction goes far beyond installing energy-efficient mechanical systems or making sure that the owner chooses LED lighting for their new building. It's a philosophy that impacts every aspect of the planning, design and construction phases as well as the maintenance and operation of the building going forward. And, with over 2.2 million square feet of space becoming LEED certified every day, it's become a popular idea within the construction industry.
Advancement of technology has been a game changer and is playing a crucial role in the construction of green structures. When energy is used in an efficient way, business owners and homeowners save a lot of money. Latest construction technologies can help in effective resource utilisation by reducing construction wastage and optimising the use of materials for energy efficient construction, and that includes the often ignored but critical water resource. The adoption of accurate and detailed building information models (BIM), robotics, Augmented and/or Mixed Reality (AR/MR), the Internet of Things (IoT), Machine Learning (ML) and Artificial Intelligence (AI) have been proven to make construction much more efficient and sustainable.
Whether it is Constructible BIM that allows greater transparency and efficiency during the design and the execution phase and greater control during the construction and the operation phase, which leads to optimal use of construction resources or sensor-based technologies like smart lighting and smart lifts, along with IoT innovations in smart architecture and grids that provide opportunities to limit the environmental impact of new structures, the core promise of technology is to make our buildings more efficient, sustainable and green than ever before.
While Covid-19 has altered the trajectory of infrastructure building plans for most countries around the world, the need for affordable housing still remains a major challenge for India. The homes we build today are expected to last for the next few decades and makes the lives of everyone who occupies them happy. If we focus on making green buildings and their certification a pillar of most if not all new construction projects, we can ensure that citizens will have access to more affordable, resilient and healthy homes for years to come. Green construction jobs also means more opportunities for income, and with more money invested in the economy, it's more positive economic impact.
What are Trimble's most promising solution or technology for the future and how does it differ from other offerings in the industry?
Trimble's broad portfolio of building construction solutions are integrated with the Constructible Process and the company's innovative approach for enabling digital transformation of architecture, engineering and construction (AEC) workflows. This process is designed to improve productivity and reduce waste as it empowers disparate teams across the construction lifecycle with actionable data to work upon early in the construction process.
Many leading construction giants are already relying upon Trimble' flagship 3D BIM software solution for the construction industry – Tekla Structures. Did you know that BIM (Building Information Modelling) actually reduces wasted materials and wasted labor by making construction projects more efficient? When multidisciplinary team collaboration happens through BIM methodologies, you can actually save the planet, save time, save resources, and save money.
Tekla enables environment-friendly construction through the creation and management of accurately detailed and highly constructible 3D structural models, regardless of material or structural complexity. It also allows construction companies to test the 3D models of residential and commercial buildings for real-world feasibility before the actual construction even begins; preventing all avoidable delays, rework and material wastage and in the process, reducing the buildings carbon footprint.
How poised is Indian market for adoption of green buildings? Are there any solutions that are missing and need to reach Indian market soon?
The Covid-19 pandemic actually coincides with the rise of Industry 4.0 phenomenon, which is all about digitalization and automation of industrial workflows for unlocking the next wave of productivity. Together, these two forces underline the necessity to accelerate digitalization of the entire construction lifecycle for a sustainable built environment.
The ongoing pandemic and the resultant slowdown in construction work has brought a rare opportunity for the Indian construction industry to take concrete steps towards digitalization of their workflows. We expect several large Indian construction companies to lead the way in adopting digitalization, which will in turn allow them to create green and sustainable buildings going forward. Over a period of time, full digitalization is expected to permeate the vast majority of industry. As the mid-sized and even smaller construction companies start embracing it, their projects will increasingly benefit from sustainable practices and will give rise to a prevalence of green buildings in India. Technology is available aplenty, what is needed is a shift in mind-set and proactiveness to enable the change.
15