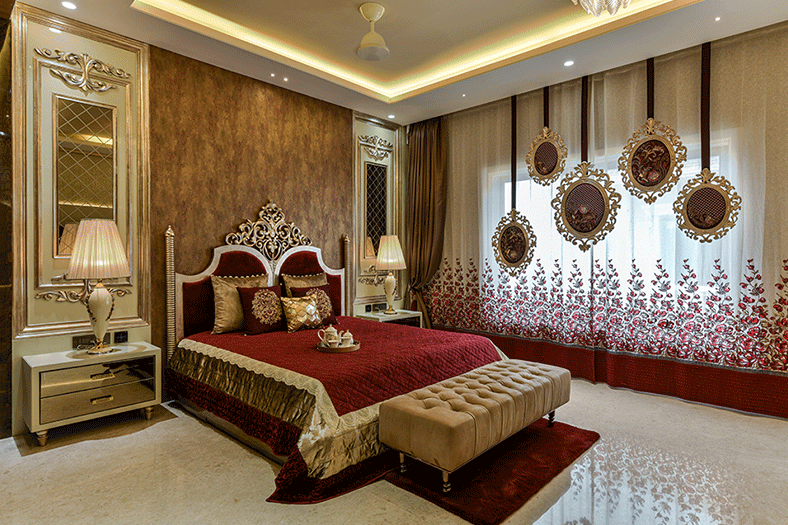 Shilpi Sonar, Principal Designer of Creations, a boutique interior design firm combines the best of Morocco and traditional Indian design in a residential bungalow project located in Raigarh, Chhattisgarh.
The client dreamt of an abode that lifted their lifestyle and also enunciated their growth. The preference was for ornamental décor which was out of the ordinary. The design cues in particular were inspired by the riads of Marakkech and elements of Casablanca. The design strategy was to infuse Morrocan motifs in traditional Indian patterns.
As one enters the house, there is a clear distinction made between the foyer and the living space. Emblems symbolizing Morrocan royalty have been used as a subtle demarcator to differentiate the hallway and living area. Such minute yet ingenious separations are made throughout the bungalow which divides it into public, semi-public, and private spaces. The entrance leads directly to the living room which has ornamental wall panels coated with silver leafing that are carved to perfection. The living room has been crafted with excellence, as it overlooks the sprawling lawn. 
Following the theme of hand-painted murals, the bungalow showcases hand-painted ceilings, and metal cutworks that mimic the Moroccan motifs. A team of experts, local artisans have designed and constructed the elaborate woodwork which is also one of the highlights of the project. Speaking of highlights the project also includes massive double-height dining room with a glimmering chandelier backed by a hand-painted mural.
Multiple colour schemes are used to emphasize grandeur and coziness. Each room has its theme and motif that suits the nature of the rooms. Aristocratic colours like gold, champagne, and silver have been used for leafing to produce an aura of sophistication. However, one cannot ignore how inconspicuously rich colors like red & blue and soft colors like blue & pink have been incorporated into these spaces to break the heaviness of the aristocratic colors. They also serve to enhance the imperial aura of the bungalow. The restrooms have stunning details in the form of colorful marble designs and mouldings. The master restroom has a jacuzzi and a steam room, which screams splendor. Even the window in the corner has patterns inspired by Marrakech. 
The bedrooms are exuberant miracles in themselves. Similar to the rest of the bungalow, they have hand-painted ceilings, ornamental headboards, and state-of-theart televisions. To make the bungalow look immersed in liquid gold, 9 feet tall windows were installed to allow abundant natural light. As Raigarh is located in the sultrier areas of India, drapes have been designed to keep the scorching summer sun out, and have danglers with Arabic motifs.
21