Analysis helps to plan efficient vertical transport in high-rises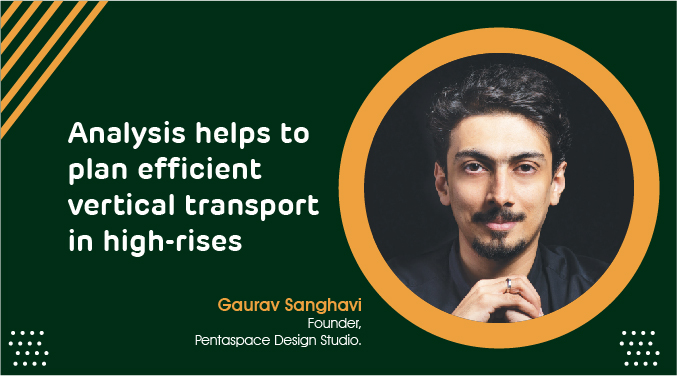 Gaurav Sanghavi, Founder of Pentaspace Design Studio, speaks on the proper analysis of the passenger load and appropriate elevator sizes in high-rises structures.
What are the significant considerations we need to note as we scale higher and higher?
Firstly, we need an adequate number of high-rise elevators. You can't cut corners by providing one less elevator. There should be a proper analysis of the passenger load,
appropriate elevator sizes, and the right speed of the elevator. Secondly, you need to design it with adequate wind tunnel testing, so there is less resistance on the building. There should be an analysis of your design so that it's more stable with wind loads so, automatically then, your steel consumption and it's all correlated in a high rise.
So if your design is up to the standards, your steel consumption and construction automatically become quicker and more efficient in terms of cost.In terms of materials, the best way to go is Mivan construction technology, and if you're looking at finishes, we should do dry cladding on these buildings so that there is less maintenance there over time.
What should be done to ensure that the entire construction phase of the high-rise and the design abides by sustainability?
This can be achieved through testing and analysis. One should spend more time on the drawing board. The adequate size of the flats is critical versus the core. If you have smaller apartments, their floor plates' efficiency starts decreasing, as there is an x amount of non-FSI area and a y amount of FSI area, which it supports. So the balance of non-FSI and FSI areas is critical for an efficient high-rise building design. Non-FSI means it's compulsory to have two staircases or two meters, a width of 2 meters for the corridor, which is mandatory, and then there is the number of necessary lifts. Those aspects make the core pretty big. Hence, the FSI and non-FSI areas are critical to an efficient high rise.
What critical contemporary materials and technologies play an essential role in high-rise construction?
Mivan construction is the key to high rise because it is the fastest construction mode and dry cladding; lots of materials are coming into the market space so you can use many of these aluminium panels, glazing, etc.
How are facades aiding the energy efficiency and aesthetics of high rises?
I think you have DGUs (Doubly Glazed Units), so you can choose your specification of glass and the reflective qualities of glass. They use thermal insulation; on the dead areas, you use materials with better thermal insulation so that it doesn't gather that much heat, like the core areas. All in all, you have to use suitable insulation materials in the dead zones and then in the sandy areas where you need light and ventilation, you use WVA units where you can choose the glass specification.
6