Appropriate lighting can create a sense of intimacy and luxury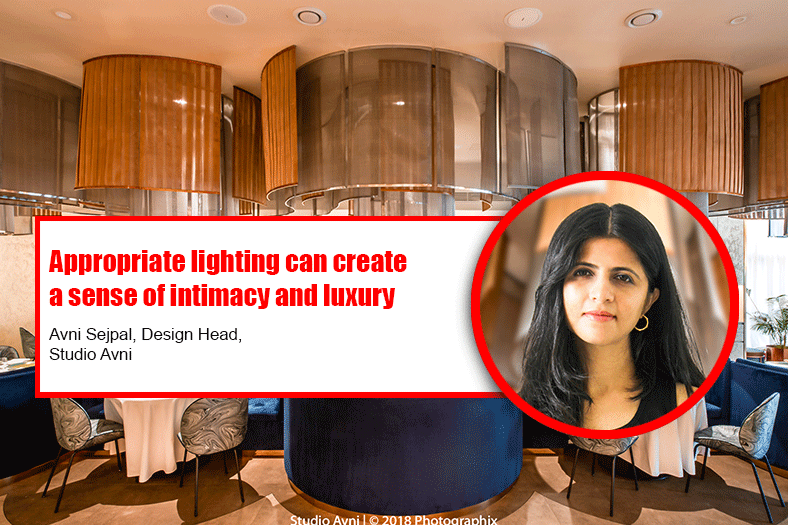 The light fittings and lamps chosen to compliment the style and décor of the room have a potential to give life to the space says Avni Sejpal, Design Head at Studio Avni in a conversation with Vikas Bhadra.
How does light aid the appearance of good interiors?
Lighting plays a very important role in transforming interiors of a space and imbibing it with a personality and an emotion. A good light source can change the whole tone of a room.
Planning the space holistically can create ideal mood sets to experience the space to the fullest. Sometimes just by introducing a beautiful sculptural lamp, one can very quickly refresh the space with a new design sensibility, character and fun rather than an expensive makeover.
Good lighting assures a warm, inviting and functional atmosphere in your home. Hence selection of proper lighting is the key element in design a space as it enhances everything in a room – from the furniture, flooring, fittings to the finishes and textures.
Having said that, what are the other important factors, which make lighting an important attribute in interior design?
Generally, lighting is broken down into three categories: ambient, task, and accent. Ambient light illuminates a space, task lighting is meant for specific work (reading, writing, etc.) and accent lighting highlights a focal point in a space (such as artwork). Since different rooms have different functions, each room in the home needs to have a combination of lighting that is ideal for the setting.
All of these have to be considered based on the available natural light of the room. Natural light will immediately make a room appear larger, but if the room doesn't have windows, or has fairly small windows, there are other things one can do. One can make a room seem larger by drawing people's gaze upwards, as when the eye moves vertically, rather than horizontally, rooms seem larger. One can achieve this by placing light fittings higher up on the walls, or perhaps by adding some hanging lights from the ceiling. Recessed lighting won't take up any additional space, but will make it feel brighter and more open.
Every room should have a mix of lighting, including overhead, accent and task lights. Layering is key in lighting. There should be a contrast between the light at the center of the room and around the perimeter, and the darker spaces in between. It's the subtle interplay between light and dark that creates appeal. Accent lights could be used to highlight art, and table lamps could be placed besides seating to add another layer of light.
Lighting can be used to intelligently and subtly divide a space or merge spaces. By grouping pools of light into specific areas, you can create 'zones' for different purposes. The open floor plans of new houses certainly have a modern feel, but it can be challenging to distinguish areas for living, dining, and cooking without walls. Bringing in pendant lighting overhead will help divide areas; just center lights over each area that one would want separate.
For a sleek, playful look, it will help to include a fun and colorful table lamp or pendant light. Another great option to warm up a room is to introduce light pieces with dramatic hues of colors or shiny metallic finishes. Copper is particularly my favorite; a copper shade or a pendant light instantly infuses a modern look.
For awkward corners, one can use interesting floor lamps with interesting complimentary textures and tones or metallic hints. It not only provides light but also provides enough of a contrast to the corner to really make a visual impact. Wall lights add length and size, visually, to an entryway hall, as well as light the way.
In green buildings or projects which entail sustainability what kind of lights should be used?
Today's lighting fixtures feature innovative technology and updated sustainability practices that can enhance our daily life. There is a great opportunity to practice eco-efficiency; and use products that are both produced responsibly and utilize energy-saving technology.
On top of saving electricity, using the right kind of lightbulb can drastically change the light in a room. LED and CFLs are both energy efficient and come in a variety of different hues. Soft blue light will give a room a more natural look. LEDs often bring out reds and blues, so if the idea is to make the colours pop, consider changing out the lightbulbs. One can also consider smart LED lightbulbs that can be wirelessly controlled by Bluetooth. These smart bulbs can change colors, dim, or brighten using your smartphone.
Dimmers couldn't be over emphasized. Dimmers allow one to manually adjust lighting to respond to changes in natural light and seasons. Dimmer on each fixture is highly recommendable rather than replacing a wall switch with a dimmer that adjusts all the lights at once. This will allow greater flexibility in achieving different light palettes and balance.
Sometimes a room doesn't need more brightness but rather softer or dimmer light. Dim light can set a more intimate mood or set the tone for a get together. Brighter light is perfect for getting work done. A lamp that can do both is an excellent choice: turn it down when one needs to, and turn it up when one needs to get work done.
Spacious homes can imply luxury by using huge chandeliers, in contemporary homes, in a defined sq.ft area, how can lighting make a fashionable statement?
Creative use of lighting can in fact highlight a space and can create a statement. The light fittings and lamps chosen to compliment the style and décor of the room have a potential to give life to the space. Selection of the right lighting can help you achieve a perfect balance between style, comfort and practicality in creating aesthetically beautiful yet functional interiors.
To create a sense of intimacy and luxury, introducing a sculptural chandelier will infuse the space with the right drama of light and form. The light itself is a beautiful object that meets the eye on arrival to the room and provides focus to the space. Chandeliers are not only used in large, open foyers, entryways and rooms because of their centrally themed placement but also because they provide excellent illumination for the room. They will also draw the gaze towards the ceiling making the space appear larger. Having a central source of ambient light in all rooms is fundamental to a good lighting plan. However, It is only when all design elements come together that a room benefits from harmony and effortless fluidity of design.
Kindly cite a project where lighting was used to good effect?
Convergence Lighting installation for TresInd restaurant, BKC are some of the projects where the effect of lighting is appropriately profound.
10