Architecture must contribute in creating a new and dynamic community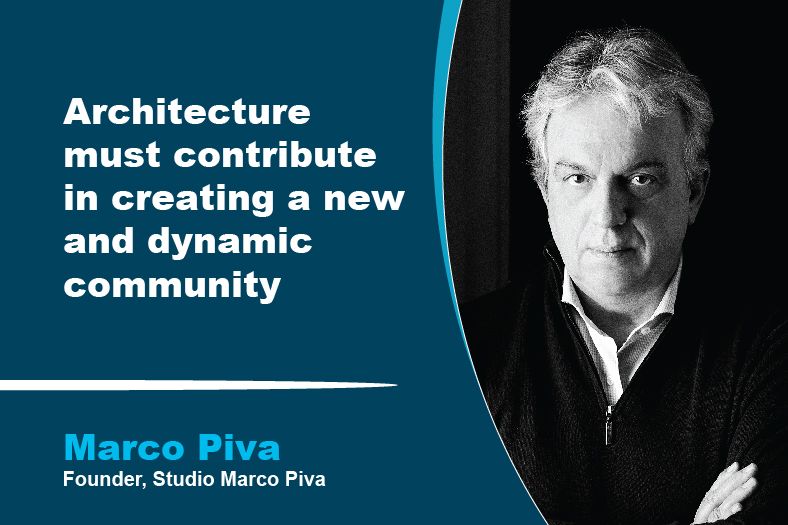 Hence, I believe, good architecture should always start from form and function, while also emulating empathy and emotion says Marco Piva, Founder, Studio Marco Piva.
What is your idea of good design?
Good Design, to me, is a strong synergy between culture and history, research and project, originality and authenticity, whether referred to urban design, architecture, interior or product design. We must find a root in which to base the design project hypothesis. The references may come from the local surroundings, from history, from customs – it is necessary to find a story.
Moreover, design is nothing without functionality. I like to work on the definition of new components and usable objects to define standards of quality. At the end of my design process, I like to propose to my clients and guests not just an object/project, but  an experience where most of their senses would be involved.
 Who are some of the architects you adore? In the initial days of your journey who are some of the architects you have worked with?
The inspirations for my design career come from giants like Leonardo Da Vinci, Donatello, Leon Battista Alberti, Palladio. About architecture, I have always been fascinated by the contradicting works of Alvar Aalto and Mies van der Rohe, masters of modern Palladio architecture and design. The assumption "L'Architecture c'est difficile" (Architecture is difficult), a statement in French by Alvar Alto, speaks about the deep and intensive work that should be done by an architect to create a masterpiece. While "Less is more" was the basis of Van Der Rohe philosophy, which is nothing but the anticipation of the contemporary concept of essentiality, elegance, beauty and sustainability.  
 Which project according to you was among the first ones to put you in the hall of fame?
Each of the studio projects has a background that makes it unique but if I have to make a choice, I would list the Excelsior Hotel Gallia in Milan, completed in 2015. Maybe there were other ones before, such as the T Hotel in Cagliari or the Mirage in Kazan in the early 2000, that put me in the hall of fame, but Excelsior Hotel Gallia is surely the one nearest to my heart that gained a lot of acknowledgements.Even after seven years of its completion, the hotel is still earning international awards, such as the best suite in the world at the World Travel Awards or the Best SPA in the Luxury SPA Awards.
 Post the client brief, what do you do to adopt a design strategy which does not compromise your creative prowess whilst addressing your clients needs?
It is fundamental to know what the client wants before a designer starts designing. Following the client's brief, I always try to propose the best solution to meet their expectations, explaining my choices through my experience.Our clients are high end, both private people with investment funds and real estate companies, so each time a different design strategy is required, but the general creative process remains the same: I try to deliver a special vision of the world that is based on cultural interactions, deep research on materials and construction technologies, with an open view to the future of an international and dynamic society. 
As an architect, who has worked on numerous projects, what are some of the challenges you have witnessed in your profession so far? How do you address them?
In almost 30 year's activity, Studio Marco Piva has developed projects all around the world, from the United States to the Far East: numerous and diversified projects, each one with its own challenges. Our master planning in China, for example, goes in the direction of configuring environments that retain a human dimension, while other projects recover glorious monumental buildings and give them a new life, such as the Palazzo Nani in Venice or the recently completed Touring Club in Milan.
In the Excelsior Hotel Gallia, the biggest challenge was to preserve its historical background, and at the same time it was necessary to connect it to the modern buildings around, symbols of modern Milan architecture. Challenges can also be in terms of time, such as the Pantheon Iconic Hotel in Rome that we managed to design and open in 10 months. So, each project has its own challenges, however I think the most important challenge of our time is related to establishing new social and environmental balances as well as a harmonious relationship with nature. 
What led to the inception of your studio?
I opened Studio Marco Piva in 1990, when the other members of Studiodada decided to go our own ways. 
 In a long-term practice, professionals are often defined by their affinities towards design strategies and materials. Has it ever happened to you, something you believe will come to define both of you in subsequent millenniums?
I am almost obsessed with the subject of materials in architectural composition and furnishings, whether we're talking about natural materials like marble or stone, or artificial materials, glass, ceramics or metal, right through to new composite and synthetic materials. The selection of materials is fundamental for giving projects their own identity and recognition on the vast panorama of hospitality, residential and private buildings. Marble, stone, ceramics, glass, metals and fabrics emanate tactile and visual perceptions with their textures and colours, confirming the architect's direction as an essential tool for achieving the expected level of excellence.
Is architecture much beyond form and function alone? Do you believe it is, how would you explain that?
Architecture, to me, is created from the strong synergy between history, culture and science, it is based on constant research on innovation within the frame of originality and authenticity. Architecture must contribute in creating a new and dynamic community in a world which is increasingly embracing a contemporary way of living. Hence I believe good architecture should always start from form and function, while also emulating empathy and emotion.
What are some of the projects which are close to your heart and why? Which are some of the recent projects you are working on?
With my Studio I'm actually developing many projects all around the world, covering the 5 continents, such as development of urban master plans in China, the Tonino Lamborghini Towers complex in Chengdu, private villas in Beverly Hills, Shanghai, Melbourne, Accra, Dubai and Moscow, the Princype residential complex project in Milan, the recovery of historic buildings and the creation of design furniture and complements for many companies.   There is a very long list of projects that are close to my heart in the different fields of design, such as the Excelsior Hotel Gallia in Milan, as told before, because it is related to my city, or the Concept Design for the Bulgari Window worldwide that led to my design becoming well-known all around the world, making me so proud. The same goes for the Casa Alitalia airport lounges in Italy, seen by thousands of international travellers.
Speaking about recently concluded projects, the monumental building of Palazzo Nani in Venice is now a 5 star hotel that conserves and emphasises the values of the original building, with its frescoes, in a city by which I've always been really fascinated.
Tell us something about the accolades you have won so far?
I'm so glad that in my career until now, I have received many awards, 80 more or less, deriving from projects, exhibitions or objects I designed. Design awards help visualise the quality achieved in specific or general fields, creating the condition to analyse projects, and thereby allow us to make comparisons in terms of innovation, design language, research and achievements, giving the motivation to improve even more. Some examples are the ADI Design Index here in Italy, won for several products I designed, or the international World Travel Awards won for the Excelsior Hotel Gallia.
What is your take on events like Salone Del Mobile and Maison and Objet? How does it influence you as architects and designers? What are some of the other national and international events you attend?
I believe Salone del Mobile in Milan, and its Fuorisalone, is the most complete fair in the world. It is a thought that finds endorsement at an international level, given the continuous influx of visitors and exhibitors from all over the continents.
Indeed, design has always had a social component, telling the best of artisans to pay particular attention to the use of products and resources in a responsible and conscious way. This vocation fits perfectly with a city like Milan, considered, not by chance,  the capital of fashion and design, a city of trends and innovation which still represents the culmination of sociability created by design: a moment of encounter that transcends individual objects and spills out onto the streets, into the air, everywhere. Other interesting ones that I visited are surely Maison and Objet in Paris, ICFF in New York City, Isaloni in Moscow and Shanghai, Art Basel in Switzerland, and 100% design in London, but I would also mention DowntownDesign Dubai and IFFS in Singapore that are fast growing. As for India, I have heard a lot of good things about D/Code in Mumbai and India Design ID in New Delhi.
13