At Morphogenesis, Sustainability is a part of our design DNA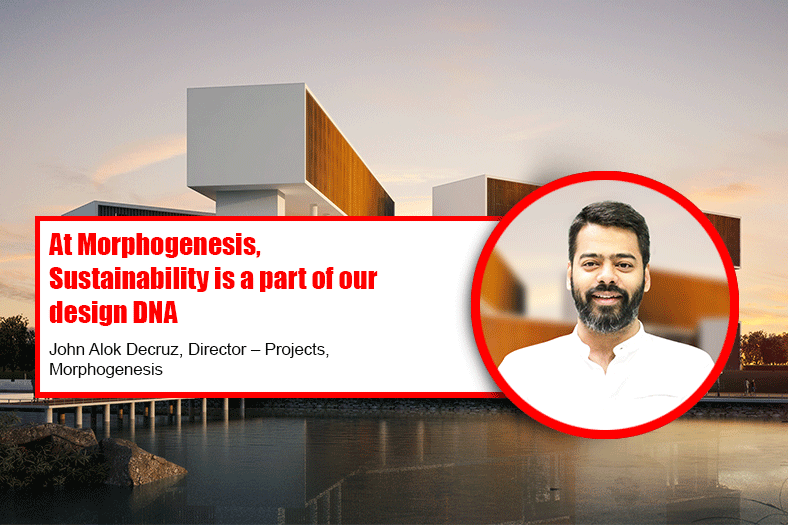 Unlike green building ratings, sustainability goes much beyond fulfilling benchmarks and rating criteria. It aims at reducing these benchmarks and tries to make the building more local to its context says John Alok Decruz, Director – Projects, Morphogenesis.
Green buildings and sustainability are two words we hear intermittently in the building and construction industry, is it same or different?
A green building refers to a benchmark point rated development, through pre-defined rating systems i.e. LEED, GRIHA etc. It seeks to minimize the usage of resources like water and energy, whilst improving the indoor and outdoor air quality and increasing the use of recycled and renewable materials through pre-defined metrics.
Sustainability, on the other hand, refers to a concept that goes beyond fulfilling benchmarks and rating criterias. It aims at reducing these benchmarks through passive design strategies along with integration of culture, art and craft that makes the building more local to its context.
At Morphogenesis, sustainability is a part of our design DNA. Our buildings consume up to 50 per cent less energy than certified green building benchmarks through passive design principles and microclimate creation proven through post occupancy evaluation. We achieve these goals by combining the wisdom of the past and cutting-edge technology to create exemplars of sustainable design.
Our ongoing development for Infosys at Nagpur is one such example where we have gone beyond all parameters and created a development that is Net Zero on energy, water and waste – it aims at becoming a living building that is self-sustaining.
In today's scenario, the boundaries of sustainability are being pushed to ensure the health, wellness, safety and hygiene of the end users. These parameters are also in progress to becoming a Credit Rated System to ensure that the user is brought to the centre of design.
Horizontal expansion vs vertical sky rises, what role alignment plays when it comes to aiding the tenets of sustainable buildings. Horizontal and vertical expansion both have their pros and cons, however, as a designer providing a wholesome design with benefits of both is the key to a development that is high on the concept of livability.
Whilst horizantal expansion aims at creating more accessible and privatised green pockets, vertical high rises help in creating larger community gathering spaces on the ground along with unaffected outdoor views. In the current situation where the boundaries of cities are constantly growing both vertically and horizontally along with a reduction in the available green cover, designers need to be mindful and create spaces that would make the users feel closer to the natural environment.
Our project, Prius Vision in Gurugram takes on from the above where a 120M high office tower has been designed as 7 vertically stacked offices, of 4 floors each, along with a landscaped new ground for each stack. This helps the user feel a part of a 4-story low-rise development which is connected to a ground plane while also creating a space for a large landscaped community gathering area on the actual ground level.
How can green buildings aid health and well-being unlike the regular buildings?
Green buildings aim at high standards of thermal and visual comfort parameters that have a direct impact on the health and wellness of users within the building.
Firstly, day lighting plays a key role in this aspect; naturally daylight spaces not only help in an overall reduction in energy consumption of the building but also allow for UV ingress that helps in disinfecting the indoor environment.
When we open our façade to allow for daylight, we also help the users of the space to connect visually with the outdoors. It has been proven through studies that employees have 25 per cent better memory function when they have views to natural environment from their buildings while daylight helps in avoiding sick building syndrome.
Secondly, another important aspect is ventilation. Green buildings demand for 30 per cent higher fresh air which helps maintaining high levels of indoor air quality by more frequent air changes, however, to further enhance this, cross ventilation by opening of some windows could play a large role along with night purging by reversing air circulation in the building to allow for complete air change.
Furthermore, to increase the standards of health and wellness in the building one can aim at utilising the outdoor environment to its maximum potential, while moving people out of enclosed air-conditioned spaces. Most of our buildings have outdoor spaces usable through 100 per cent of the year by implementing basic principles of shading, orientation, vegetation, evaporative cooling, reducing heat island effect and harnessing wind movement along with rain protection.
Our Wipro campus at Hyderabad where the entire food court has been shifted to the outdoors and made usable through 100 per cent of the year by virtue of passive design strategies like wind movement and mist cooling along with rain protection. These spaces in off peak hours tend to be used as outdoor meeting pods, break out areas and outdoor working spaces. This helped us not only in building less but building smart by raising the bar of hygiene standards through smart design.
7