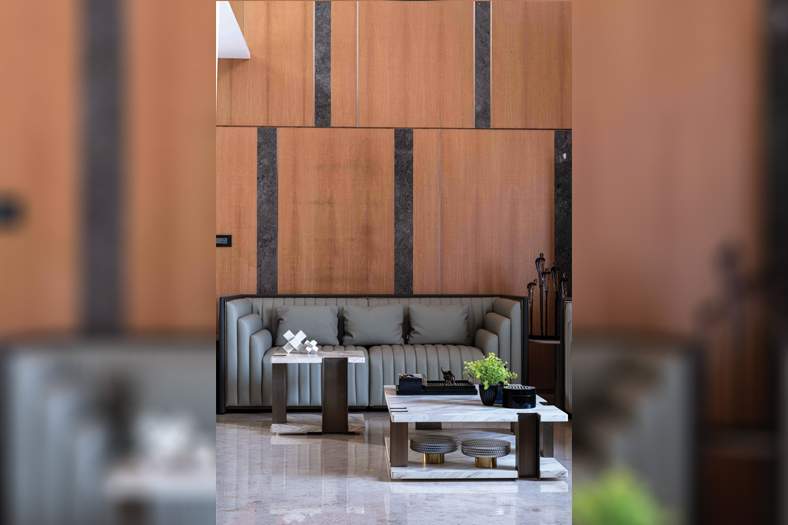 The design sensitivity of Indians is now not just limited to metros alone, newer cities and towns too are exhibiting a taste for good design
The entire space exudes a sense of glamour and sophistication. Panels of fluted metal has been used which is quite an exclusive material as the backdrop of sofa. Sofa is amalgamation of leather and velvet in wine color giving it a very luxurious look. On the left hand side one can see panels of metal with fluted glass used in an angular form to divide the area. Entire area has wooden flooring. Center table has multiple small tables used as a set made up of different materials like fabric, metal and wood.
The washroom is simply done in Italian cladding with angular grooves pattern on basin wall and shower wall. A marble wall is created to separate the wet and dry areas and the same partition is used as a backdrop for basin. Mirror is bespoke and has inbuilt lights with metal frame.
The very elegant at the same time striking powder room has mosaics on the upper half of the wall. Wisely use of mirror doubles it effect. Floor and lower half has Saint Lauren Italian. Vanity finished in PU and brass hardware completes the look.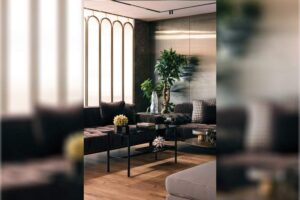 The Double height area has panelling of veneer and Italian with detailing of metal trims. Sofa has leather fluting and center table is made up of stautario in Satan finish and brass.
Dining wall has Italian marble strips used in different sizes and levels. Crockery unit is in PU and has Italian Marble top with recessed washbasin made of same marble to hide the view of basin. Above the unit a mirror on the wall been placed to give some depth to the area and hanged some artwork on it to create an interesting look.
Metal and glass main door is the focal point of the foyer area. It looks like a fixed panel when not in use. The area has multiple doors. Veneer is used in such a way that it camouflages all the doors. Console has a very interesting pattern and is made up of fluted metal sheet on legs and tinted glass on top. Fabric based Metallic wallpaper has been used as a backdrop for the console.
6