BKT gains from home advantage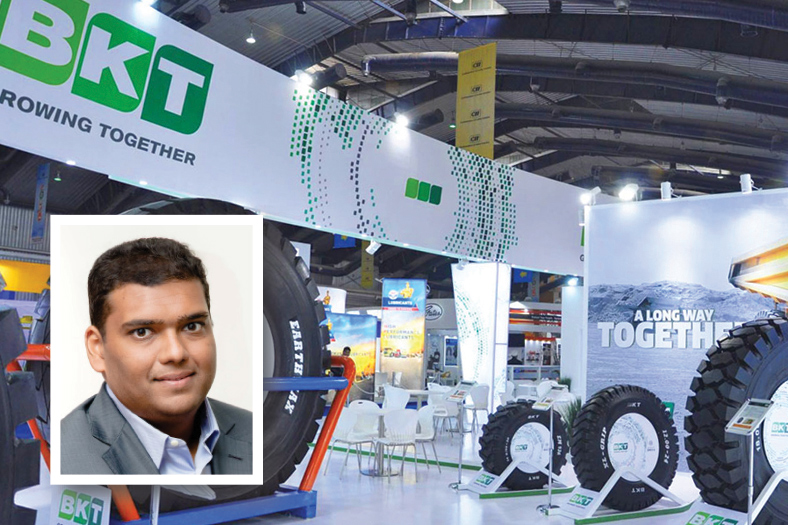 Displays cutting-edge tyres for construction and earthmoving equipment at EXCON 2017.
To benefit from its home advantage, BKT – the multinational off-highway tyre manufacturer headquartered in Mumbai, field some of its finest masterpieces: cutting-edge tyres for construction and earthmoving equipment at EXCON 2017.
Predominantly on display at the BKT booth were the patterns belonging to the large Earthmax family. A tyre line, which has been specifically developed to favour the best weight distribution on the ground for dumpers, loaders, dozers, graders and some multi-purpose vehicles.
Right at the forefront, there was Earthmax SR 45 in size 18.00 R 33, an ideal tyre for rigid dumpers operating even on the harshest grounds. An essential feature is the extraordinary tread depth increasing tyre durability and ensuring productive efficiency on the long run.
The next exhibit in size 24.00 R 35 was Earthmax SR 47, specifically designed for rigid dumpers as well. This tyre stands out for an extra-long product life-cycle thanks to its E4-class tread that reduces wear and provides extreme resistance against cuts and abrasion.
Earthmax SR 46 is BKT's response to adverse and rocky environments. Displayed at Excon in size 27.00 R 35, this tyre features an all steel casing reinforced with steel-belts to provide excellent protection against impacts, mechanical stress, and punctures.
Strength and resistance are the characteristic traits of Earthmax SR 55, an extraordinary ally whenever one needs to face high production peaks with very little standstill times – thanks to the extra-deep L-5-class-marked and smooth-surfaced tread. The tyre was showcased at the trade fair in size 18.00 R 25.
Specifically developed for rigid dumpers and loaders is Earthmax SR 31 – was on display at Excon in size 23.5 R 25. This tyre provides best traction and pleasing riding comfort. Made of a special compound, not only is it extremely resistant against cuts and abrasion, it also dissipates the heat developed during equipment operation.
In addition to the Earthmax products, also XL Grip (L3) was displayed at the trade show in size 17.5-25. It is a cross-ply tyre that provides best stability and durability. It has been particularly engineered for loaders for the purpose of reducing the risk of perforation during heavy-load operations to a minimum level.
A non-directional tread design, traction, and stability, instead, are the distinguishing marks of XL Grip (BHL), designed for backhoe loaders employed in excavation, levelling and loading operations. It can be viewed at the stand in size 12.00 – 24.
Another pattern for tough service is SUPER GRADER, a bias tyre for graders excelling in traction and self-cleaning properties. On display at the event in size 14.00-24.
BKT's EM 936 offers riding comfort as a plus. This tyre has been specifically developed for excavators and telehandlers employed in industrial applications. Its particular features are easy handling, improved self-cleaning properties, and excellent traction. It was showcased in size 16.0/70-20.
"This year in its 9th edition, Excon is a major event in the field of construction and the most momentous one for the South Asian market. It is a unique occurrence that BKT could not have missed – an extraordinary opportunity to exchange ideas with branch professionals, operators, and experts, and to demonstrate them innovative products tailored to their individual needs," said Rajiv Poddar, Joint Managing Director, BKT.
It is a unique occurrence that BKT could not have missed – an extraordinary opportunity to exchange ideas with branch professionals, operators, and experts, and to demonstrate them innovative products tailored to their individual needs.
Rajiv Poddar, Joint Managing Director, BKT
10