BKT to introduce Flagship Earthmax SR 48, SR 53 At IMME 2018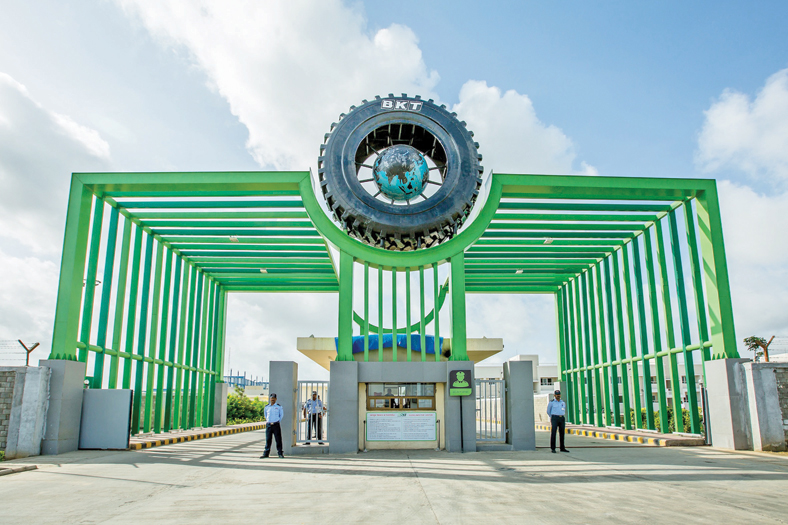 Balkrishna Industries (BKT) selects the International Mining and Machinery Exhibition (IMME) in Kolkata to present Earthmax SR 48 and SR 53 in India. The EARTHMAX SR 48 is an all-steel radial tire engineered and designed for rigid body haul truck. On the other hand, the EARTHMAX SR 53 is designed for loaders and dozers. From October 31 to November 3, 2018, once again Eco Park, Rajghat will be the bustling venue for the 14th Edition of IMME. More than 400 exhibitors and over 1,000 visitors are expected at the event, which is an extraordinary meeting point for international manufacturers, government, PSU's, nodal agencies, media and others.
BKT will preview Earthmax SR 48 and Earthmax SR 53 for the Indian region. In addition to a selection of tires for mining applications on display, there will also be other patterns out of the extensive Earthmax tire lineup.
The debuting Earthmax SR 48 (E-4), displayed in Kolkata in size 27.00 R49, is an all-steel radial OTR tire specially engineered and designed for rigid body haul truck. SR 48 delivers enhanced traction and tread wear in severe rocky operations. The tire is specifically designed to transfer heavy loads with higher speed. Thanks to its all-steel casing, this tire provides superior protection against shock, fatigue and rock drilling/ penetration to enhance uptime for higher productivity. The SR 48 also possesses excellent self-cleaning capability.
The other highlight tire at the event, the Earthmax SR 53, is specially designed for loader or dozer. This is suitable for severe rocky conditions and tough/rigorous scrap handling operations. This pattern is also designed for self-cleaning. Extra deep tread and customised compound deliver extended tread wear and also provide resistance to rock cuts and punctures.
BKT is also exhibiting Earthmax SR 51. This specially engineered, non-directional tire has an optimal lug angle, which enables it to provide excellent traction in dig and load operations. With the L-5 extra deep tread with special tread, the compound delivers long tire life. Its self-cleaning tread pattern protects tire from stone retention/drilling and square shoulder design pushes loose stones aside to protect the sidewall from cuts and damage. The SR 51 is suitable for loader or dozer operation in moderate to severe conditions.
Also of interest is Earthmax SR 47, exhibited in size 24.00 R35 which is specifically designed for rigid haul trucks operating in the toughest transport applications such as rock quarrying.
The company is taking to Kolkata a significant selection representing its Earthmax range. The Earthmax SR 55 in size 29.5R29 has a specially designed buttress which provides added protection against sidewall and rim damage. It's specially formulated underground mine service (UMS) compounds protect against damaging rock cuts. Another tire for road building and graders is the SR 25 Plus displayed in size 14.00R24. Specially engineered and designed radial tire for grader and loader application, the SR 25 Plus is equipped with an all-steel strong casing and belt package, providing excellent durability, long service life and resistance to snags and punctures.
For any further information, please visit www.bkt-tires.com
8