Bringing Homes to life with Green facades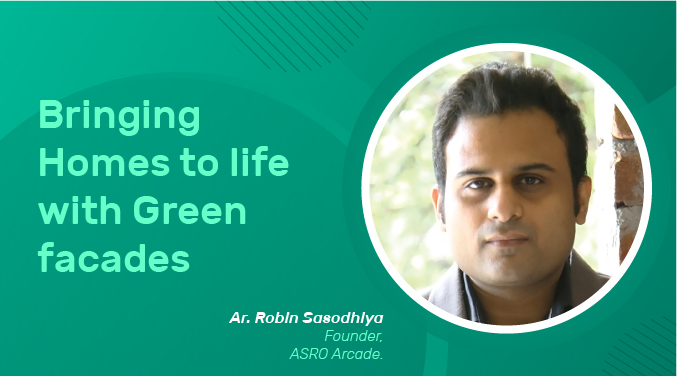 With green facades gaining traction and popularity, it has become an upcoming trend in all contemporary homes.
Whether you are a nature lover, like to do something good for the environment, or want to make your home fresh-looking and feel good, you should go for a green facade to adorn your home. With green facades gaining traction and popularity, it has become an upcoming trend in all contemporary homes. They give an eye-catching effect to the facade and even stand out from the surroundings. Greening your facades add an aesthetic quality to your home and improve your quality of life. Green facades can bring life to your homes amidst all the hustles of mundane lives. Ar. Robin Sisodhiya of Asro Arcade brings you the numerous benefits of greening your facades.
Firstly, designing a green facade is an easy way to add a creative dimension to the exterior of your home. The climbing plants and ivies are some of the plants that are compatible with several exterior cladding options. They interestingly integrate with brick, cement, concrete, and all other hard exterior home finishes. Besides aesthetics, Ar. Robin Sasodhiya and his team have gathered a few other vital benefits of Green facades.
Improved mental health
Covering your home exterior with greens is a simple way to refresh your mental health. This subsequently improves your wellness through direct contact with the natural world. Green facades can elevate your mood, creativity, and concentration. They can contribute to a higher perceived quality of life and lower levels of anxiety and depression.
Increased thermal insulation
A dense layer of green plants, creepers, and climbers covering your exterior walls can protect them from direct solar radiation. Green facades reduce internal heat and keep you cool and comfortable inside the home. They can contribute to energy efficiency and save money on mechanical cooling costs in summer. Several plants, such as green ivies, will be evergreen, spruce up your homes throughout the winter and rain, and protect your home from external temperatures.
Healthier and Cleaner air
Green facades are a boon to homes in terms of healthier air quality. The plants used on the green facade can purify and improve air quality inside and around homes, especially in urban areas. These plants can capture Carbon dioxide from cars, factories, and other urban air pollutants. They also purify the dust and other particulate matter harmful to human health. Green facades play an essential role in lowering the hot temperatures of summer, reducing the Urban Heat Island Effect.
Reduced noise
Excessive noise can be stressful and also affect your mental well-being. Wall vegetation has low noise reflectivity and the ability to mute street noise. This subsequently reduces internal noise reverberations within the home. Thus, green facades are a simple and easy acoustic solution for your homes. They dampen the noise from the outside and enliven peace and comfort within the home.
Most of the time, the best type of plants for a green facade are local and native climbers and creepers, which are well suited to the climate and soil of the region. These native climbers might also provide shelters for birds and insects and encourage bio-diversity. Green facades can help you gain LEED credits for your home regarding sustainability, landscape design, water efficiency, energy efficiency, and innovation in design. Ar. Robin Sasodhiya suggests, "Green facades, with their significant benefits, are a simple and effective strategy to beautify your home and your life."
20