Building High-rise with Tower Cranes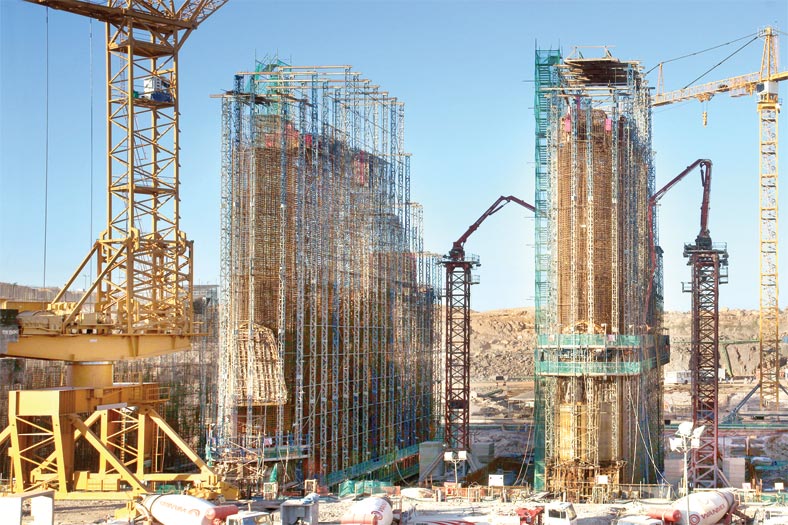 Tower cranes are essential to construct tall buildings as they provide efficient and economical solution of lifting heavy loads of concrete, steel and other building material.

With Indian economy on the fast track, more and more people are moving to cities because of numerous job opportunities and a better lifestyle. As a developing nation, the country is under tremendous pressure to overcome the challenges of urbanisation and ensure that the cities are able to sustain and efficiently facilitate the future economic growth.
In Mumbai for example, the new development is severely restricted by lack of space to accommodate the growing inhabitants, the cities have to be planned properly and better than before, so the only solution is to go upwards. Besides Mumbai tall buildings are mushrooming in cities like Bengaluru, Gurugram, Hyderabad, Noida and Pune. India is now being touted to be the next hub for tall buildings and high rise structures due to high population density and smaller building footprints offered by Indian cities.
"With 50 per cent of the Indian population expected to live in the urban areas by 2030, skyscrapers or the tall buildings are the only solution. Actually we will require building the equivalent of Mumbai every year to keep up with the phenomenon of urbanisation," says Anil Mudgil, Vice President – CED & RCED, Action Construction Equipment Ltd.
Advantage Tower Cranes
Tower cranes are essential to construct tall buildings or skyscrapers. Tower cranes provide efficient and economical solution of lifting heavy loads of concrete, steel and other building material. According to Mudgil, "Benefits and savings by use of tower crane easily surpass the cost parameters. By using tower cranes, we get faster speed of construction, savings because of manpower reduction, savings because of reduced concrete wastage and advantage of timely completion of projects."
Why ACE
ACE claims to be the largest tower crane manufacturing company in the country with a large portfolio of tower cranes, range starts from 1.6-tonne mobile tower cranes to bigger size cranes of 25-tonne capacity. They offer all kinds of tower cranes such as fixed tower cranes, travelling type tower crane, inner climbing tower cranes, etc. ACE cranes are supported by PAN India sales and service network operating from more than 100 locations in the country.
ACE has supplied good number of tower cranes for skyscrapers such as World Trade Tower in Noida, contractors was M/s B L Kashyap and tower crane was used up to 195-metre height in external configuration. Similarly two machines supplied to Shree Cement are to go upto 193-metre. Two of their internal climbing tower cranes are deployed at 255-metre with Capacite Infraprojects Ltd who are contractors for Trans Con Sheth Creators for their Orlem Project (Beretto Compound) at Malad.
As the height of the building goes up, the safety requirements of tower cranes also need to be enhanced. ACE offers these tower cranes with SLI (Safe Load Indicators) which provide additional safety apart from other regular safety systems. This indicates the weight of the material lifted along with safe load at that radius. The SLI acts as third level of safety apart from Moment Limiter and Ergo Meter. These tower cranes are provided with anemometers to check the wind speed. In high wind speed conditions, tower cranes are not supposed to work, anemometer cuts it off and jib is left free to align itself towards the wind's direction, thereby reducing the wind pressure on the tower crane. ACE also offers Anti Collision Device for tower cranes where two or more tower cranes are working in proximity of each other.
"We have the advantage of manufacturing our tower cranes locally. ACE as a company has been very aggressive in gaining and retaining customer and also in adopting new technologies in manufacturing. We offer the largest range of ingenuously manufactured tower cranes in the local as well as international market," claims Mudgil.
Durable and economical tower cranes from SANY
SANY hammerhead tower crane has coverage from 6-tonne to 16-tonne lifting capacity. The hoisting, slewing and trolleying mechanisms are designed to make the tower cranes produce fast speed, great lifting capacity, and wide reach. With high-end configuration, intelligent safety technologies and optimal structure, SANY tower cranes are suitable for lifting large and heavy building materials on the most demanding jobsites.
"Durable and economical, SANY SYT315 (T7530-16) tower crane is widely used at major construction sites, lifting steel, generators, large tools and other building materials," says Sanjay Saxena, Vice President and Head – Heavy Equipment Business Unit at Sany Heavy Industry India.
SANY's 16-tonne tower crane adopts high-end configuration and advanced technologies to ensure their high performance, safety, easy operation and maintenance. This tower crane's job can be configured in a variety of sizes from 30-75 metres, covering a wider reach and height that fits different jobsite applications.
"With optimal structure design, the tip load lifting capacity, load moment and load capacity of our tower cranes at different amplitude are more powerful," claims Saxena. "The tower crane can automatically control and optimise the raise or lower of load only by pressing one-button, which is convenient and stable, significantly increasing the working efficiency up by 15 per cent."
Hoisting mechanism is available with two options of rated power 65 kW and 75 kW, and maximum lifting speed up to 100 metres per minute. 5-gear, full-hydraulic control ensures stable operation at different slewing and trolleying speed. High quality Q345B steel, key link pin shafts specially treated for salt spraying resistance, stamping moulding bar with weld flaw detection all contribute to the strong structure of SANY tower crane, providing customers with a machine that comes with a long service life.
SANY India has plans to start manufacturing of tower cranes at its Pune plant soon. Considering the current demand pattern, SANY has already localised its 5-tonne model.
Schwing Stetter tower cranes bring more ease into project execution
"Our most advanced tower crane for building a skyscraper are in the ranges of 5-tonne, 6-tonne and 10-tonne capacities in India," says V.G. Sakthikumar, Managing Director, Schwing Stetter Sales and Services Pvt Ltd. He is also the Chairman of Mechanisation Committee at Builders Association of India.
Schwing Stetter is also importing higher capacities of tower cranes from XCMG for the Indian market as well as the luffing and jib cranes on demand basis. The advancements in our tower cranes for building a skyscraper are mainly on the aspects of safety and innovation, says Sakthikumar.
He further explains, "For placing of concrete, we manufacture separate placing booms which are mounted on columns. These columns are self-climbing and can be mounted in different ways in the lift shaft or in the external wall of the building and sometimes even on the formwork itself. The separate placing booms with the climbing mechanism are engineered in such a way that the maximum weight of any piece in this machine is not more than 2 tonnes which makes it easy and comfortable for the project developer to lift it using the tower crane easily."
At the end of the project, when the boom reaches on the top most floor of the building, it does not require any special work to bring down the whole structure for the boom itself, because the weights are less than 2 tonnes per piece.
"In some of the competitive model, we find customer even cutting and welding the pieces to bring it down which destroys the functional and structural stability of the machine," informs Sakthikumar.
Potain MR 418: A popular choice
One of the most popular units for high-rise construction from Potain is the MR 418 luffing jib crane. It includes full frequency-controlled mechanisms for precision control and a streamlined design that optimises the available space on the job site, while simplifying assembly and disassembly. The MR 418 offers a host of other benefits including the optional 270 LVF 120 hoist. The crane is perfect for high rise buildings, including super tall structures that exceed 200 metres in height.
The 201 kW 270 LVF 120 hoist offers excellent capabilities for high-rise projects, with 830-metre of rope available. In addition, the winch can reach speeds of up to 254 metres per minute for better productivity. A new design offers a streamlined appearance with several advantages. The luffing mechanism and hoist are uniquely mounted inside the counterjib, reducing the amount of space the crane takes up on site and simplifying assembly.
As with previous Potain luffing jib cranes, the counterweight moves to offer better lifting capability – still a function that not all luffing crane manufacturers are able to offer. Quickly getting the crane into service comes courtesy of a new on-board control system that allows the technician to put the crane into operation just minutes after assembly is completed.
And it's not only in set-up and lifting where the crane is fast. It also luffs the jib from the horizontal position to the vertical in just 1 minute 16 seconds, well under the 2 minutes that most luffing jib cranes of this size would require.
In terms of working height, Potain's intelligent mast system gives the crane enhanced flexibility to cope with the challenges of modern high-rise buildings. Maximum capacity for the crane is 24-tonne and the maximum jib length is 60-metre.
Comansa CM adds new model to its luffer range
Linden Comansa's sister brand, Comansa CM, launched the new luffing-jib crane CML165, with maximum load capacity of 12-tonne and 50-metre reach.
The CML165 features a 45 kW standard hoist mechanism that achieves maximum speeds of up to 94 metres per minute and a drum with capacity for 545 metres of rope, allowing the crane to work in projects of up to 270 metres in height. With the optional 65 kW winch that features a larger wire rope drum, this new model can build towers of almost 400 metres in height, working with hoist speeds of up to 131 metres per minute.
The new crane also features one of the shortest counterjibs in the market, only 6.5 metres long, and an out of service radius of 19 to 22 metres (depends on the jib length). These two characteristics make the CML165 a perfect solution in narrow sites or projects with space restrictions due to buildings and other cranes or due to regulations (E.g.: where overflying train tracks or roads is forbidden).
"We expect this new crane to be very successful in Asia and the Middle East due to the increasing construction demand in large cities," says Andy Huang, Sales Manager at Comansa CM. He adds, "Luffing-jib cranes are the best solution in congested sites and the CML165 is a great option for all type of edifications including high-rise buildings, which are becoming more and more popular in the region. We have already informed some of our customers about this new model and the news is receiving a warm welcome from countries such as Thailand, Malaysia, Philippines, Vietnam and India."
Rental Option
For companies who do not wish to invest in tower cranes because of capital expenditure constraints, a few manufacturers have an option of offering tower cranes on rental basis and ACE is one of them. This helps a contractor to utilise tower crane without getting into hassles of fixed cost, says Mudgil. He assures, 'Customers need not bother about operations and maintenance or availability or uptime issues. We provide the complete package which enables customers to work with tower cranes without owning them."
227