CAN SUSTAINABLE ARCHITECTURE RESHAPE GREEN AESTHETICS?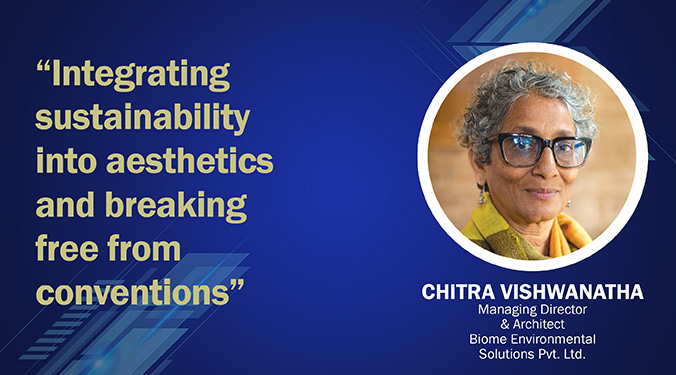 Chitra Vishwanatha, Managing Director & Architect of Biome Environmental Solutions Pvt. Ltd believes India demonstrates a commendable grasp of its environmental responsibilities and has made significant progress. Numerous practices in the country are exemplary in their ecological approach. However, these practices genuinely need support and recognition from both the government and the public.
Can you shed some light on net-zero buildings you have designed or worked on and what key features made them successful?
We challenge the very notion of Net Zero and contemplate its definition. At Biome, our work is closely linked to the projects we have undertaken thus far, which involve two distinct contexts: urban areas and less developed regions, often referred to as the hinterland.
In urban settings, achieving Net Zero is contingent upon utilising resources available within the city itself. This entails incorporating earth, urban waste, water management, and energy considerations into construction. Given the dynamic nature of India's economy, cities are constantly evolving and adapting to meet these requirements. As cities evolve and adjust, many materials are discarded and in landfills, while new lands are utilised for extraction. However, within our conceptual circularity framework, we perceive no material as waste but as a valuable resource. We are also increasingly inclined towards designing for reuse, considering incorporating existing elements and reorganising spaces as new materials.
The Atelier preschool exemplifies our successful embodiment of the concept of circularity. We embraced the challenge of ensuring that every material or element used in its construction could be reclaimed, reused, or returned to the soil. The walls contain CSEBs (Compressed Stabilised Earth Blocks), aluminium, glass, wood, and paper. The steel structure is fully disassemblable, and the flooring is made of paver blocks.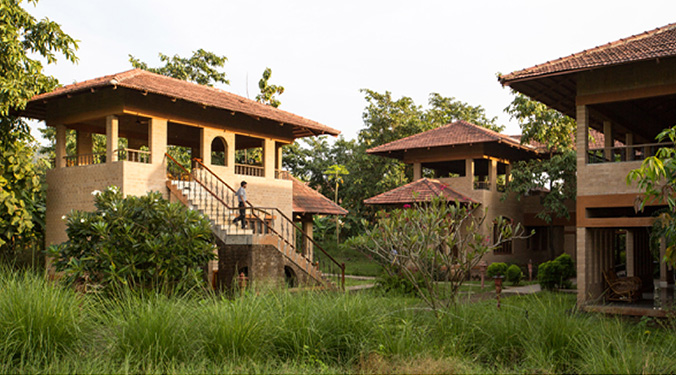 How do you incorporate sustainable practices into your projects?
We perceive each project as a beneficial addition to the ecosystem and a necessity for humanity. Our approach emphasises minimising reliance on ecological services while fostering local upskilling and generating innovative ideas for a sustainable future. For us, sustainability extends beyond the building itself; it encompasses a broader sociological initiative.
The Govardhan Eco Village is an expansive community habitat spanning 80 acres, catering to diverse needs such as spirituality, hospitality, and residential spaces for practitioners. Considering the requirement for food cultivation and cattle rearing, a thoughtful approach was necessary to ensure the responsible use of land and water resources. Through a hydrogeological assessment, recharge and discharge zones were identified, and safe bearing capacities determined appropriate areas for construction. The master plan was meticulously designed to avoid conflicts between water aquifers and buildings while strategically placing structures on firm strata to minimise foundation costs.
In addition to master planning and construction, Biome undertook the important task of imparting skills to the community. Collaboration with a skilled masonry team from Bangalore facilitated the structure of the initial phase while training local masons. Engineers associated with the organiser maintained constant communication with Biome, acquiring expertise in earth-based design principles. Currently, a dedicated team at GEV is proficient in producing and utilising earth blocks for local requirements and architectural projects. These engineers are now equipped to share their knowledge with other professionals and actively participate in designing sustainable buildinThis example highlights that a sustainable architectural practice extends beyond individual buildings. It necessitates consideration of various ecological services required for a healthy habitat while also acting as a catalyst for sociological transformation.
How do you balance the aesthetic and functional aspects of a building with the need for energy efficiency and sustainability?
The underlying assumption in this question is that aesthetics and energy efficiency are mutually exclusive. However, our standpoint emphasises the need to break free from conventional notions and develop fresh perspectives on aesthetics. When we refer to "new," we do not suggest abandoning the rationality inherent in vernacular architecture. Instead, we aim to integrate those lessons into new applications.
Our conceptual approach begins by comprehending the site and its contextual elements, considering how the functions align with the given conditions. Simultaneously, we incorporate climatic considerations, energy efficiency, and water management. These factors are integral to the design process, and we do not limit ourselves to popular aesthetic conventions. We strive for authenticity in both the structure itself and its accompanying elements.
The eco house, created by two friends, Mr. Sharathchandra (Former Chairman of Karnataka Pollution Control Board) and Mr. Jan Olaf (Professor at Stockholm Environmental Institute), embodies a sustainable living approach. This urban dwelling in Bangalore recycles every drop of its wastewater for food cultivation while also harnessing energy for the home. The accompanying picture below offers a visual representation of this remarkable achievement.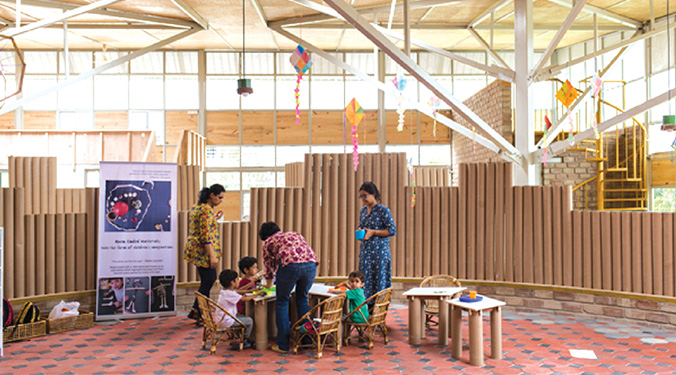 What challenges do architects face when designing net-zero buildings, and how do you overcome them?
The significant upfront expenses pose the most significant obstacle to implementing Net Zero applications in design. However, we address this challenge by conversing with clients, presenting them with various possibilities and the required budgets. While compromises may be necessary, being financially prudent is also environmentally responsible. Moreover, our designs incorporate systems that enable clients to transition towards Net Zero status on their own progressively.
How do you see India building up responsible practices in construction?
India exhibits a commendable understanding of its environmental responsibilities and has taken positive strides. Numerous practices in the country are carrying out exemplary work that is very highly ecological. However, these practices require support and recognition from both the government and the public.
for more info visit : https://www.biome-solutions.com/
28