CASE woos India clients with a slew of new products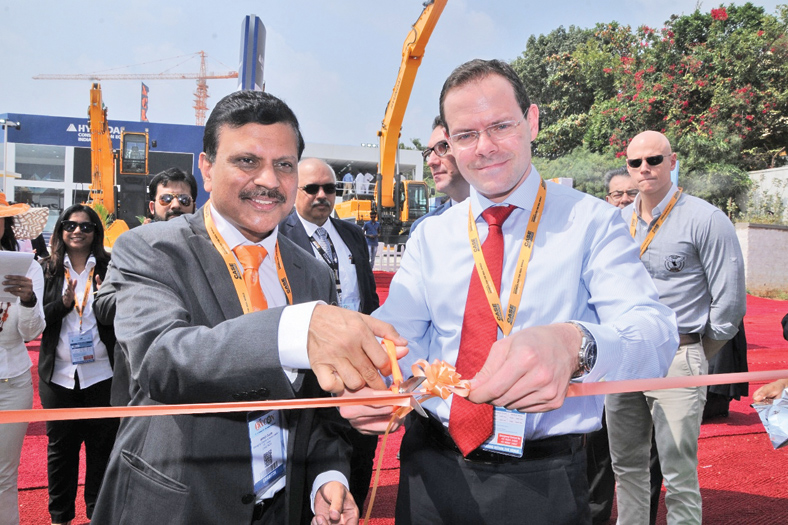 CASE Construction Equipment, a brand of CNH Industrial, has made a strong push into India, with a slew of products and features that are customised to India's specific requirements.
The world-class construction equipment manufacturer has unveiled its new products – the 752EX Vibratory Tandem Compactor, 770EX OL Only Loader, and upgraded PRO Series Backhoe Loader at the 9th international construction equipment and construction technology trade fair Excon 2017.
Abhijit Gupta, Brand Leader, CASE Construction Equipment India said, "The new 752EX will strengthen CASE's leadership position in the compactor segment, in which we are the only company to have sold more than 10,000 units in India. The PRO Series Backhoe Loader and the 770EX OL Only Loader are customised to India's specific requirements. These new products are examples of how CASE stays ahead of the curve by constantly innovating and upgrading its machines to meet customers' needs, and our manufacturing facility at Pithampur is testimony to our commitment to 'Make in India'."
CASE manufactures its world-class compactors and backhoe loaders at its WCM (World Class Manufacturing) Audit-awarded Pithampur plant in Madhya Pradesh. In addition to meeting domestic needs, this facility also exports to markets in the Asia Pacific region, Africa and the Middle East.
CASE also displayed for the first time the 2050M Dozer and 1107EX Soil Compactor, in addition to graders, skid steer loaders and backhoe loaders. This wide range of equipment illustrates the brand's ability to cater for activities as diverse as urban construction, road building, infrastructure, mining and agriculture.
Products details
CASE 752EX Vibratory Tandem Compactor
The CASE 752EX is equipped with a fuel-efficient 3.9-litre 4-cylinder engine, with a mechanical injection system and internal exhaust gas recirculation that delivers 76 HP at 2,200 rpm and torque of 332 Nm at 1,300 rpm. This new-generation engine, developed by CNH Industrial subsidiary FPT Industrial, provides outstanding performance, fast response times, and superior fuel economy. The 752EX's single-piece engine hood gives easy access for routine maintenance, with all daily service points conveniently accessible at ground level.
The 752EX's operator compartment features a rotating operator seat which gives excellent front and rear drum/nozzle visibility, making the drive and compaction process easier and safer. The look of the machine is enhanced by two post canopies and by new fuel and water tanks.
Customised CASE 770EX OL Only Loader
Customised for the Indian market, the CASE 770EX OL is powered by a 3.9-litre 4-cylinder FPT Industrial S8000 engine with a mechanical injection system. CASE claims that 770EX OL delivers powerful performance and fast responses coupled with 5 per cent higher productivity and fuel savings of up to 10 per cent versus comparable products in the market. It is re-engineered to deliver higher loader lift capacity. The power shuttle transmission provides four forward and reverse speeds. The hydraulically shifted clutches allow the operator to change direction and travel speed on the go, while the control valves deliver smooth speed and direction shifts, resulting in smooth and precise operation. The new single-piece engine hood provides excellent access for maintenance and best-in-class serviceability. The machine layout is designed to ensure all daily service points are easily accessible at ground level for quick and efficient servicing.
The 770EX OL features CASE's state-of-the-art EAGLE EYE telematics solution to enhance performance and efficiency. This Asset Monitoring System combines internet, cellular and GPS technologies to keep an eye on details such as the real-time location of the machine, operating hours and cumulative hours, and sends warning text alerts when maintenance is required.
PRO Series Backhoe Loader
The CASE PRO Series Backhoe Loader is powered by an FPT Industrial S8000 engine which delivers powerful performance and fast response time coupled with higher productivity and fuel savings. The Series is re-engineered from the ground-up to deliver better backhoe breakout force, higher loader lift capacity/reach and superior cab visibility.
Product range extended with CASE 752EX Vibratory Tandem Compactor and CASE EX Series Only Loader.
6