City beautification is a major focus area for Havells Lighting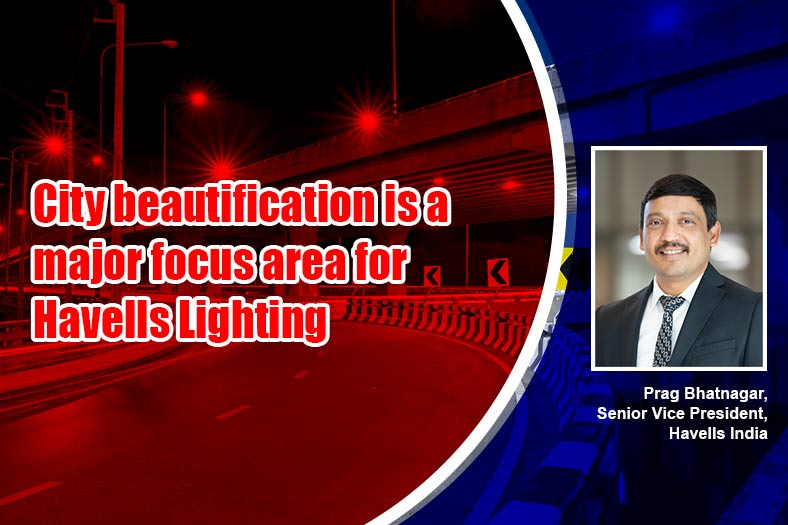 Beautiful Post top lighting fixtures are offered with decorative poles to help in creating beautiful ambience. Bollards with high efficacies and uniform light spread create soothing experience for pedestrians says Prag Bhatnagar, Senior Vice President, Havells India
What kind of lighting is best suited for street lighting which needs to be robust and long lasting whilst saving energy?
LED technology provides the most efficient and reliable lighting solution for outdoor as well as indoor applications. They have more or less replaced the conventional filament-based lighting technology. Speaking of street lighting, the optics, which includes lenses, reflectors or diffusers, play an important role in achieving right lighting level on the road. With help of advanced design tools we can optimize the spacing between poles so that we achieve uniform light distribution as defined by road lighting standards. Uniform and glare-free lighting provides a smooth driving experience for drivers. The streetlight needs to be IP65 or IP66 rated in order to protect luminaire from water and dust. Aesthetics also play an important role and certain VIP roads are designed with eco system of beautiful looking poles and streetlighting fixtures. The LED technology also enables changing of Colour Temperature (CCT) of lighting. During summer it can be of cooler CCT i.e. 5700K / 6500K and in winters it can of warm CCT i.e. 3000K. Smart lighting controls solutions i.e. group or individual lighting allows municipal authorities to control and monitor street light intensity and CCT either remotely or through a pre-programmed automation which not only saves energy but also makes roads safer.
When it comes to specific spaces like lighting for well-designed public parks, what should be the difference in approach?
In outdoor public spaces, lighting plays very important role from illuminating the pathway at night to highlight a structural element. And LEDs has given us flexibility to play with Colour temperatures whether it is mono colour or RGB. Along with providing a sense of safety, it is also important to control excess lighting or light pollution as park users also seek privacy. These places are used by people of all age groups so basic design principle is to provide functional lighting with Energy efficient bollards and post tops which enables them to roam/move around at ease and in comfort. And using marker lights and spike lights for creating a space for nature, surroundings and finally with Façade Lighting solutions that give Architecture a transformation and breathes life in that public space. The purpose of lighting is to add beautiful, memorable moments to people of all age group. Solar portfolio of post tops, bollards, gate light and bulkhead give us an option to even offer green and clean energy lighting solutions.
As the Indian infrastructure segment expands leading to growth of railways corridors and metros, highways all of which need to be illuminated. What does this mean for companies like you?
Railway Stations, Metros, Airports, Bus Stations, Jetties are entry point to your city or locality. If these entry points are properly accentuated/highlighted, it gives a long-lasting impression to visitors/commuters. Beautiful appearance often encourages more people to use public transport. Apart from functional lighting , the architectural or façade lighting adds to the life and vibrancy of that place. Havells has completely designed and lit up many Metro stations using RBG lighting and it has livened up the surrounding atmosphere like never before. We are also lighting up important junctions, flyovers with efficient and advanced lighting solutions. Havells has also executed a highly demanding viaduct lighting project for a key Metro customer and this has opened up exciting business opportunities. Our new pit lighting solutions are also finding a lot of traction with Railways.
As the speed of driving is going up in highways, the lighting requirement is also proportionately increasing and now roads are being illuminated with average lux levels of 40. Also due to stringent road lighting standards, the light fixtures have to be designed with advanced light optics that can increase both Throw and Spread of light. The contractors have to work with reliable lighting brands since such highway contracts also call for 5-year warranty and maintenance of light fixtures. Hence highway lighting presents an excellent opportunity for us.
What are some of your dedicated products for public spaces?
Havells offers a bouquet of lighting products and solutions to its customers, which include lighting consultants, landscape architects, contractors and end customers. The range comprises of LED Street Lights, Flood Lights, Post Tops, Decorative Poles, Bollards, Wall Lights and entire Façade lighting range, to contrite in making a healthier and more sustainable urban future.
Our wide range of Street Lights are able to cater to the lighting needs of major City Roads, National Highways, BRTS corridors, Smart Cities etc. Our in-house designed Smart Lighting Control system has been working successfully in very large Smart City projects and syncs easily with Smart City Dashboard/platform giving holistic solution to Smart City Authorities.
Our Flood Light Solutions are developed keeping in mind wide ranging applications like area lighting, sports lighting, tunnel lighting, viaduct lighting, etc. Apart from high-end optics, our products are also designed to withstand high ambient temperature in case of tunnel lighting and wind resistance in sports lighting through aerodynamically designed lighting fixtures.
City beautification is a major focus area for Havells and we have a wide spectrum of offerings for customers. Beautiful Post top lighting fixtures are offered with decorative poles to help in creating beautiful ambience. Bollards with high efficacies and uniform light spread create soothing experience for pedestrians. Our range of outdoor RGB lighting fixtures combined with proper light simulation converts buildings and architecture into colourful, lively structures. Our lighting solutions can add an element of mystery or drama and infuse life into listless architecture. Our wide range of Solar Street lighting and landscape lighting products are not only convenient to use but also save energy for years to come.
22