CMC rolls out latest offering in porcelain tiles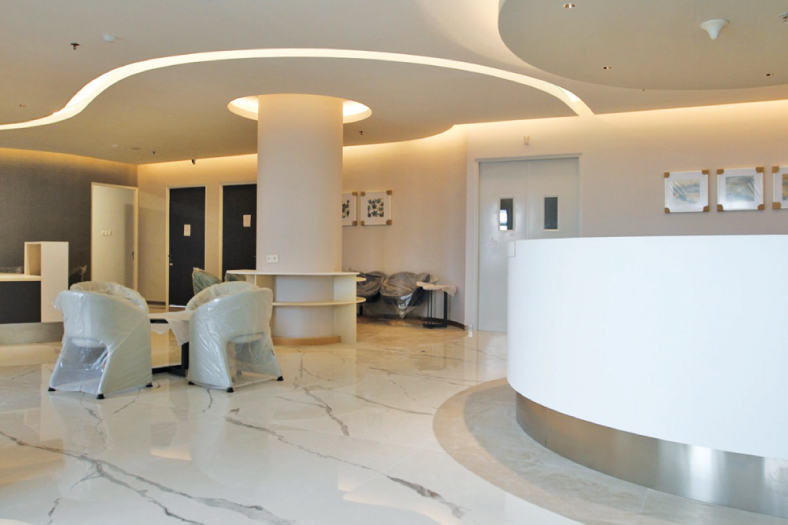 Classic Marble Company (CMC) has announced the launch of its latest porcelain tile offering – Statuario Bianco. Introduced under the Quadra range of design surfaces, the Statuario Bianco is a gorgeous white slab exhibiting fissured grey streaks across its surface. With a thickness of only 12mm and 3200 x 1600mm size the product is suitable for interior and exterior flooring, wall cladding and counter top applications. The extra-large size renders a bright and seamless appearance with the grey streaks adding a sublime subtlety to the overall look of the space.
The feature that really sets this product apart is its homogeneous full body design. The edges of Statuario Bianco has same finish and look as the upper surface of the tile allowing it to be cut in any shape; and yet the edges will display the same colour and design as is seen on the surface. The tiles are non-porous, evenly textured and have a uniform thickness and permits diverse installation possibilities.
The products introduced under this brand are available in the sizes that range from the largest at 3200mm x 1600mm to the regular 1200mm x 1200mm. Apart from the range in sizes, the porcelain tiles are available in five unique designs that include stone, quartz, cement, wood and metal, all of which are available in finishes that are shiny polished surface, matt surface and matt structured surface. Made using an environment friendly, sustainable material, the tiles are non-porous, have maximum strength and durability and are very low on maintenance.
5