Color scheme is one of the most crucial parts of designing interior spaces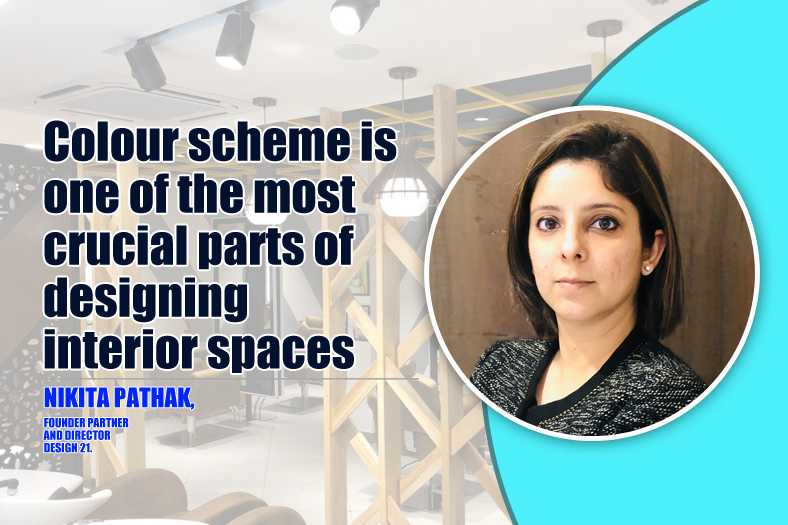 The color scheme is sacrosanct for the process of interior planning and hence is one of the very first things to consider and everything else must revolve around it, says Nikita Pathak, Founder Partner and Director, Design 21.
How can an ordinary set of walls be transformed into a style statement?
Interior spaces are the most intimate part of architecture as they reflect an individual's choices. Every human being is different, having unique physical and psychological attributes. They also have a very discrete personality, while one might showcase it via clothing and accessories, others meanwhile might choose to exhibit it via physical attributes. Similarly, in architecture, interior spaces provide an opportunity to flaunt one's personality. A style wall or a feature wall is one of the many ways to showcase this personality in the space. Things like color, texture, material, light and proportion all come together to create an out-of-the-ordinary style statement.
In most of the rooms the ceilings usually tend to be a sober element connected to a contrasting set of walls and floors, is there a way to change this?
Ceilings are an essential part of interior design. It is more often the part that ties an entire room together unknowingly. Similar to flooring, ceiling plays a significant role in the visual definition and physical movement in a designed space. Ceilings are like guiding elements that become the interconnection between two sides of a room. This is one of the primary reasons why the ceiling is kept relatively sober while the walls and flooring are more attention-grabbing. But, often, if the design strategy demands, in rooms where the walls are expected to be empty or cannot hold a lot of intervention, a carefully planned accent ceiling becomes a feature of the room. In some cases, contrasting colors, cove lights, or even colored materials are used in interiors to create a striking luxury.
At what point in a project is it essential to decide on a color scheme, what are the factors which determine the color scheme?
Designing is an evolutionary process. Color scheme is one of the most crucial and significant parts of designing interior spaces. It is the fundamental tool in creating elegant and well-balanced spaces. It also has a major effect on the psychological comfort of the user. The planning of an interior space starts from a theme and a color palette. It is something that is decided before the commencement of the actual design. The color scheme is sacrosanct for the process of interior planning and hence is one of the very first things to consider and everything else must revolve around it.
What kind of paints are maintenance-free and should ideally be used in exteriors and interiors of residential projects?
One should look into paints that are easy to clean. It is also important to look into VOC's, especially in interior design. Paint with less texture is always easier to clean as it does not hold dust. This is more the case with exteriors than interiors. In indoor spaces, paint that is again easy to clean and does not fade with continuous touch. Muted colors are preferred, and it also gives an open canvas for owners to decorate and personalize their spaces in future.
In the backdrop of the pandemic, what kind of paints would you advise clients and customers to use? In the post-pandemic scenario, there has been an increase in awareness in terms of cleanliness, sanitation, and hygiene. Taking that into consideration one will have to look for paints that are easier to clean. Paints with less textures are more sanitary as the dust or bacteria do not get a footing to hold on to. Since the pandemic, antibacterial paints have become more and more popular. Though these paints are extremely helpful in the healthcare sector, it is a bit of an overstretch for a residential project. With the right skirting, a minimal texture, and easy-to-clean attributes, the interior spaces could be as clean as a whistle.
5