Construction chemicals for crafting extraordinary structures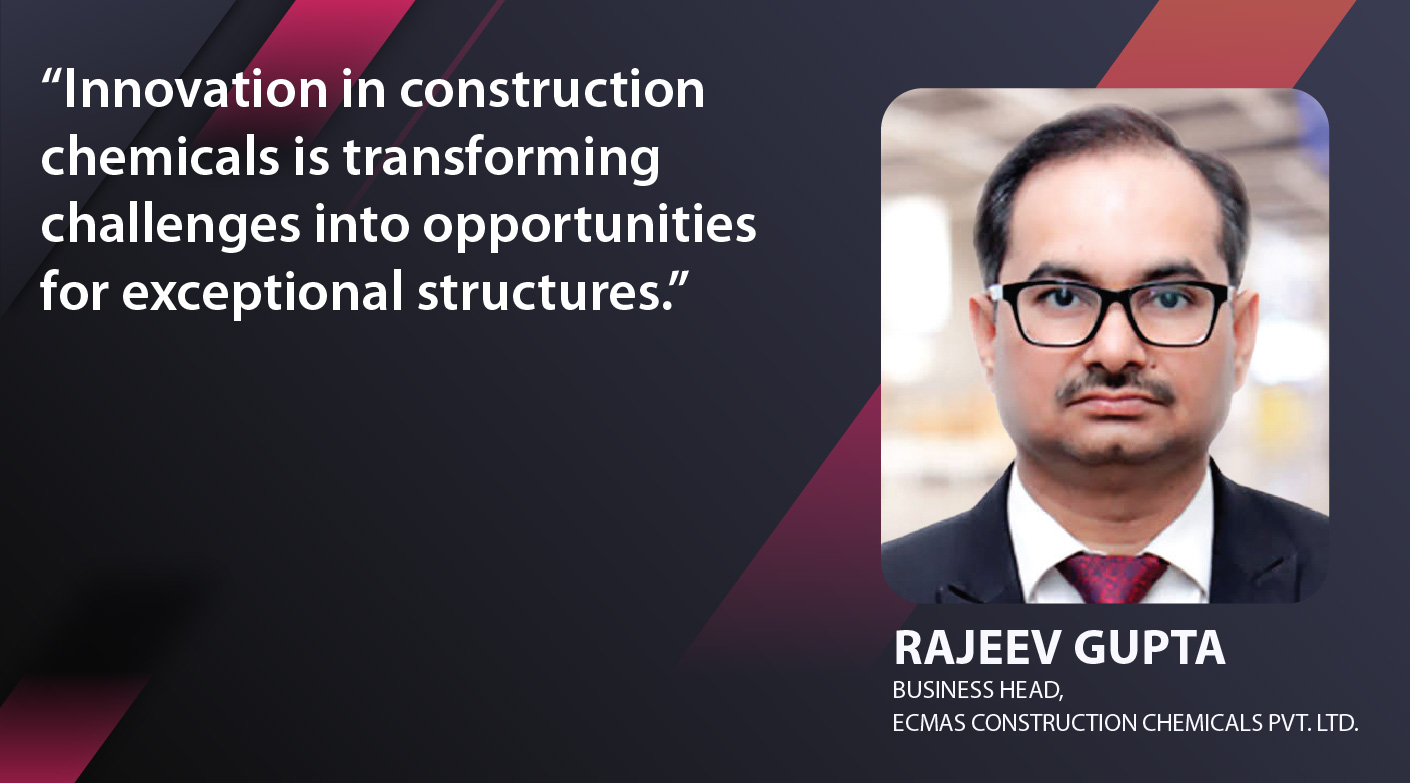 Rajeev Gupta, Business Head- ECMAS Construction Chemicals Pvt. Ltd., discusses the current trends and their product offerings in the construction chemical industry.
Can you provide an overview of current trends in the Indian construction industry and the role of construction chemicals?
High-rise buildings, large-scale infrastructure, and industrial projects are increasingly common, driving the need for high-quality construction materials such as high-performance concrete, self-compacting concrete, precast, and steel structures. Companies are adopting advanced construction methods to meet sustainability, durability, stability, and maintenance criteria, fostering innovation in construction materials and chemicals.
Construction chemicals and waterproofing are vital in enhancing the durability and sustainability of modern high-rise concrete structures and infrastructure projects. They extend the lifespan of structures, minimise repairs and replacements, reduce water consumption, prevent mould and mildew growth, and improve energy efficiency. Incorporating these technologies into design and construction helps create safer, longer-lasting, and more sustainable structures for clients.
Please give us an understanding of your product offerings for high-rise construction and infrastructure projects.
As a leading manufacturer of construction chemical solutions and products, we collaborate closely with the industry. ECMAS offers a wide range of end-to-end solutions for modern high-rise structures, including Admixtures for high-performance concrete and SCC, a variety of Waterproofing solutions, Repair & Strengthening solutions, Floorings, Sealants, Adhesives, Thermal insulation, Protective coatings, and Synthetic structural fibres. Our products are designed to meet specific project requirements and enhance construction durability.
How does ECMAS prioritise innovation and technology to deliver cost-effective yet advanced solutions in water leak control?
ECMAS is a research and technology-driven company where innovation is crucial. We invest heavily in developing and acquiring new technologies to deliver innovative solutions. Our collaborations with industry experts and research institutes enable us to offer clients budget-friendly yet technically superior solutions. Recently, we introduced a wide range of locally manufactured Polyurethane Injections to effectively control water leaks in underground constructions, receiving an encouraging response. More than 70 percent of our turnover comes from innovations and new products.
What critical challenges does a manufacturer face while introducing niche, green, and energy-efficient products in India?
More awareness about construction chemicals and cost-conscious behaviour among real estate developers is needed for manufacturers. A service gap in monitoring industry standards and unprofessional players offering inferior solutions also impact the industry. The increasing focus on affordable mass housing projects demands cost-effective solutions.
What notable projects showcase your expertise in providing cost-effective chemical solutions?
Over 40 years in the industry, we have had numerous opportunities to collaborate with prestigious corporates and real estate companies across India. Our cost-effective chemical solutions have been utilised in various residential, commercial, and industrial buildings. Our expertise extends to infrastructure projects, including Airports, Metro Rails, Dams, Flyovers, Bridges, and Concrete roads. Completing government projects under CPWD, PWD, NBCC, AAI, DMRC, CIDCO, and more, we have proven our ability to meet challenging demands in construction. 
for more info visit : https://ecmas.in/
28