Consumers today lay an emphasis on thoughtful bathroom designs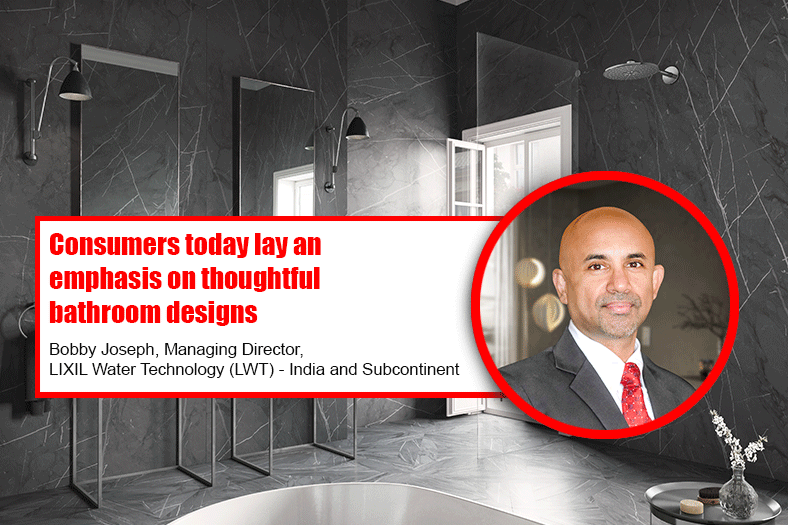 Luxury, these days is less about extravagance and exclusivity and more about self-indulgence and self-transformation says Bobby Joseph, Managing Director, LIXIL Water Technology (LWT) – India and Subcontinent.
What is the significance of bathroom design in luxurious projects?
Bathrooms no longer are just a shower space; they have evolved from being a functional to emotional living space. In today's often stressful and chaotic lives, the bathroom plays a very important role as it has turned into the only space in the household where you can indulge in some personal time to relax, rejuvenate, and re-energize. The consumers are putting a growing emphasis on living well and building spaces in their homes that are rooted in serenity. There is also a greater emphasis on thoughtful bathroom designs to create a sophisticated balance between convenience and individual comfort.
Luxury, these days is less about extravagance and exclusivity and more about self-indulgence and self-transformation. Today's consumers are willing to invest in high-end products and solutions to enhance their bathroom sanctuaries. Growing disposable incomes and evolving lifestyles have bolstered the demand for sanitary ware brands with world-leading technology, high-class innovation and meaningful designs. Be it a Spalet for optimum hygiene, comfort and convenience or a vanity to optimize bathroom spaces – sophisticated bathroom products are helping individuals to express their idea of luxury: be it the need for functionality, attractiveness or in most cases, both.
Kindly tell our readers about your footprints in India, what kind of products do you offer?
LIXIL is a maker of pioneering water and housing products that solves everyday, real-life challenges, making better homes a reality for everyone, everywhere. Our aim in India is also to enable the builder and developer community to attract more consumers by providing a complete range of consumer centric home solutions. As one of the leading sanitary ware companies in the world, along with our brands like American Standard, GROHE, INAX and TOSTEM, we offer a diverse portfolio of the best-in-class solutions for the full home – including products for bathroom, kitchen, windows and doors.
Currently, our product strategy is to bring global innovation platforms to India faster than we did in the past. We are already leaders in Thermostats; we launched GROHE Smart Control shower systems with push-button technology and that has already captured over 10 per cent of the premium diverter market making India the second largest market for this product in the world. We are also bringing the latest in shower systems, glazing technology on ceramics to add to our impressive portfolio of best-in-class products in India. We have introduced anumber of products like Shower Toilets, Spalet, GROHE 3D faucets, and GENIE hand showers, INAX ECOCARAT which is redefining consumer experiences.
In 2018, we brought our 50 year Japanese legacy in Integrated System Bathrooms (Prefabricated bathrooms) to India. These are knocked down version of bathrooms which are simple to install (within two days) and with this technology, LIXIL is set to create a new surge in the bathroom construction industry in the country. We will continue to strive for excellence and bring in innovative solutions to India market in future as well.
How can one infuse luxury in the bath space, what kind of products need to be used?
Everyone's personality and lifestyle is vastly different, hence, it is important to explore what luxury means to oneself before embarking on a journey to find the right products for one's dream bathroom. In a country like India, the demand for premium products and access to technologies which entail hygiene convenience is of utmost priority. LIXIL offers a variety of products that are technologically advanced, consumer centric and make for luxurious bathroom solutions:
GROHE Sensia Arena smart Spa toilet which has a smartphone app for ease in operation and personalized user settings.American Standard Kastello collection that effortlessly marries classic design with functionality. The American Standard Easyset exposed auto temperature mixtures for showers and the American Standard Spalet – a smart toilet that includes features like hands-free remote-control technology, a self-cleaning nozzle and a temperature controlled seat for one's comfort, also come under the brand's premium-luxury offerings.
An easy way to transform one's bathroom experience is by using the American Standard Spalet. Known commonly as a bidet, it's like a mini spa that comprises of many innovations like posterior and feminine air bubble cleansing nozzles, automated seats, built in air deodorizers, and even music to help the consumer find the perfect balance between beauty, convenience and technology.
Some of our recent innovations that spell luxury include GROHE Smart Control showers with push button technology, GROHE Sensia Arena – one of the most technologically advanced shower toilets in the world and GROHE Aqua Symphony shower – one of the world's largest showers with an array of technological features including digital enablement.
Kindly tell us about your association with the architecture and design fraternity in India?
A&Ds are one of the most important influencers for our business which is why we consistently strive to create differentiated experiences for them with our products and services in India. We endeavor to enhance how architects and designers interact with our products, innovation and technology. Through our association with A&D community, we have shifted our focus to designing experiences that are more immersive and of true value to them. Additionally, GROHE being a long-term founding partner of the World Architecture Festival, has helped us work closely with the A&D community, empowering them to deliver the best design concepts and experiences. We are thankful to have been able to celebrate the many outstanding achievements of our very own architecture & design fraternity in India over the years and strengthen our deep association.
During this unprecedented time of Covid-19, we have been extremely cautious and responsible on how we continue to engage with our stakeholders. We have developed an interactive platform called Design Deep Dive. It is a platform for the A&D fraternity to connect and share their stories, experiences and learnings. Since GROHE is a brand that includes technology as a key pillar in its brand philosophy, we have tried to leverage technology to create a seamless way for leading architects to share their experiences and add value and knowledge to everyone in our audience – be it consumers of our brand or existing and aspiring members of the A&D community.
19