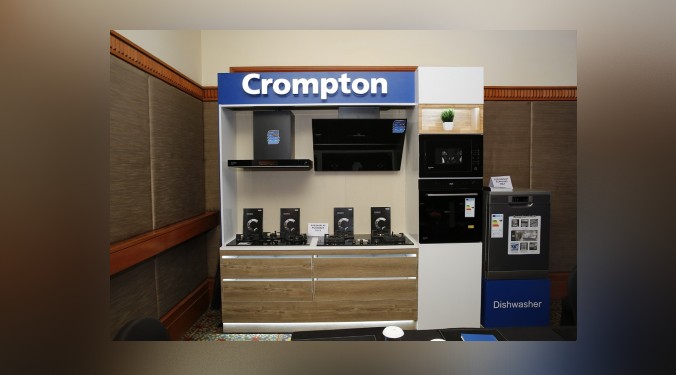 With the aim to garner double digit market share in the coming 2-3 years, the products will be first launched in 10 city clusters, starting with Mumbai, Bangalore, Delhi, Kolkata, Chennai and Pune this quarter.
Crompton Greaves Consumer Electricals Ltd. ("Crompton"), a market leader in fans, domestic pumps, water heaters and lighting in India will enter the built-in kitchen appliances segment with a comprehensive range of chimneys, hobs, built-in ovens, built-in microwaves and dishwashers. Kitchen is a focus area for the company and it recently completed the acquisition of Butterfly Gandhimati Appliances to strengthen its presence in this area. The entry into the built-in appliances segment will further consolidate its position in the kitchen space, in addition to driving growth and premiumization of the brand.
In India, the built-in kitchen appliances market is ~INR 2200 Cr and is estimated to be growing at ~10-15% per year. The organized market is made up of 7-8 players with the top 3 players, commanding ~45% of the market. The penetration of the category is quite low. Chimneys, the lead product in the segment also has a penetration of only 3-4% offering ample room for growth.
Crompton believes in launching products based on clear consumer insights. The company undertook extensive consumer research to identify the unmet & underserved requirements of the consumer. Based on these insights, the company is launching truly differentiated products that will be relevant to the consumer. The endeavour will be to provide a pleasant and enjoyable kitchen environment.
Key differentiating features of the range of chimneys with MRP ranging from INR 24K to INR 69K include (all claims have been tested in reputed NABL Labs):
As silent as an AC with 50% reduction in perceptible noise
Keeps kitchen air clean from smoke, soot and smell with increased suction power by 50% than in the available popular models
Reduces the number of professional cleaning interventions required due to Intelli-autoclean technology
Key differentiating features of the range of hobs with MRP ranging from INR 17K-37K includes:
Digital timer that switch off the burner at the end of the stipulated time frame
Flame failure safety device that cuts off gas supply in case the flame goes off due to spillage or any other reason
Key differentiating features of Ovens with MRP ranging from INR 50K-85K include:
Eliminate the need for manually cleaning your oven with pyrolytic cleaning in which the oven internal temperature will reach up to 450°C transforming residues left by baking, roasting and grilling splashes into ashes
Hot air shield preventing hot air from the oven hitting the consumers face directly
Key differentiating features of Dishwashers with MRP ranging from INR 49K-68K include:
Dual pro-wash that enables cleaning at two separate water pressures in a single wash while keeping noise as low as an AC
Superior drying performance with turbo drying technology with additional fan support that draws out steam from the cabinet
Crompton has leveraged its new world class R&D centre and traditional strengths in designing motors, electronics etc. to design these products. The consumer research conducted suggests that all Crompton chimneys, hobs, and dishwashers ranked higher in purchase intent by ~10-30% compared to competition.
With the launch of products in built-in kitchen segment, Crompton aims to garner a double-digit market share in the medium term The products will be initially launched in 10 city clusters including Mumbai, Bangalore, Delhi, Hyderabad, Kolkata, Chennai,Pune, Ahmedabad, Cochin and Coimbatore this quarter through exclusive brand outlets called "Crompton Signature Studios". They will also be available at leading kitchen dealers, regional retails, multi-brand outlets and Ecommerce players. Crompton is also building a world class service network leveraging its large presence across the country.
Shantanu Khosla, Managing Director – Crompton, said, "Kitchen is a strategic space for Crompton and kitchen appliances will drive future growth. Our recent acquisition of Butterfly has strengthened our presence in the small kitchen appliances category. This entry into the built-in kitchen appliances segment will further consolidate our position."
Mathew Job, Executive Director and Chief Executive Officer- Crompton, said, "Our aim is to become one of the top 3 players in this segment in the coming 3 years. For the same, we have carved out a separate business unit which is focused on built-in kitchen appliances. Leadership is in our DNA and we are looking to win in this segment with our differentiated value propositions."
Nitesh Mathur, Vice President -New Business- Crompton said, "Crompton has built a deep understanding of its target consumer segment and will target them with a differentiated product range. We have received a very good response from the channel with several leading modular kitchen dealers and multi-brand outlets onboarded. Additionally, we are also setting up premium exclusive brand outlets "Crompton Signature Studios". We also have a robust marketing plan and established a strong after sales network set-up.
16