Dash Square Unveils a Luxury Modular Kitchen by Scavolini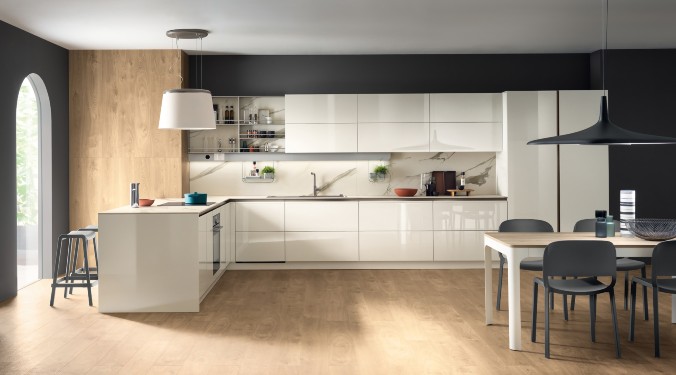 Dash Square unveils a stylish modular kitchen – Dandy Plus by Scavolini promises to introduce a chic vibe into your contemporary spaces. Dandy Plus is the evolution of the compact, connected kitchen for a reinterpretation of space at the heart of the home.
 The kitchen has always been the "lure" of the home, the most lived-in and variously interpreted room, even for the new generations. The kitchen by Scavolini, designed by Fabio Novembre, is an innovative project that looks to the near future, reinventing its past.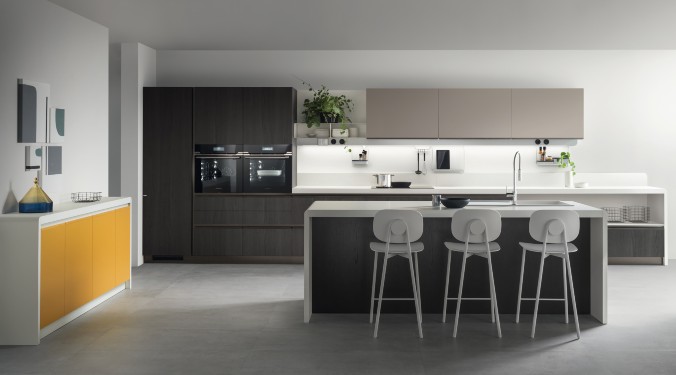 The shapes of Dandy Plus recall the historic best-selling Scavolini model from the Eighties (specifically, Dandy). It also is a clear tribute to Italian design, characterised by distinguishing features, soft curves and bright colours. The bridge element available in the kitchen in White Plus or Grey Plus laminate makes it look compact and recognisable. Whether it includes the entire kitchen block, the base units alone, or the larder unit block, or whether it plays the role of breakfast bench support, the bridge element remains the leitmotiv of this model.
Focusing on the contemporary appeal, the brand imagined a kitchen where Alexa's voice is present and which, thanks to its state-of-the-art functions, recommends a recipe to us, liaises with the appliances, and can even entertain us with background music. The brand has delicately served a smart kitchen for a smart home. Another feature of Dandy Plus is the Task Bar, a collector which conceals all the technology.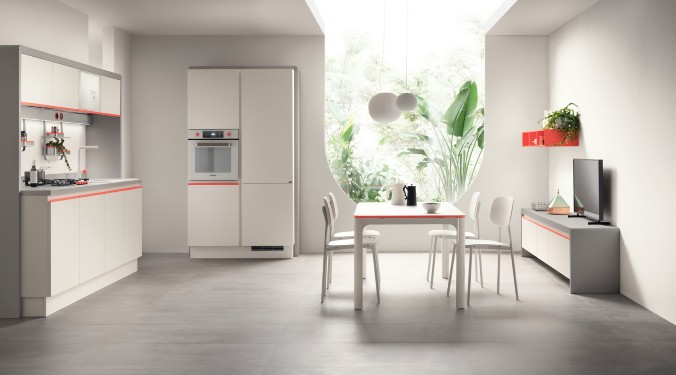 This equipped bar consists of an aluminium profile placed underneath the wall units (the ends of which can either be rounded or squared), on which the smart speaker device controlling and managing the various technological systems is fitted. The Task Bar also features round slots (in coloured ABS), which host smart functions such as power outlets and USB ports. In Dandy Plus, the technology incorporated is almost invisible: proof of this can also be found in the wireless charger built into the top of the worktop, one of the most popular technological accessories. 
 A series of accessories can be attached to the Task Bar, including shelves, coloured containers and a recessed light all along its length. Dandy Plus is compact and connected, making it a dream kitchen for everybody. It is also equipped with taps with customised control and is the same colour as the handle picked for the kitchen. 
32