Delhi Airport: Moving towards becoming a net zero carbon emission airport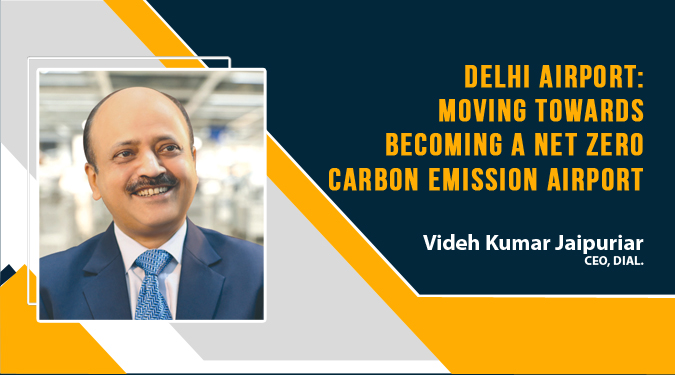 Delhi and National Capital Region (NCR) air quality continues to be a concern in India. However, various measures have been taken to improve air quality at India's national capital Delhi's Indira Gandhi International Airport (IATA: DEL; ICAO: VIDP).
Delhi International Airport Limited (DIAL), a GMR infrastructure-led consortium that operates and manages the IGI airport, has planted a mix of foliage and air purifying trees to provide natural air purification inside and around the airport. Around 40,000 air purifying plants have been put inside the three-terminal buildings of the airport to clean the indoor air. Nearly 3.9 million square feet of the area within the IGI Airport premises is covered with plants and shrubs. DIAL has also taken various measures to further improve the air quality in the vicinity of the IGI airport. Some key initiatives include the installation of Bridge Mounted Equipment, introducing TaxiBots, Fuel Hydrant systems, adopting CNG and electric vehicle operations, Airport Collaborative Decision Making (ACDM), and Dust Mitigation measures, among others.
Bridge Mounted Equipment (BME): DIAL has installed Bridge Mounted Equipment (BME) in the aerobridges of Terminal 3 of the IGI airport. These Bridge Mounted Equipment, such as the Fixed Electrical Ground Power Unit (FEGPU) and Pre-Conditioned Air (PCA) supply, help in the reduction of emissions from the aircraft's Auxiliary Power Unit (APU).
TaxiBots: DIAL introduced TaxiBots at the IGI airport in 2019. Using Taxibots by airlines has helped reduce fuel consumption by an aircraft during taxiing and correspondingly reduce carbon emissions. TaxiBot is a semi-automatic robotic device used for aircraft taxiing. TaxiBot is the only operational alternative taxiing system that has been certified till now in the industry. IGI Airport is the first airport globally to adopt the commercial operation of TaxiBot in 2019. In a conventional aircraft taxi process, an aircraft is tugged by a ground vehicle to the Tug Disconnection Point (TDP). From the TDP, the aircraft starts its main engine and continues its Taxiing journey while burning precious ATF and Emitting ground Noise and carbon emissions before taking off from the runway. The use of TaxiBot eliminates the requirements of TDP and the requirements of switching on the main engine during the taxiing process. Using TaxiBot ensures a significant reduction in fuel consumption during aircraft taxiing. The TaxiBots in Delhi Airport is currently compatible with the Airbus A320 Family and Boeing B737 Family of aircraft. With the existing setup at IGI Airport, using TaxiBot leads to a reduction of approximately 532 kgCO2 per aircraft per taxiing event.
Fuel Hydrant System (FHS) – The fuel hydrant network system uplifts fuel into aircraft to reduce fuel spillage. This helped in eliminating vehicular emissions from the movement of oil tankers or bowsers.
Use of CNG in airside vehicles: DIAL and other stakeholders have adopted the use of CNG vehicles at the IGI airport. DIAL has also set up a CNG refuelling station on the airside.
Electric Vehicles (EV): DIAL has adopted electric bus services for passenger movement from Terminal 3 to Passenger Transport Centre (PTC) near the Centaur Hotel. DIAL is in the process of replacing its vehicle fleets with EVs.
Multimodal Connectivity: DIAL has also developed multimodal connectivity at IGI Airport. As of now, all three terminals of IGI Airport are connected with the routes of the Delhi Metro via metro
stations at Terminal 1, Terminal 3, and Aero city.
Airport Collaborative Decision Making (A-CDM): It is a unique initiative that has helped DIAL improve operational efficiency and reduce aircraft emissions through better planning and utilization of resources during operation.
Dust Mitigation Measures:
DIAL has undertaken an airport expansion project to cater to the increasing passenger demand to make IGI Airport future-ready. Under this project, a new integrated Terminal 1, modification of the Apron area, an Elevated Cross Taxiway (ECT), a new runway, cargo facilities, etc., are coming up. After completion of the project, the airside capacity of IGI airport will go up to 140 million passengers per annum (MPPA) from around 100 MPPA, and the terminal capacity will increase to 100 MPPA from the existing 60 MPPA. These projects will enable DIAL to offer an enhanced passenger experience with all safety, security, and sustainability measures. DIAL has taken necessary dust control measures like covering the soil, frequent sweeping roads, water sprinklers, and rain & fog guns. Further, all our sites are well barricaded, which helps control dust. All these measures help reduce emissions from the operation and thus help improve the air quality significantly.
Net-Zero carbon emission airport by 2030:
By 2030, DIAL plans to become a NET-ZERO CARBON EMISSION AIRPORT, which includes milestones and deadlines. This plan aims to reduce Scope 1 and Scope 2 emissions within its control. To reduce Scope 2 emissions, onsite solar energy of 7.84 MW capacity has been developed. DIAL has procured green energy through an open access mechanism and signed a Power Purchase Agreement (PPA) with hydropower producers, which will ensure that the electricity requirements of the entire airport are met from green sources. The current fleet has been replaced with electric vehicles to reduce the Scope 1 emissions. These vehicles will be charged with the green energy available at the airport. Apart from these, other focus areas are – energy efficiency and conservation, green infrastructure, operational efficiency measures, airline programs, green transportation, development of carbon sinks, and continuing Airport Council Internationals' (ACI) Airport Carbon Accreditation program, etc.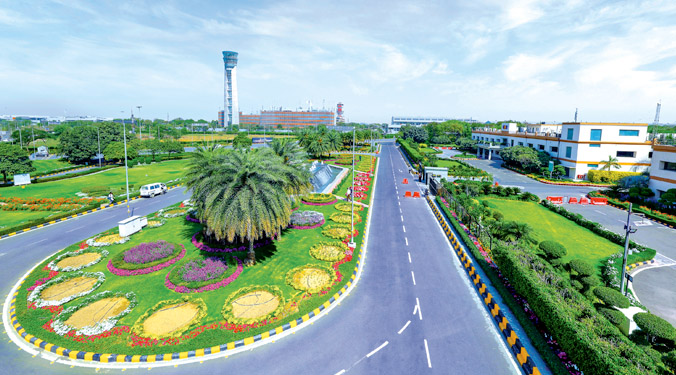 DIAL is striving to maintain, regulate and reduce the environmental deterioration:
Ensuring sustainable development through environmental protection is one of the key focus areas of DIAL. All the activities have been mapped and adequate measures are being taken to eliminate
or reduce the environmental impacts by having Environment Management System certified under ISO 14001:2015. As elaborated earlier, air emission reduction initiatives have been adopted and
greenhouse gas reduction measures are being taken. Also, water management initiatives such as a 16.6 MLD zero liquid discharge sewage treatment plant, rainwater harvesting structures, 9 million litre storage tanks, and water-efficient fixtures have been launched. All the waste generated is managed as per the Government's regulations. DIAL has also adopted the initiative to become a "single-use plastic-free airport" and got certified by a third-party agency. Their environmental performance has also been improved by working closly with stakeholder. Apart from these, various employee engagement initiatives wherein employees can participate and contribute toward ecological well-being have been rolled out. DIAL's objective is to take measures to go beyond compliance requirements, adopt a collaborative approach along with our stakeholders and become a sustainable aviation hub. IGI airport is currently at Level 4+ (transition), the Highest Level of
accreditation under ACI's Airport Carbon Accreditation Program. DIAL being the first airport in the Asia Pacific region to achieve this Level.
Contribution of IGI airport's growth to aviation in the country:
The aviation sector in India was one of the fastest-growing sectors before the COVID pandemic. The industry is again picking up steadily now. Delhi being the capital airport of India, the growth of
Indira Gandhi International IGI Airport (IATA: DEL; ICAO: VIDP) will supplement the development of the aviation sector in the country. In March 2022, the IGI Airport became the second busiest airport in the world. This further demonstrates the growth potential of the IGI Airport. The Government is also taking proactive measures to ensure the sector's growth by increasing air connectivity throughout the country. As the aviation sector is called an economic multiplier, the growth of this sector will have a far-reaching positive impact on India's overall growth and development.
32