Double roofing systems can mitigate the urban heat island effect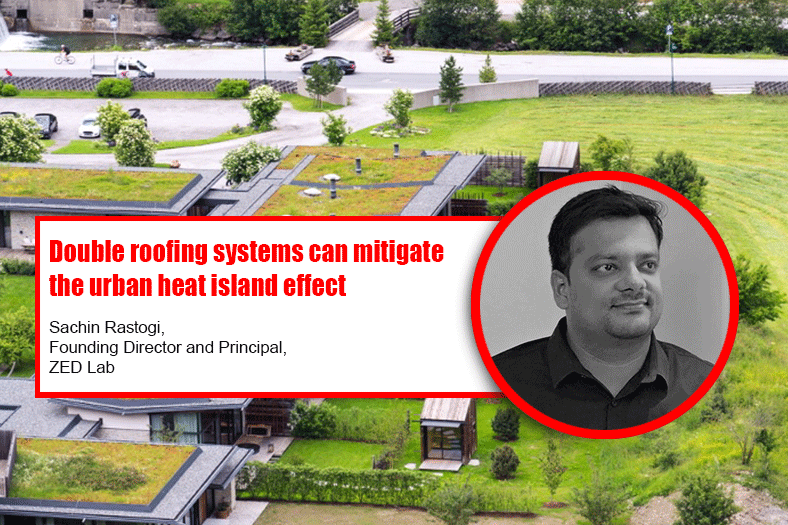 Other methods to address the issue includes using reflective materials roofs as well as green roofs and roof ponding, says Sachin Rastogi, Founding Director and Principal, ZED Lab.
When it comes to smart cities, what kind of roofing materials are apt to ensure maximum solar reflectivity?
Materials with a high SRI (Solar Reflectivity Index) of 80-90 per cent which include china mosaic tiles, heat reflective tiles (ceramic matt, white lune) cool tiles etc., are suitable for roofing.  Also, using white painted roofs with higher albedo, installing solar panels and incorporating water bodies, are efficient measures in reflecting sunlight.
Are green roofs compatible with photovoltaic cells, what are some of the other features which a smart roof should possess?
Green roofs with plantations require water and sunlight to thrive on the roof surface. However, the installation of Photovoltaic cells (PV) cuts down the sunlight incident on the roof surface considerably. Two types of PV cells are available in the market — opaque and translucent cells. The translucent cells allow some light to reach the green roof but are 50 per cent much less efficient than the opaque cells. Hence, it is not common to install PV cells in combination with green roofs. Smart roofs should possess high SRI, high thermal mass insulation value (u value), provide for potential shading(through a double roof), and include green roofing systems which help create a cool micro climate. New age materials like Technonicol enviro and others which absorb pollutants are now becoming popular and should be adopted.
How does smart roofing impact the energy efficiency of a building?
In a low-rise building, the maximum heat gain is through the roof as compared to the walls or facade. By insulating the roof, 20-25 per cent of the building's energy consumption can be saved and at least 50 per cent of the top floor's cooling load can be reduced. On the other hand, in a high-rise building, the roof area is less than the wall area. However, in the larger scheme of things, the solar reflection from the buildings around (in the case of dense cityscapes) can lead to urban heat island effect. To cater to these issues, various solutions have been proposed such as double roofing systems, using reflective materials roofs as well as green roofs and roof ponding.
In the smart city initiative in India (or globally) so far, can you cite a project where the concept of smart roofing has been put to good effect?
Our design for the House Under Shadows, a residence in Karnal serves as a good example of smart roofing. Fibre-Reinforced Plastic (FRP) has been used as a primary material which reflects solar radiation instead of absorbing it. A double roof has been created which shades the primary roof. This cuts down 60-70 per cent of the direct and diffused radiation in the daytime and loses heat through the night due to its permeability – creating a suitable micro-climate for the home.
18