Encraft windows and doors made out of uPVC are a symbol of strength and solidity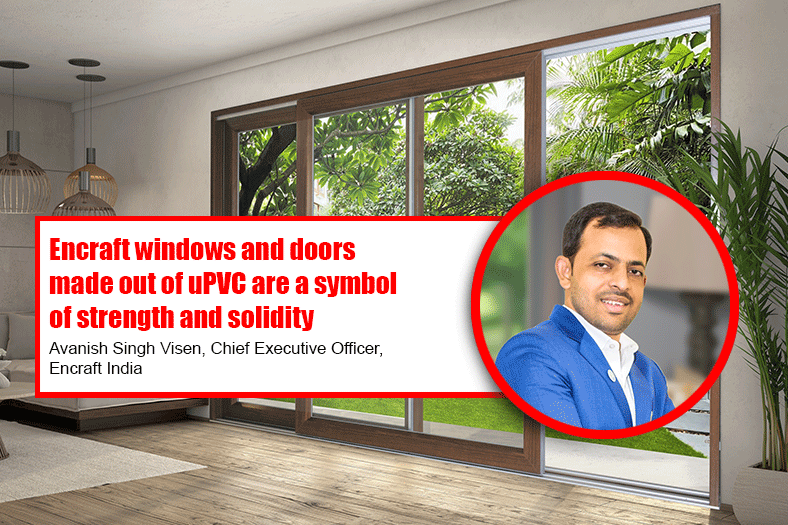 Encraft windows and doors made out of uPVC are a symbol of strength and solidityThey provide thermal comfort, contributing to a consistent internal temperature. These window frames help reduce up to 40 DB of external noise says Avanish Singh Visen, Chief Executive Officer, Encraft India.
What kinds of doors and windows have the best market potential in India?
The Indian market for doors and windows is growing across key material segments from wood, steel, glass, and aluminum to un-plasticized polyvinyl chloride (uPVC) profiles. In India, the uPVC doors and windows is growing at about 20-30 per cent whereas the market for aluminum doors and windows is expanding at 35-40 per cent.
Globally, the market share for uPVC window and door system ranges from 60-80 per cent. In India, it's still 10 per cent but uPVC has become the preferred choice of most of the customers because of the benefits it offers like thermal insulation, sound proof, energy saving, less carbon footprint, low maintenance, fire retardant, best aesthetic appearance, various colour options etc.  Now windows are no longer just considered to be an object to fill the gap in the building envelope as most of the energy losses, approximately 25-30 per cent occurs due to windows. The buyers' choices are changing from a traditional parameter to energy efficient and sound proof windows. Also, they are moving towards green products which are closer to mother earth and having less carbon footprint.
Encraft windows and doors provide essential protection and architectural character to a building. It also adheres to various owner driven requirements, including aesthetics, cost-effectiveness, excellence, precision, low maintenance, and endurance.
The material choices for doors and windows are many, how do uPVC doors and windows stand out in the crowd and why?
Nowadays, it is no longer enough to offer standard, off-the-shelf products for properties. Homeowners want products that fit perfectly with the style; design, and character of the building and that enables them to inject personality into every aspect of their home.
On the other hand, energy efficiency for windows and doors is in surrey, customers demand it to save their bills and the government demands it to save the planet; energy efficiency has always been a key feature of our whole range. We have developed even further in terms of security, appearance, and weather and noise resistance to provide the best value and choice to our customer including the colours and finish available. Customers are also looking for versatile profiles systems that can fit any sort of glass.
Encraft windows and doors made out of uPVC are a symbol of strength and solidity. They provide thermal comfort, contributing to a consistent internal temperature. These window frames help reduce up to 40 DB of external noise. Our products provide a perfect locking system that further helps improve the performance of airtightness.
What protocols in place allow you to guarantee the durability, shelf life of your products in the long run?
The company mixes all raw materials in-house rather than relying on ready-made formulations from outside vendors. All our windows and doors are made to measure in our approved partner's factory. Even when using high-grade materials during extrusion, it is essential to continually monitor and improve every process for quality assurance. That's why we use the latest computer technologies, research and machinery to test and make sure every one of our window and door systems achieves the tightest tolerances.
Our products are free from lead and hazardous components and we are continuously updating our knowledge and execution strategies according to market trends. Our products are manufactured in alignment with 100 per cent European standards and are time tested in Indian tropical conditions for past one decade and also our past six decades of experience in Indian polymer extrusion industry gives us an edge for understanding the market demand and need. Encraft provides customised solutions that meet the requirement of every customer.
How are you managing the production of doors and windows in the midst of the lockdown?
During the lockdown, we are revamping our processes based on our customer needs and learning lessons based on our observations and exploration. For us health and safety of our all stake holders are of utmost importance and we have already made our "Restarting Operational Manual" accordingly and started our operations too. This is the time to take advantage of the situation and make the most of virtual tools for business continuity.
Due to the lockdown, customer visits have become near impossible and we have started using virtual tools to communicate with clients with whom we had earlier planned face-to-face meetings.
In the future, what will be the role of AI and automation in the production of doors and windows? Currently, it is a mutually beneficial relationship between machines and humans. Much of the hard work is carried out by machines to save time, increase efficiency and cut down on errors with humans standing by to guarantee everything looks and functions as it should.
But as soon as technology evolves and artificial intelligence gains a deeper understanding of workplace processes, there is a strong chance window and door manufacturers will invest even more in robotics and software.
But one area where the window and door industry probably won't witness widespread adoption of technology is the installation process. We understand how important windows and doors are to a building project and have put together a team of professionals that include engineers to assess the building site and understand the specific requirements of the project followed by a highly skilled installation team who will ensure the job is completed on time and on budget.
6