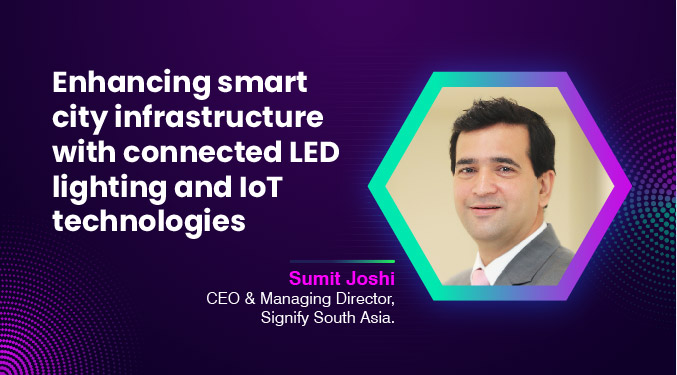 "We lead the evolution of solar lighting technology with its Philips SunStay integrated solar street light, featuring a Lithium Ferro Phosphate battery, solar panel, and charger built into the luminaire."  Sumit Joshi CEO & Managing Director of  Signify South Asia
In an exclusive interaction, Sumit Joshi, CEO & Managing Director, Signify South Asia, talks about how they maintain the leading position as a provider of sustainable lighting technologies.
What are the sustainable technologies offered by Signify, and how do they contribute to improving energy efficiency and reducing carbon footprint in buildings?
In 2018, Signify introduced the Interact professional connected lighting system, equipped with embedded sensors for data collection. The system's Application Program Interface (API) allows seamless integration with other management systems, such as HVAC and air quality, and offers insights and analytics for improved building energy efficiency. In addition to remote lighting management, Signify's sustainable technology includes the Philips 3D printed luminaire range, made from recycled polycarbonate materials and has a significantly lower carbon footprint than traditional metal luminaires. This range boasts the same high quality as conventional luminaires but weighs only half as much, leading to a 35 percent reduction in carbon footprint during shipping. Not only do these 3D-printed luminaires provide personalized lighting designs, but they can also be recycled at the end of their useful lives, thereby promoting a circular economy.
 How have the Indian government's LED lighting initiatives and the adoption of smart lighting solutions contributed to the success of the smart city mission?
 With the rapid pace of technological advancements transforming daily life, the prevalence of smart homes is set to increase significantly shortly. Customers are becoming more aware of the benefits and convenience of smart gadgets, such as smart lighting. The increasing penetration of the internet and growing awareness of smart products will further drive demand for such technologies. Thanks to various government initiatives, India stands out as one of the few countries that have wholeheartedly embraced LED lighting technology. LED lighting solutions are increasingly being adopted in both commercial and residential sectors in India, with smart lighting solutions making their way into modern workspaces, public buildings, and smart cities. The government's smart city mission has created opportunities for the lighting industry to leverage new-age intelligent technologies, like IoT, to ensure the mission's success.
 What is Signify's role in the evolution of solar lighting technology, and what features does the Philips SunStay integrate solar street light offer in terms of battery, design, and mounting options?
 Most lighting products, including solar lighting, are now locally manufactured in India. Signify is leading the evolution of solar lighting technology with a global hub for solar lighting products at our Noida technology centre. Philips SunStay, an integrated solar street light with a Lithium Ferro Phosphate battery, solar panel, and charger built into the luminaire, was launched a few years ago. The pressure die-cast aluminium body ensures sturdiness and long life. The luminaire features a specially designed pole mounting bracket for different tilt angles and lateral and pole top mounting.
 How can Interact City from Signify improve city services, safety, and energy efficiency and provide a platform for IoT technologies?
 Signify's Interact City-connected LED lighting system and management software offer municipal bodies an extensive infrastructure for enhancing city services, improving citizen safety, beautifying public spaces, engaging with citizens, and fostering civic pride. The system can also contribute to cost savings, enabling municipal bodies to invest in new smart city projects.
 Streetlights are ubiquitous in cities, making them an ideal choice for deploying IoT technology. Interact City from Signify is a connected solution that can turn street lighting systems into a platform for deploying IoT technologies such as sensors, cameras, and radios. The single interface dashboard allows for monitoring of energy consumption, managing workflows, and identifying faults immediately.
 When cities use LED luminaires, they can significantly reduce energy usage, greenhouse gas emissions, and lighting-related costs. With IoT-based software for lighting management, cost savings can exceed 80 percent, allowing cities to make significant progress toward their sustainability goals while saving money. Additionally, sensors installed in street lighting luminaires can help conserve energy by dimming lights when no one is around. The sensors can also monitor air quality and noise, improving citizens' quality of life.
72