ETO Motors deploys three-wheeler EVs' at the 'Statue of Equality' inaugurated by Prime Minister, Shri Narendra Modi in Hyderabad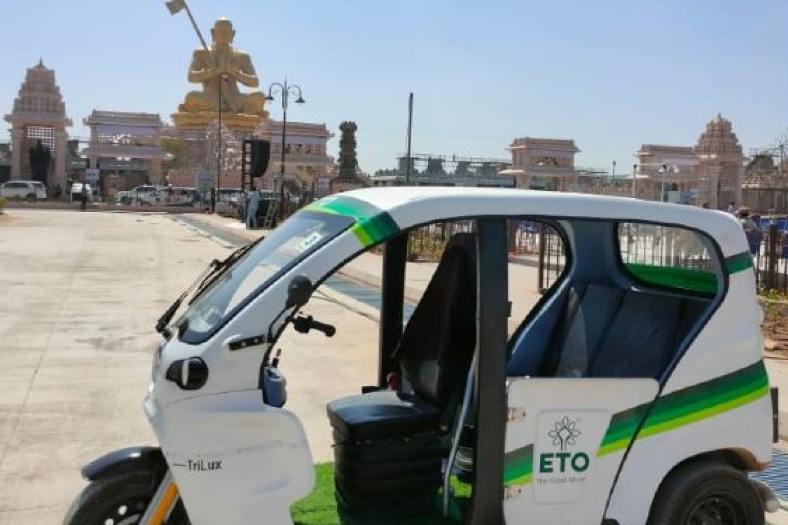 ETO Motors EV were used to ferry the VIPs' and key dignitaries to the event.
One of India's leading companies in electric mobility and services, ETO Motors added another feather-in-the-cap, when they deployed their State-of-the-art Trilux range of three-wheeler EVs' at the high-profile inauguration of Saint Ramanuja's 'Statue of Equality' by Honorable Prime Minister, Shri Narendra Modi in Hyderabad for the mobility of passengers in and around the beautiful campus.
The Statue of Equality was unveiled to commemorate the 1000th birth anniversary of the revered saint and celebrate his efforts to reform the social practices that were being followed at that time. The Prime Minister, on his visit to Hyderabad dedicated the 216-foot-tall statue to the nation to signify equality for all. ETO Motors EV were used to ferry the VIPs' and key dignitaries to the event.
"ETO Motors thrives on its 3E Principles of Environment, Employment and Empowerment, which finds synergies with the teachings of Saint Ramanuja, who appealed for the protection of nature and its resources like air, water, and soil, apart from being an advocate of social equality. The company is looking at a horizon of 5 years to set up over 10,000 EV Charging points in the region. ETO Motors has set up over 30 MWs of EV charging infrastructure across the country and has associated with BSES and Tata Power DDL in the National Capital Region (NCR) to provide smart and affordable charging solutions to help India overcome its charging infrastructure challenges. We have also deployed over 50 vehicles in Kevadia (Gujarat) contributing towards making the city, India's first 100% EV city. The company is committed to contributing towards India's goal of Net Zero emissions by 2070", said Rajeev YSR, Vice President-Business Development of ETO Motors.
ETO Motors describe themselves as an ecologically conscious and sustainable business aiming to revolutionize the automobile sector in India. The goal is to the change the way the world would approach logistics and passenger travel without compromising on quality and ensuring that our precious environment is protected at the same time. ETO also works towards reducing carbon footprint with its electric vehicles, provides employment and empowerment opportunities, especially to women.
One of the greatest contributions of the saint was the propagation of the concept of "Vasudhaiva Kutumbakam", which translates to "all the universe is one family" which is again shared enthusiastically by ETO Motors in their endeavor to make the world a better place to live in. ETO Motors believe that they are a good move for the planet and its people, and a good move for tomorrow.
For more information, visit: www.etomotors.com
31