Experience the luxury and elegance with perk bath care
The perk bath care brand has been globally recognised for over 35 years as a luxury bath care brand that conveys elegance, luxury, and ergonomics as well as functionality.
Today, Perk bath-care products adorn the world's finest residences, luxury hotels, resorts, spas and yachts, where discerning clients insist upon the finest workmanship. The designs and fuwnctions of the products are irresistible for every high-class individual who cares for modern & comfortable living.
Perk Healthcare's product range is well-designed and developed to create a comfortable and safe bathing enjoyment, especially for older adults. It's not uncommon to become a little unsteady on your feet as you grow older, and many elderly and disabled people are living with a condition requiring more robust support. Perk's product within the bathroom adds section, having been purposefully designed to make bathing safer yet still enjoyable, particularly for elderly and disabled people.
One of the most common places to fall or slip at home is your bathroom, which is why we offer a wide range of bathing products, ideal for younger to elderly and disabled people Perk products are elegant not just because of their design and functionality but also because of their high quality, durability and value.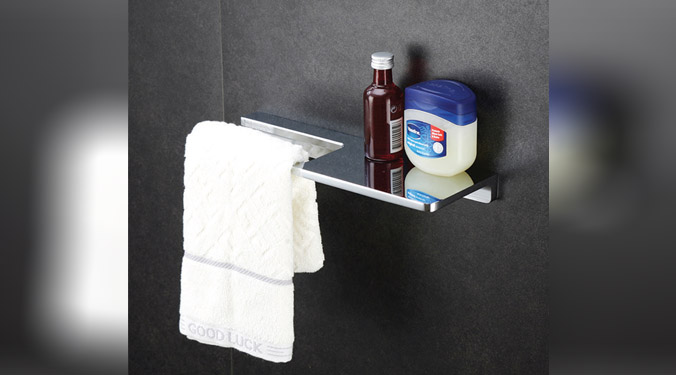 Its technological innovations and high standard of quality have made it an iconic and much-loved brand not just in India but across the globe. The brand promises high performance and uncompromising perfection in everything it does, from product development to customer service. Perk belongs to RS Sanitation Pvt Ltd – a leading
manufacturer of luxurious bathroom accessories and world-class sanitary products. Having its ISO 9001 certified factories in Mumbai and New Delhi with the best equipped state-of the-art machinery and technology, RS Sanitation offers unique added value in the field of sanitary technology as well as in the area of bathroom accessories.
The 'Perk' brand is awarded Asia's Most Promising Brand and recognized worldwide for exceptional quality in bath-care accessories. Perk has a very flexible and ever increasing product range of bath care accessories, and now we are including faucets, which are made to suit customer's requirements and match the current market
demands.
For more Information visit: www.perkindia.com
9