Fairmate Chemicals revolutionising the flooring solutions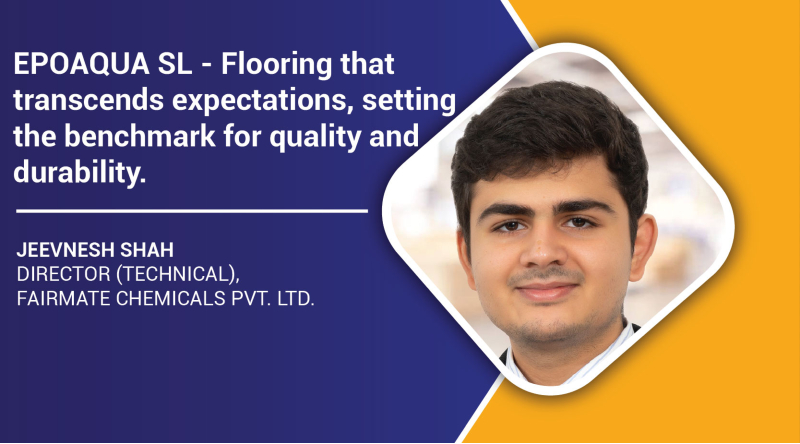 "EPOAQUA SL – Flooring that transcends expectations, setting the benchmark for quality and durability." Jeevnesh Shah, Director (Technical), Fairmate Chemicals Pvt. Ltd.
FAIRMATE manufactures a complete range of construction chemicals and provides total cost-effective solutions and World Class Services to the Specialty Construction Chemical Industry using our expertise and strategic alliances with leading partners. We have a primary technical collaboration with M/s Resin Building Products Ltd., UK. Our continuous research and efforts in developing new products have introduced more than 500+ products in the Civil Engineering Industry.
Our products are broadly classified as Concrete Admixture, Waterproofing Systems, Engineering Grouts, Industrial Floor Surfaces, Surface Treatment, Concrete Repairs, Fixing Solutions for Tiles and stone, Protective Coating, Sealants, Readyplast, Highway Repairs and Architectural Finish.
Introducing EPOAQUA SL: A Revolutionary Water-Vapour Permeable Epoxy Flooring System for Diverse Construction Applications
EPOAQUA SL is not your ordinary flooring system; it is an advanced resin-based solution designed to excel in various construction applications. With an impressive array of features and benefits, it sets new standards in the industry. Let's delve into the many advantages that make EPOAQUA SL the top choice for various construction projects.
Let's explore the extended list of benefits and properties that make EPOAQUA SL the preferred choice for various construction applications.
Resistant to frost and de-icing salts, it's suitable for outdoor applications in extreme conditions.
It's hygienic, non-porous, and liquid-tight surface suits cleanliness-demanding environments.
Similar thermal expansion to concrete ensures stability, minimising cracks due to temperature fluctuations.
A strong bond to green or hardened concrete, damp or dry, ensures reliable installation.
Quick early and final mechanical strengths accelerate construction schedules and reduce downtime.
EPOAQUA SL resists water and oils, guaranteeing long-term protection against potential damage.
Available in various colors, it empowers designers to craft visually appealing, customised flooring solutions.

Application Areas:
EPOAQUA SL is an exceptionally versatile flooring system, making it a fitting choice for a diverse range of construction environments, including:
Public Buildings: Perfect for schools, offices, and cultural centres, enhancing aesthetics and durability in lobbies, corridors, and communal spaces.
Hospitals: Suited for operating rooms, laboratories, and sterile storage areas with water-vapour permeability and chemical resistance.
Paper Mills and Metal Industries: A reliable choice in corrosive environments, like paper mills and metal industries.
Logistics Sites and Warehouses: Withstanding heavy loads, forklifts, and constant movement in logistics sites and warehouses.
Production Areas: Designed for challenging production environments with chemical resistance and durability.
Workshops: Enhancing functionality and durability, offering a seamless, waterproof surface that can withstand heavy equipment and maintenance.
For more info contacts : enquiry@fairmate.com
16