Globalisation has revived local traditions across the world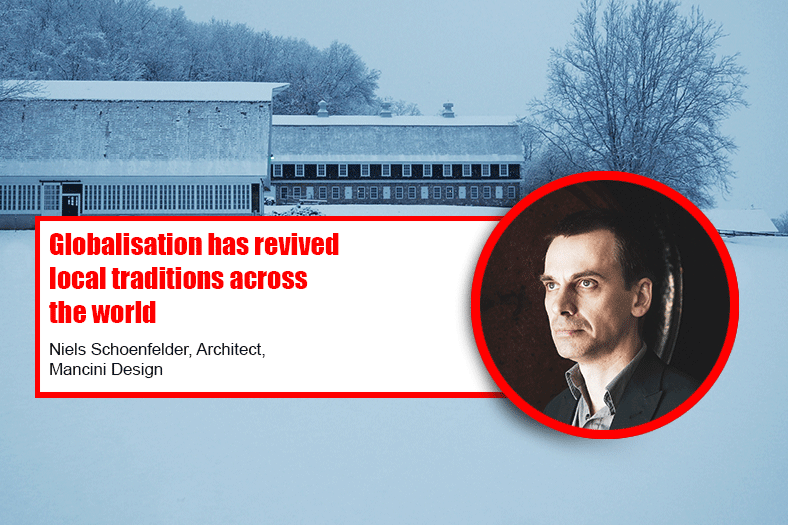 In a conversation with Vikas Bhadra, German Architect Niels Schoenfelder points out globalisation is creating new potentials for architecture in India as also for architecture and design elsewhere.
What does good design mean to you?
That idea of good design keeps oscillating between arts and engineering the most intriguing design is perhaps clouded in suspense, between both these poles. Good design is something which embraces form, function and aesthetics to connote a pleasant context of our individual and collective existence and likewise, it can shift our notions of beauty or instil a poetic sense to our everyday life.
What led to the inception of Mancini Design?
Meeting and collaboration on various projects with our co-founder Dimitri Klein in Puducherry back in 2002 was the starting point towards the realisation of Mancini Design – shortly after JT Arima and Bharath Ram joined as partners and we have been working together on domestic and international projects ever since.
What are the key differences in the way architecture and design is perceived in India and the developed nations of the world?
I believe the perception of architecture all over the world is very different between different stakeholders. Quite evidently a private developer and a public space advocate will have differences in perception of architecture and these differences will be by and large the same anywhere in the world.
There are exceptions confirming the rule of course. In fact, I find it rather dangerous to use GDP levels as an explainer for differences in architectural production or thinking. I fear that the obvious quantitative issues can quickly be used to veil qualitative issues and render a much needed debate rather unproductive.
It has been a decade you have been in India, how has the face of architecture and design in India changed overtime especially with increasing globalisation, is it good or bad?
It has been almost two decades. From the architects viewpoint there has been a steep development driven by globalisation on one end and renewed interest and confidence in local traditions and knowledge on the other – this is generally creating new potentials for architecture in India but also for architecture and design elsewhere – as globalisation now allows other parts of the world to benefit from India-based design as well. However, I fear this rapid development has led some of the end-customers of design and architecture confused. The risk of misjudging solutions with respect to longevity, economic viability, sustainability and artistic merit is high – especially in a context where schools of design and architecture are still being formed and hence the independent academic discourse capable of providing measured reflection to institutional customers and future architects alike has not yet found a resonating voice.
How does your design approach differ when you are working on living or commercial spaces versus when you are executing a civic or an industrial project?
The focus for a civic project certainly lies on a coherent architectural whole providing appropriate solutions down to the level of details. While searching for this coherent whole we are guided by inspiration stemming from context, values, data all from and for the public realm-while a private or commercial project searches for the same coherence it does rely on inspiration sourced from the private aspirations of a client or client company. There is a fundamental difference in processing these external inputs however, both rely on creative liberty and rigour at the end.
Among the various projects you have executed till date which one do you love the most and why? Likewise, which project was professionally a very challenging affair?
A crematorium in Coimbatore has certainly been a special project to us as it touches so many lives at such an important moment. Projects we design in other countries are often beautiful challenging as the "cultures of building" are so diverse and require constant learning.
Who are some of the architects/designers you adore.
Phidias, Francesco Borromini, Kobori Enshu, Karl Friederich Schinkel and a long list of others-unfortunately a practising architect does not have the time to study them all with the required fervour.
What according to you are some of the new age materials and technologies which are redefining the face of architecture?
Right now the chemistry is changing the way we protect buildings and create roofs.
How will Covid–19 change the rules of architecture and design in the post pandemic world?
I think that's too early to say. It could be negligible changes or it could be a long lingering desire to reduce the consumption of once space due to new, possibly successful models of work and team organisation.
Tell us about your love affair with India, what led you to embrace the nation and continue with your practice here itself?
Who would not want to work in a place with such unmediated richness of history and culture and cuisine? And India's hospitality is without match!
13